Student-curated multimedia event will showcase student, faculty work
A multimedia showcase curated by Media School senior Jordan Iobbi will feature films, music and poetry produced and performed by Media School students and faculty.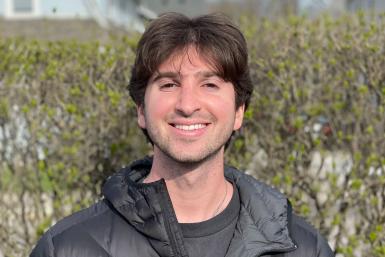 The event is at 7 p.m. today at the I Fell Gallery, 415 W. Fourth Street. There will be two experimental film sets accompanied by live music, one narrative film set, a poetry set and a film-poetry-remix.
The event was organized by Media School professor Joan Hawkins and senior lecturers Susanne Schwibs and Norbert Herber. Iobbi curated it in an independent study course supervised by Schwibs. The independent study revolves around film curation — specifically IU student films, giving them more exposure and presenting them in a way that will inspire other filmmakers, Iobbi said.
"This sounded like a great opportunity to select student films that fit the curational style that I had been developing throughout the entirety of the semester," Iobbi said.

He selected the films to be screened at the event, curated the programs and assisted the faculty members.
"As a senior, I knew I could only go so far with promoting student films through curation in one semester," Iobbi said. "I feel that it is such an important element of the culture of The Media School students and student filmmakers to have curated events to understand student films and give them the praise and attention they deserve."
Featured works
"Camera Effects Study" by Andrew Torbenson and Spencer Bowman
"Circles" by Jessie Grubb
"Food Mania" by Brandon Witten and Kenny Gunderson
"Inferno" by Matt Lutz and Nick Anderson
"Animation Dance" by Luke Anderson
"Technicolor Time Lapse" by Andrew Torbenson and Spencer Bowman
"Lost In Time" by Pablo Garcia de Quevedo
"Coltrane Changes" by Joan Hawkins and Ortet
"Strawberry Fields" by Andrew Torbenson and Spencer Bowman
"Video Essay" by Daniel Jamell
"The Fictitious Us" by Madelyn Knight
"Burning Sage" by Jaeda Mason
"Shoes" by Grace Fox
"The Package" by Sebastian Russell
"The Rock & Mineral Show" by Luke Anderson
"Groove" by Sam Oates
"Stone Film" by Eric Dorwatzky, Grace Fox and Brian Zidarich
"Hand-made Film" by Eric Drowatzky
"Flowing (2020)" by Layn Pierratt and Peter Lacopo
"Lost" by Amanda Hoover, Gavin Rowe and Natalie Williams
"Movington" by Mokihina Alamove, Avalon Husain and Zachary Cook
"Candor" by Sabra Binder
"Prague during the Soviet Occupation" by Joan Hawkins, Susanne Schwibs and Ortet