Press Release: IU Bee set for Feb. 28
Contact:
George Vlahakis
IU Newsroom
812-855-0846
vlahakis@iu.edu
Anne Kibbler
The Media School
812-855-1705
akibbler@indiana.edu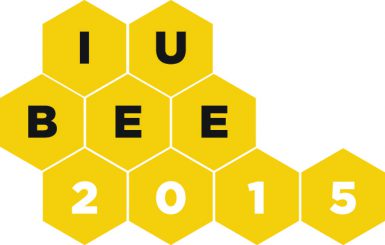 BLOOMINGTON, Ind. — The Indiana University School of Education and IU Journalism are co-sponsors of the IU Bee on Saturday, Feb. 28, at the Monroe County Public Library in Bloomington.
The competition will serve as the Scripps Regional Spelling Bee for Monroe and four other south central Indiana counties: Brown, Greene, Morgan and Owen.
About two dozen area students through Grade 8 who have won spelling bees at their schools will compete. The winner receives a trip to the semifinals and championship finals in National Harbor, Maryland, May 24-29.
IU High School Journalism Institute director Teresa White is directing the bee. Students from the Journalism Ambassador program and from the School of Education's Dean's Advisory Council will help set up the auditorium and direct the spellers off and on the stage.
"Although this is my fourth year working with the bee, I'm still excited for the event," White said. "Each year the spellers captivate the audience. They are quite heroic — overcoming nerves and the pressure of performing in the spotlight. They impress us every year."
The (Bloomington, Ind.) Herald-Times and the (Martinsville, Ind.) Reporter-Times co-sponsored the bee from 2004 until 2012.
Anyone may attend the bee, which starts at 10:30 a.m. in the Monroe County Public Library auditorium.