Media School students producing, calling this weekend Virtual Little 500
Media School students will work as content creators for the university's second virtual Little 500 bicycle race on Saturday, March 5.
In partnership with the IU Student Foundation and Echelon Racing League, the riders will race on a virtual 31-mile loop around Bloomington through the Morgan-Monroe State Forest.
"When COVID hit, virtual bike racing grew exponentially," Little 500 race director Hank Duncan said. "Virtual racing gave riders some kind of group environment, even when they were alone. We wanted to capitalize on the virtual cycling community."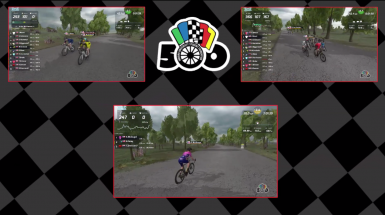 (You can watch last year's races here.)
Echelon Racing League intern and Media School sophomore Emma Watson is producing the race stream.
"I'm a helping hand to the director on the actual race day," Watson said. "I will be in a Zoom room controlling cameras and making sure the run of the show's itinerary is followed."
The director, Mark Zalewski, is an IU alumnus. Zalewski heads all the Echelon Racing Promotion broadcasts.
Alongside Watson, freshman Zion Brown and senior Brett Smith will call the action.
Founder of the Echelon Racing League Eric Hill said the virtual cyclists will use smart trainer devices that work with the RTG Cycling application to connect the bike riders to each other and broadcasters. Riders will also have a camera to show their individual progress in real time.
"Since many people participating haven't used this technology before, there will probably be some connection problems," Watson said. "We've had experienced riders drop out of the race due to mechanical issues, so when that happens we follow a simple protocol to tell our commentators what is happening behind the scenes and then explain."
With the Echelon Racing League, the Media School students want to shine a positive light on the university and Bloomington community.
"An average race weekend for us brings in about 125,000 viewers from across the country, so this is a great opportunity to promote those student organizations with bike riders and the professional cyclists too," Hill said.
For The Media School students, working on a facet of the Little 500 race is a chance to be a part of IU's history and legacy.
"This is going to be the second virtual Little 500, and to be a part of it is a humbling experience," Watson said. "To do that as a student is amazing. It is a piece of art that I don't think people realize and I'm excited to see our project."
You can watch the virtual Little 500 at broadcast.iu.edu on March 5.