Media School sponsors Scripps Regional Spelling Bee
The Media School: Press Release

Contact:

 

Anne Kibbler

Director of Communications

and Media Relations

The Media School

812-855-1705

akibbler@indiana.edu
For immediate release: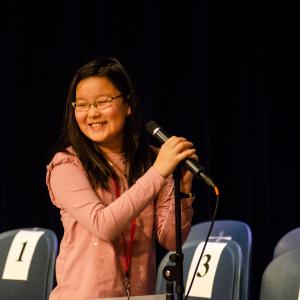 BLOOMINGTON, Ind. — Students from South Central Indiana will participate in the Scripps Regional Spelling Bee, sponsored by The Media School, on Feb. 26.
The bee will return to its in-person format this spring. The IU Bee will begin at 11 a.m. at the Monroe County Public Library.
There will be a written vocabulary test in addition to the spelling bee to help prepare spellers for the National Bee in the Washington, D.C. area.
Students through the eighth grade who have won spelling bees at their schools in Brown, Greene, Monroe, Morgan and Owen counties will compete. This year's spellers are:
Quincy Jordan, Bell Intermediate Academy

Domnick Stull, Brooklyn Elementary School

Abe Sanders, Brown County Junior High

Nate Wieneke, Centerton Elementary School

Wyatt Gamble, Charles L. Smith Elementary School

Lucas Boggs, Green Township Elementary School

Roan Brahaum, Helmsburg Elementary School

Ankit Kumar, Jackson Creek Middle School

Abram

Polley, John R. Wooden Middle School

Mya Winn, Lakeview Elementary School

Halle Smith, Linton-Stockton Elementary 

William Medlock, Paragon Elementary School

Kenan Harmon, Poston Road Elementary School

Logan

Barnes, Seven Oaks Classical School

Joseph

Passios, South Elementary School

Norah Lott, Spencer Elementary School

Reid Shaw, University Elementary School

Zoey Saner, Waverly Elementary School
The regional champion also receives the Samuel Louis Sugarman Award, a U.S. Mint Proof Set and a one-year subscription to Merriam-Webster Unabridged Online, the bee's official dictionary.
High School Journalism Institute director Teresa White administers the regional contest, known as the IU Bee. 
"We're so pleased to be able to return to an in-person bee this year," White said. "Our school champions work hard to prepare for the IU Bee. It's important to recognize their achievements in a public setting." 
The Scripps National Spelling Bee will be June 2 at the Gaylord National Resort and Convention Center, where the national competition will return after a hiatus in 2020 and its Orlando venue in 2021. LeVar Burton will host the semifinal and final rounds. The final rounds will be offered in person and will follow the preliminary, quarterfinal and semifinal rounds of the bee.