Media School sponsors Scripps Regional Spelling Bee
For immediate release:
Feb. 19, 2020
BLOOMINGTON, Indiana — Students from South Central Indiana will participate in the Scripps Regional Spelling Bee, sponsored by The Media School, at 10:45 a.m. Saturday at the Monroe County Public Library. The event is free and open to the public.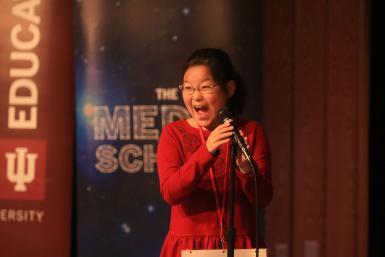 Students through eighth grade who have won spelling bees at their schools in Brown, Greene, Monroe, Morgan and Owen counties will compete. The winner is awarded a trip to the National Spelling Bee semifinals and championship finals May 24-29 in National Harbor, Maryland, paid for by The Media School.
The regional champion also receives the Samuel Louis Sugarman Award, a U.S. Mint Proof Set and a one-year subscription to Merriam-Webster Unabridged Online, the bee's official dictionary.
High School Journalism Institute director Teresa White administers the regional contest, known as the IU Bee. Media School Ambassadors assist with setup and with the vocabulary portion of the bee, which consists of a written test.
"We are excited to once again welcome so many outstanding local students to the IU Bee," White said. "This is a remarkable experience for these young academics, and we look forward to seeing their talent and dedication at the Bee."