Erpelding receives UFVA teaching award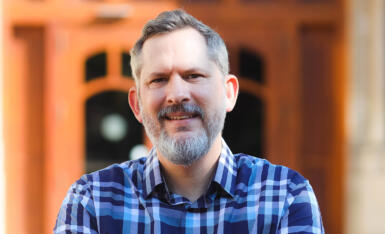 Director of the B.F.A program in cinematic arts and senior lecturer Craig Erpelding was presented with the University Film and Video Association's 2023 Teaching Award on July 21. The award was announced at the 77th 2023 UFVA Conference held July 19-21 on the Armstrong Campus in Savannah, Georgia.
Erpelding received the award for his curricular work at The Media School for film, video, and digital production and the B.F.A program in cinematic arts. He also worked with the diversity office to build out four successful precollege programs through the Cinema Academy and worked with lobbyists and legislators to help pass film and media incentives with the Indiana state government.
The award committee stated they were impressed with the thoroughness and thoughtfulness of Erpelding's materials, teaching philosophy, and innovative and inclusive pedagogy.
The UFVA connects media production and writing with history, theory, and criticism. The international organization is dedicated to the study of media, with members who are image-makers, artists, teachers, students, archivists, and more. The UFVA holds annual conferences, and they publish a periodical featuring articles on media production, history, theory, aesthetics, and criticism called the Journal of Film and Video.
Erpelding is an award-winning independent filmmaker with several projects screened at venues and festivals across four continents. His textbook, "Filmmaking with Intention: A Comprehensive Guide to Creating Engaging Motion Pictures," was published by Cognella Publishing in 2022. Erpelding has also worked for network TV shows such as FOX's "Empire," ABC's "Mind Games," and NBC's "Crisis," and he was on the committee for the Producers Guild of America.