Brooks: Political climate reflects cultural shift
Danielle Paquette | Nov. 2, 2011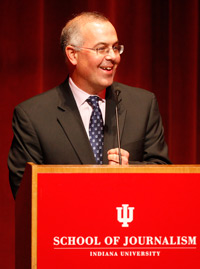 Narcissists, take another look in the mirror: American modesty might be scarcer than Tea Partiers occupying Wall Street.
"And that has led to many of the problems we have today," argued New York Times op-ed columnist David Brooks, who discussed issues in culture and politics on the Buskirk-Chumley stage Tuesday evening.
The first of the fall School of Journalism's Speaker Series guests, Brooks has written for the New York Times since 2003 and is author of several books, including The Social Animal: The Hidden Sources of Love, Character and Achievement, published earlier this year.
During his talk, Brooks often amused the capacity crowd with his joking asides even as he described the serious cultural changes that have contributed to today's divisive climate of American politics.
"Over the last few decades, we've shifted a bit from a culture that emphasized self-effacement — 'I'm no better than anybody else, but nobody is better than me' — to a culture that emphasizes self-expansion," Brooks said.
Listening to radio broadcasts from the 1930s and 1940s brought this home for Brooks, he said. When the Japanese surrendered in 1945, ending World War II, radio show hosts were humble, even reading from correspondent Ernie Pyle's work about his hope that the country could be worthy of the peace that would follow. Military leaders from the era were stoic and avoided self-promotion, Brooks said.
The cultural shift began soon afterward. In 1950, 12 percent of high school seniors polled by the Gallup organization responded yes to, "Are you a very important person?" That number spiked to 80 percent in 2005.
"It's an important change in the political landscape," Brooks said. Issues connected to overconfidence, from increased personal debt to higher CEO salaries to fiercer partisan aggression, heighten tension around the upcoming presidential race, he said.
In 2012, Brooks predicts people will vote for someone who will bring the country "back to the basics."
"Obama's the underdog to win re-election," he said. "But his advantage, obviously, is the Republican party."
Brooks said of the current Republican candidates, Mitt Romney is the most likely to win the nod. But he also lamented that Indiana Gov. Mitch Daniels opted not to toss his hat in the presidential ring.
Journalism sophomore Charlie Scudder laughed at Brooks' jokes from a spot along the auditorium wall.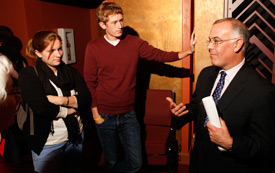 "He had some good points," Scudder said. "The greatest generation had a tendency to value the successes of the whole rather than of the individual. Today we see everyone assuming they can have 15 minutes of fame, and there's no way our generation can do well with those high expectations."
Brooks was introduced by former U.S. Rep. Lee Hamilton, who now heads the IU Center on Congress, which was a co-sponsor of the event.
This was not Brooks' first visit to campus. His son, Joshua, is a history major and Brooks said he'd taken part at least one tailgate event while visiting IU.
The School of Journalism Speaker Series continues at 7 p.m. Nov. 15 with a panel discussion featuring journalism alumni magazine editors in the Ernie Pyle Hall auditorium. The lecture series is free and open to the public.