Speaker Series: James Balog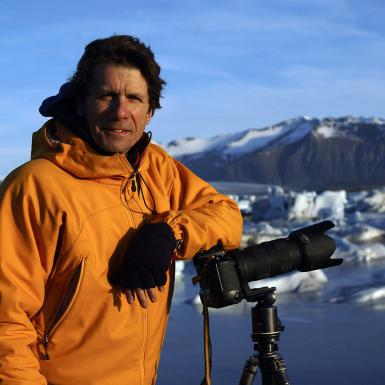 James Balog is a visionary photographer whose work extends far beyond the camera to the international stage, where he educates audiences about humans' relationship with the environment.
Balog will give a public Speaker Series lecture, followed by a screening of "The Human Element," a documentary about human interaction with earth, air, fire and water. Its his latest major project with the Earth Vision Institute, which he founded in 2012 with the mission of "integrating art and science to reveal environmental change and inspire a balanced relationship with nature."
The film will begin at 7:30 p.m.
The event is co-sponsored by the city of Bloomington, the College Arts and Humanities Institute, the Department of Earth and Atmospheric Sciences, the Environmental Resilience Institute, the Department of Geography, the Office of First Year Experience Programs, the Integrated Program in the Environment, the Residence Halls Association, the School of Public and Environmental Affairs, and Sustain IU.
The Media School will also screen Balog's Emmy Award-winning documentary "Chasing Ice," based on Balog's Extreme Ice Survey project that placed more than 40 cameras on two dozen glaciers to capture time-lapse images of climate-induced change, on April 10 in the Franklin Hall commons.