Students intern on set of Ms. White Light
Working 12-hour shifts from 7 p.m. to 6 a.m. isn't easy. But for student interns on the set of an upcoming film, working long and late shifts actually became fun.
To get through it, they learned to stay focused and drink a lot of coffee.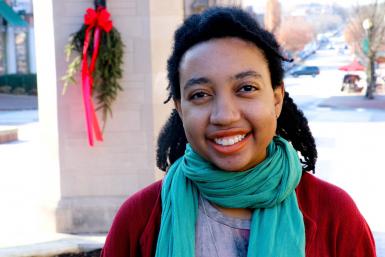 Media School students got the chance this semester to work with IU alumni on the set of a motion picture being filmed in Bloomington. Interning on the set of Ms. White Light, students learned what exactly working in the film industry might take.
Working as a base camp production assistant, senior Dakota Taylor helped with everything from setting up food to loading gear to standing off set and guarding the shot.
Taylor studies cinema and media studies and media advertising and also works as the production officer of IU's Student Cinema Guild. He knew he wanted to get onto a set, so when he heard about the chance to intern with Ms. White Light, he knew he wanted to apply.
"For film school, it's one thing to be in class and it's another to actually do it," Taylor said. "It's so hard when you don't have any industry around you."
Senior Brock Spitaels, a cinema and media production student, had similar reasons for applying. Being in Indiana, he said, there aren't a lot of opportunities to work on a film set.
Usually, the closest opportunities to get experience on a film set are in Chicago, he added. Pigasus Pictures, the production company producing Ms. White Light, works to get more people in Indiana involved in film. The company is based in Indiana and is run by IU two alumni, CEO Zachary Spicer, BA'06, and COO John Armstrong, BA'02, MFA'07.
The company also produced The Good Catholic in Bloomington earlier this year. Pigasus Pictures plans to produce five more films in Bloomington during the next three years.
"It's really cool to see how a feature film set operates," Spitaels said. "I'm really lucky to have this opportunity."
The film, starring Judith Light and Roberta Colindrez, is about a woman who counsels terminally ill patients but has difficulty connecting with people in her personal life.
Senior Noni Ford, a film production student, said she appreciates that Pigasus focuses on Indiana and the Bloomington community.
"They know a lot about the campus and the state and Bloomington," Ford said. "They definitely want to get the community involved."
Filming for Ms. White Light began in October and continued through the end of November. During production, student interns worked 12-hour shifts, often late at night and early in the morning.
"It sounds like a lot, but it's actually really fun," Ford said.
As well as drinking a lot of coffee and energy drinks, Taylor found that staying on his feet and keeping busy helped him stay awake.
Despite long shifts on their feet, student interns found how rewarding working a set could be. They learned skills and made connections they'll take with them long after production wrapped.
"I've learned that 12 hours of footage might only give you two minutes, but it's awesome to see the transformation to the screen," Taylor said.
Taylor said he also learned the importance of communication and problem solving on set.
Spitaels said one of the biggest takeaways for him is how many people actually work on a film.
"I never knew how many people are needed to make a film successful," Spitaels said. "A lot of people have specific jobs that help the film work smoothly."
For Ford, the internship experience helped solidify her future plans, focusing on cinematography and screenwriting.
"I'm super grateful for this experience," Ford said. "It's great to have this type of experience."
More: