Pulitzer Prize-winning climate journalist shares insights on science reporting, perspective on climate change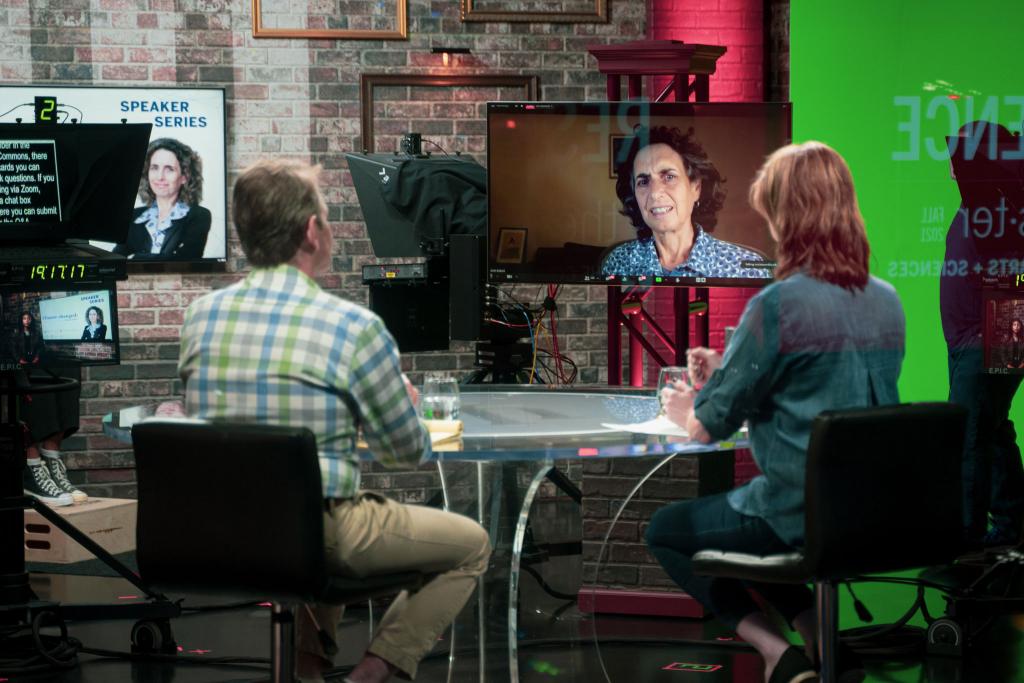 Pulitzer Prize-winning journalist Elizabeth Kolbert opened The Media School's fall Speaker Series on Monday, addressing her role as a science journalist and sharing her perspective on climate change.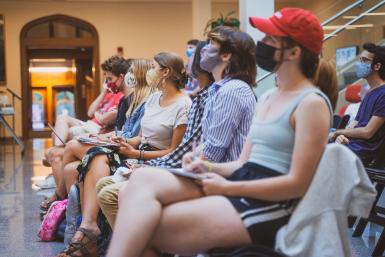 Kolbert has written climate stories for The New Yorker since 1999, and previously worked for The New York Times. She has published several books, including "The Sixth Extinction," which won the Pulitzer Prize for general nonfiction in 2015. Her newest book, "Under a White Sky: The Nature of the Future," published by Random House, was released in February.
The conversation took place virtually through a Zoom webinar, but The Media School also hosted a live screening in the Franklin Hall commons. Students for a New Green World hosted a post-lecture discussion in the commons.
Media School assistant professor Suzannah Evans Comfort and Gabriel Filippelli, executive director of the Environmental Resilience Institute and chancellor's professor of earth sciences at IUPUI, moderated the conversation with Kolbert.
Kolbert talked about her role as a science journalist, and how she sees herself as a translator for the public. She said she is often faced with jargon and difficult scientific concepts that she has to make understandable for non-scientists.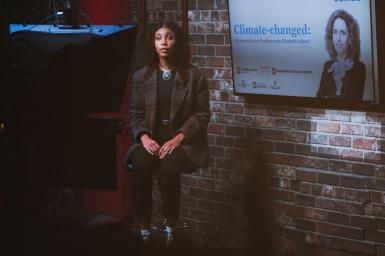 "I often have a lot of time with them and wear them down to explain what they're doing in English — English that laypeople can understand," Kolbert said. "And then of course there's the more solitary, sedentary part, which is sitting in front of your computer, figuring out how to put this story together in a way that is not just comprehensible, but interesting."
Kolbert said another important aspect of translating science for her audience is turning the scientists in her stories into characters. Instead of continuing to view scientists as removed anonymous observers, she said she likes to try to bring them to life.
Comfort asked Kolbert how she thought climate change will affect all news reporters in the future, not just climate reporters. Kolbert said she thought non-climate reporters are often hesitant to address how climate change affects their story because they don't know enough about it.
"All journalists should have enough confidence to at least be able to make the phone call to ask the right person how to frame this," Kolbert said. "Increasingly, I don't want to say all stories, but a lot of stories are going to have a climate change component."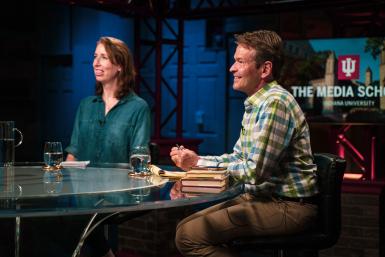 Kolbert said scientists and journalists are similar because they share a curiosity about the world.
Filippelli asked Kolbert more specifics about the science she reports on, specifically geoengineering. She talked about how Louisiana State University has a replica of the Mississippi River Delta the size of two football fields. The model is made from plastic foam and helps scientists test ways they can modify the ecosystem in sustainable ways.
Kolbert said she thinks the most important step someone can take to combat climate change is to elect the right people. She said working against climate change will take large-scale political action, but that doesn't absolve individuals from making their own lives sustainable.
"If this is what it means to wake up to climate change, we are really and truly screwed, because waking up means actually taking serious action," Kolbert said. "That doesn't mean reading and just sort of wringing your hands."
The talk was co-sponsored by Sustain IU, IU's Integrated Program in the Environment, the Department of Earth and Atmospheric Sciences and the Environmental Resilience Institute, and it was part of the College of Arts and Sciences' fall 2021 Themester, which has the theme of "Resilience."
A video of the talk will be available on The Media School's Facebook page until Monday.