PBS's Kerger outlines future goals for public media, television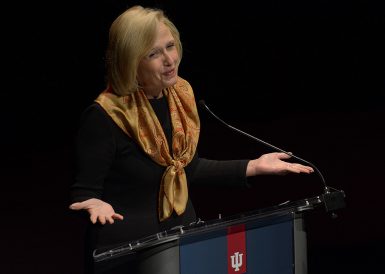 As a little girl, Paula Kerger sat in front of her television set, her eyes as big as her dreams, and watched as Mary Tyler Moore led an empowered life as a young, successful career woman. In rural Maryland, Kerger rarely experienced women like this.
Television was Kerger's window to the bigger world and source for inspiration. As the president and CEO of PBS, she said she aims to provide information about the world to audiences that may not have many ways to access it.
"Our mission is not just to draw large viewing number," Kerger said of public media. "Our mission is to use our platforms to educate, engage and inspire our audiences."
Kerger spoke to students, faculty and members of the community Tuesday at the Buskirk-Chumley Theater as the guest of the school's Speaker Series and of WTIU, the Bloomington PBS affiliate. She discussed goals of public media and the role television as a medium plays in society. She even provided insider bits and sneak peeks for the most popular programs on PBS, Downton Abbey and Sherlock.
Throughout her talk, Kerger stressed that while changes keep coming in modern media, compelling storytelling is a constant in quality media. In fact, she claimed that many new media organizations are looking back at older platforms to achieve the best storytelling. She cited Netflix, which participates in content creation just like traditional television stations, and the Huffington Post and BuzzFeed, which have announced plans for expanding to the tube.
Kerger drew a distinction between these organizations and PBS, however, by emphasizing the station's commitment to using great storytelling to get at-risk children excited about learning. She said that while preschool attendance for the wealthy is 40 percent higher than low-income children, four out of five children in America watch PBS at least once over the course of a year.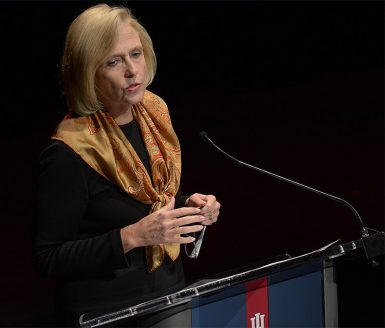 To use its large viewership for good, the network has invested in several shows that aim to prove to children that science and math are not only important skills to have, but can also be fun skills to use. Kerger said that when creating these shows, developers were aware that many young girls believe math and science are subjects for their male classmates. She said PBS uses programs featuring female leads, such as The Odd Squad, a show about a group of investigators that use math to solve mysteries, and Nature Cat to teach both boys and girls the power of STEM subjects.
"In order to compete in a global knowledge economy and build America's competitiveness by maximizing human capital, we have to expand access to all children so that they can learn and grow," said Kerger. "We need to leverage the resources and infrastructure we already have in place in order to provide children with access to those skills they will need to succeed."
One way PBS is trying to enhance educational resources in America is by being a resource for the nation's teachers. The network's free teacher database, LearningMedia, aggregates five to 10 minute clips, organized by grade and subject for use in the classroom.
The station also has partnered with institutions such as NASA, the Library of Congress and the National Archives to digitize important documents, so they can come to life on the screen in front of students who are learning about them.
LearningMedia is not the only online platform Kerger has overseen during her time at PBS. PBS Digital Studios, the station's YouTube channel, has more than 26 million streams a year and nearly 6 million subscribers. The majority of the channel's audience members fall between the ages of 15 and 22, a demographic Kerger said public media has never been successful at reaching.
In addition to educating underserved children and engaging new audiences, each PBS station strives to be intertwined with its community, according to Kerger. She said every station is independent and has its own board and its own group of viewers to which it is  accountable. This convergence of national news coverage and regional expertise is what makes PBS successful.
"At our heart we are local," she said. "We have 350 different stations that all have very different versions of what the world looks like. They reflect the diversity of our country in so many profound ways."
The relationship with its community is one way Kerger distinguished public media from other types of media. She also noted that public media provides the only information available that is not controlled by the five major media conglomerates. She believes that these distinctions explain why PBS has been named America's most trusted public institution 12 years in a row.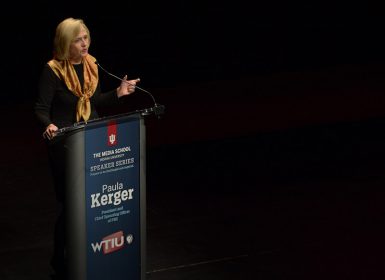 Despite this honor, audience members expressed concern about the intentions of some corporate PBS sponsors.
"Sometimes I notice a program I love is sponsored by a corporation I'm not as crazy about," an audience member said during the Q&A portion of the program.
Kerger responded by reassuring audiences that the largest percentage of the station's funding comes from viewers, and added that the program Frontline has no corporate funders at all.
"PBS is funded because people make conscious decisions to support our stations," she said. "Thanks to our viewers, I don't have to worry about making a buck with every decision I make. We just try to do what we do right and be transparent, and I then hopefully the money will come."
Other audience members were less concerned with funding, and more concerned with questions of media literacy and accuracy in public media. Junior Gabby McLemore, who is pursuing degrees in journalism and education, found Kerger's discussion of empowerment through education particularly pertinent.
"As a future educator, I appreciate what Paula Kerger had to say about the importance of education," she said. "Public media should foster youth education, and PBS is working harder than ever to provide teachers the exact resources they need to create a better learning environment for their students."
NPR international correspondent Soraya Sarhaddi Nelson is the next speaker in the school's series. Her public talk is at 5:30 p.m. on Dec. 3 at the Buskirk-Chumley Theater.
More: