One Day in April Bloomington premiere to fund scholarship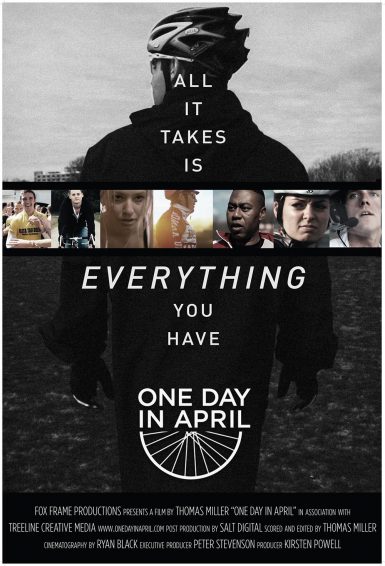 Hoosiers have another reason to celebrate Little 500 week: the Bloomington premiere of a feature-length documentary about the race produced by IU alumni.
One Day in April will be shown at 8 p.m. April 24 at the Buskirk-Chumley Theater. Tickets are in limited supply and are available through the BCT website.  Proceeds of the film will support future fledgling filmmakers with funding and mentoring through a new scholarship set up by the director Tom Miller, BAJ'12, and assistant director Ryan Black, '12.
It has been a three year journey for Miller, Black and Peter Stevenson, BA'12, who got the idea for the project while watching a sports documentary in Stevenson's basement.
"We started talking about why there isn't one for Little 500," Stevenson said. "Nobody at that point had really gone behind the scenes to tell that story."
So they made a collective effort to go behind the scenes of Little 500. They were later joined by Kirsten Powell, BA'12, who had ridden for Delta Gamma. She moved back from Florida to Indiana to help with One Day in April, providing insider knowledge of the race and the strategy that helped the trio best formulate a plan to shoot the big race day.
They filmed during the 2013 season, returning in 2014 for additional footage. The film debuted at the Cinequest film festival in San Jose, California, in February. It was the first time for any of the three to see their film on the big screen.
"We showed up with no idea how many people would be there, but when we got there, there was a line out the door," Stevenson said. "Seeing the film's poster on the wall and seeing the production company label made it really real."
For Miller, the best part of Cinequest was getting to talk to the people who felt connected to One Day in April.
"It was cool that it appealed to so many audiences," said Miller, who founded Fox Frame Productions with Black to handle their projects. "All the IU alumni that were there were really connected to the film. There was this one woman who graduated in 1956, and she told me this story about how she remembers vandals putting tacks on the Little 500 track. I just think it's cool that we were able to share that with each other because of this film."
After Cinequest, the three producers turned their focus to two things: first, a distribution deal and, second, the Bloomington premiere.
"We're working on a DVD right now," Miller said. "We're trying to use our leftover footage to create more content and capitalize on the insight we have because we spent so much time with these people. But we're working to have ODIA streaming as early as May and then later available on DVD."
As for the upcoming premiere, the Beth Wood chapter of the Public Relations Student Society at IU has helped with publicity. Miller contacted the group for local assistance getting the word out
"After speaking with Tom about his project, we instantly knew we wanted to be a part of this amazing project that hits so close to home," said Cat Huynh, PRSSA member working on the project. "We've never had a committee that revolved around film and entertainment, and what better one to add than one that helps out an IU alum?"
She said the One Day in April committee helped publicize the premiere in many different ways.
"We assisted in creating flyers and putting them around campus, as well as setting up a media screening for student publications and blogs," Huynh said. "One Day In April is an incredible documentary that takes a look at the other side of Little 500 that most students don't think about often, and we hope that Hoosiers come to show their support for the filmmakers, the students and the riders."
Black said ODIA was his first chance to produce a film, and he knew working with Miller was a great collaboration because they had been friends since grade school.
"We're both from Fort Wayne, and we were actually in a band together growing up," Black said. "Once ODIA got started, I got to try producing, scheduling, filming and crowdfunding. It was one of the most important things I learned during my time at IU."
The trio worked on social media to raise over $10,000 through an Indiegogo campaign, and received additional assistance from individual investors.
Stevenson said that without the help of other people, ODIA would have been impossible to make. It is for this reason that the team decided to donate the proceeds of the Bloomington premiere to a new One Day in April IU Student Foundation scholarship.
"We were all students at IU," Stevenson said. "We knew how tough it could be to put out a product you're proud of with what limited resources we have as students. We don't want people to be held back because of money. Without donations, we couldn't have made what we made, so we worked to create this scholarship to help out future students with a vision."
Black said he felt that the ODIA crew owed it to the community to create a scholarship out of the profits from the Bloomington premiere.
"IU gave us so much, IUSF gave us so much, and we just wanted to give back," Black said.
The first scholarship will be awarded this fall, and the deadline to apply is Sept. 21. The award will allot a full year for the recipient to fully explore and produce a narrative or documentary film. The only requirement is that the film must be made in Bloomington. In addition to financial support, the recipient also will receive mentoring and advice from Miller and Black.
More: