NSAC team places 2nd in district
Students in the MSCH-A480 NSAC Competition Team class placed second in the 2021 American Advertising Federation National Student Advertising Competition with their advertising campaign for the social media dating app Tinder, this year's case study client.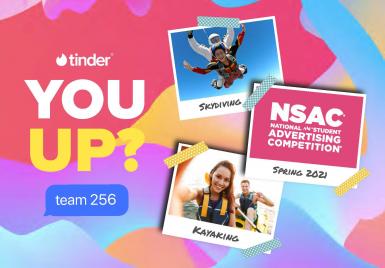 The competition was held in AAF District 6, including university and college chapters in Indiana, Illinois and Michigan. Competition winners were announced April 9 during the AAF's districtwide, virtual awards ceremony.
The team members were:
Brittany Bloom
Anthony Bollero
Kate Gallagher
Jack Greiner
Nicole Hill
Elliana Levi
Jennie Moran
Noah Nash
Erin Nelson
Luku Ojerinde
Jared Reed
Skylar Richey
Khyler Runnels
Peyton Sadler
Lauren Schwartz
Megan Seibert
Dillon Slagle
Jacob Susina
Min Thaw
Mitchell Toher
David Wasserman
Madison Weisgerber
Senior lecturer Craig Wood was the team's advisor.
Last year's team also won second place for its work for Adobe Creative Cloud for Advertising.