Monaghan publishes poem inspired by war reporting experience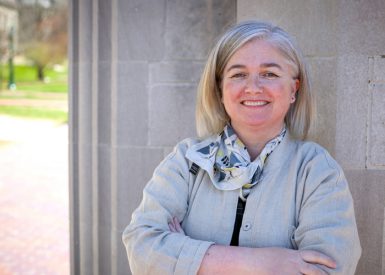 A poem by professor of practice Elaine Monaghan about her experience reporting on the Kosovo conflict appears in Noli Me Tangere (Touch Me Not), a collection of reflections published by the Center for Religion & The Human.
"Noli me tangere (touch me not)" are the words spoken in the Bible by Jesus to Mary Magdalene in the garden after she discovers his empty tomb. The project uses those words to spur reflections on COVID-19 and other pandemics.
"In journalism, we str​ive to breathe the same air as the humans we report on, to do our jobs best. But there is always a line that we must navigate between professionalism and empathy," Monaghan writes in the introduction to "Song For a Massacre Survivor."
She compares the literal distance required by COVID-19 to the distance reporters must maintain from their subjects to preserve objectivity. "Song For a Massacre Survivor" is about a time when that line disappeared for her.