Krahnke, Schwibs collaborate on stroke documentary
Colorful illustrations of brains. Words appear: Time is Brain
Diane Pennica appears on screen with an ID: Diane Pennica, molecular biologist and pioneer
Pennica: Every 40 seconds somebody has a stroke. There are
over 800 thousand new cases every year.
Dr. Russell Bartt appears on screen with an ID: Dr. Russell Bartt, director of the Comprehensive Stroke Program, Swedish Medical Center
Bartt: Stroke has always been one of
the most common neurologic disorders.
Forever, really.
Dr. Louis Caplan appears on screen with an ID: Dr. Louis Caplan, physician and educator
Caplan: Strokes often
occur at a very young age.
Actually I've seen some pediatric strokes.
I have a lot of patients in
their 20s and 30s.
So it's a disease that often hits
people when they're breadwinners.
And they are actually the head of the family.
Katie McCarthy appears on screen with an ID: Katie McCarthy, nurse practioner
McCarthy: We've certainly had some patients that are
my same age and have little kids.
And you know that's hard.
Dr. Bruce Ovbiagele appears on screen with an ID: Dr. Bruce Ovbiagele, researcher
Ovbiagele: There are two main types of strokes.
One is called an ischemic stroke.
We also call it a blood clot stroke.
The other is called a hemorrhagic stroke,
also called the bleeding type of stroke.
Dr. Judd Jensen appears on screen with an ID: Dr. Judd Jensen, neurologist
Jensen: The best way for us to help the patient
is to dissolve or remove that blood clot.
And we know from
numerous studies that the faster we do that,
the more likely the patient is
to have a good outcome.
Dr. Johanna Fifi appears on screen with an ID: Dr. Johanna Fifi, neurondovascular surveon
Fifi: For stroke we're
moving as fast as we can, as
efficiently as we can, to try
to get the blood vessel
open as quickly as we can.
So we have multiple team members
there at the same time.
Dr. Erica Stoddard appears on screen with an ID: Dr. Erica Stoddard, resident physician in neurology
Stoddard: So thrombectomy is a interventional procedure
that can be done
when someone's having a stroke.
Essentially what they do
is they have a tiny catheter.
They go up into the artery,
put it up against the clot itself,
and then kind of suck that clot
out, take it out of the brain.
Eileen Brown appears on screen with an ID: Eileen Brown, former coordinator of the Colorado Stroke Advisory Board
Brown: One of the biggest tools we
have is what we call consulting.
So they would consult with
a higher level of care.
One of the ways we can do that is
through you can do that through a phone call,
which, it's helpful,
but it doesn't give a full picture,
literally a picture of
the patient and what they're going through.
But when we introduce telemedicine
now there is a video component where
physicians can work together
assessing a patient with
real-time information, real-time visuals.
Looking at with these stroke assessments how
severe does this patient look
and determine a better plan of care.
Dr. Chris Fanale appears on screen with an ID: Dr. Chris Fanale, vascular neurologist and director of Blue Sky Telehealth
Fanale: The concept being is in places where
patients don't have the access
to stroke neurologists.
Can we use telemedicine to
visually
A screen in a doctor's office shows Fanale's face
Fanale: look at these patients,
evaluate these patients,
and make a better decision
than if we were to just
Fanale appears on screen
Fanale: talk to people
over the phone and doctors over the phone.
A woman in a lab looks into a microscope. Caption reads: Voice of Dr. Donald Frei, senior endovascular surgeon and neuroradiologist
Frei: So I think we're really just
now on the forefront of
A man puts a device onto another man's head in front of an ambulance.
Frei: an explosion in the technology of
A scientist in a white coat fiddles with a machine
Frei: neuro interventional treatment of any
neurovascular
A helicopter lands.
Frei: or any neuro disease.
It has literally changed overnight.
Stoddard appears on camera, looking at her cell phone. She's wearing a white coat and standing in front of a wall that says: Colorado's number one brain team. We treat more strokes, faster.
Frei: What it means to be a neurologist.
Dr. Maysun Ali appears on screen with an ID: Dr. Maysun Ali, vascular neurologist and telestroke provider
Ali: I think telemedicine has
given us a lot of benefits,
especially in terms of advancing stroke care.
Stoddard appears on camera.
Stoddard: When I see a patient come in and they
have a really high NIH Stroke Scale.
They're not able to move half their body.
They're not able to speak.
And we give them TPA,
we do a thrombectomy
and you see them the next day
and they're almost completely back to normal.
It's amazing and that's one
of the reasons why I got into
this field.
Bartt appears on screen.
Bartt: For every 15 minutes
that goes by the chances
of getting the artery open dropped by
about 4%.
Ali appears on screen.
Ali: Every minute counts for stroke.
Dr. Ian Kaminsky appears on screen with an ID: Dr. Ian Kaminsky, neuro interventional surgeon
Kaminsky: I think the statement "time is brain"
really kind of echoes
what we need to do here.
Stoddard appears on screen.
Stoddard: Essentially meaning that the
faster that you can get
the medication in, the faster you can get procedures,
faster you can get to the hospital
and recognize stroke symptoms
the better.
Bartt appears on screen.
Bartt: There's far more victories
today than there used to be.
Not as many as we'd like,
but certainly more than
there used to be.
Ovbiagele
appears on screen.
Ovbiagele: So we have an acronym called fast. F-A-S-T.
F
ast stands for for f, meaning facial drooping.
A stands for arm weakness, weakness of an arm,
S stands for difficulty with
speaking, difficulty with speech.
And T stands for time.
Kaminsky appears on screen.
Kaminsky: So the best chance at having
a good outcome is getting
to the hospital as fast as you can. If you
have numbness, weakness, tingling,
speech issues, vision changes,
err on the side of caution.
It's better to be safe than sorry.
Jeannie Duncan appears on screen with an ID: Jeannie Duncan, former paramedic
Duncan: It's very hard to self-assess those symptoms.
So I think what's needed is a real rigorous,
rigorous public campaign of
education about these stroke symptoms.
Colorful illustrations of brains. Words appear: Time is Brain. Coming to Public Television Fall 2023.
Senior lecturers Steve Krahnke and Susanne Schwibs are producers of an upcoming documentary about stroke, the fifth-leading cause of death in the United States.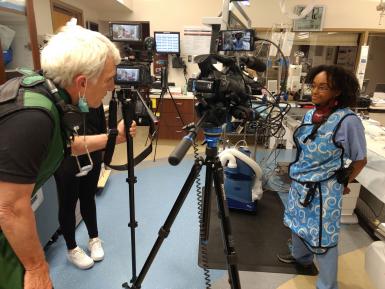 The centerpiece of the "Time Is Brain" project — produced by Krahnke, produced/directed by Loyola Marymount professor Glenn Gebhard and edited by Schwibs — is a 90-minute special, intended for public broadcasting. Studies suggest that the public remains largely unaware of their own role in identifying stroke when it happens, seeking timely treatment and predicting life-course outcomes.
"The 'Time Is Brain' project is intended to tell the dramatic story of how treatment has changed over the years, and how it is still changing," said Krahnke, the executive producer. "We will also highlight what a stroke is and how damage can be reduced, and provide hope for improved outcomes."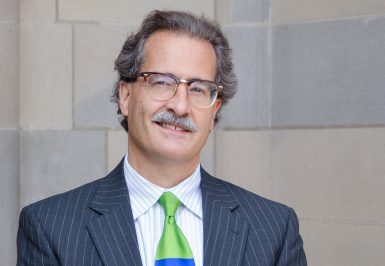 Krahnke and Schwibs have collaborated on films for public television for two decades, including the Emmy Award-winning "Harp Dreams," "Beaux Arts at 50" and "Wilderness Plots in Concert." They also collaborated with Gebhard on the Emmy Award-winning film "Cuba: The Forgotten Revolution." The project team includes two IU alumni: Leslie Spitznagel, BA'12 (theatre), who minored in telecommunications and is serving as assistant to the executive producer, and Abi Bole, BA'15, who is an incoming master's student in The Media School and is serving as the film's assistant editor.
Before the 1990s, for most people, "having a stroke" meant death at worst and diminished life outcome at best. For centuries people weren't exactly wrong — before recent advances in stroke treatment, little could be done for victims. A dramatic life change could strike from out of nowhere, altering or ending lives. But for many, what a stroke actually is remains a mystery. For example, many people do not know that there are two different kinds of stroke — either too much blood in the brain or too little. In the case of ischemic stroke caused by a blood clot, the effects are the same — each minute, 1.9 million brain cells irreparably disintegrate, taking with them memories, abilities, talents or life itself.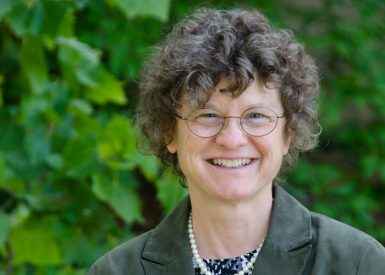 "Today, scientific advances have given medical practitioners better ways to diagnose and to intervene," said lead scholar Dr. Judd Jensen of Blue Sky Neurosciences in Denver. "We can see what is happening inside the brain, we have effective treatments, and we can begin therapy almost immediately. Yet even as our ability to recognize and treat stroke has improved, the public remains largely unaware of the before, during and after of stroke. To many, a stroke still means 'I'm dead' or 'I must accept the outcome.'"
The film will include:
The people who have struggled to both create and employ new technologies, including Diane Pennica, who developed a major drug used in treating ischemic stroke
People who have experienced stroke, either as a patient, loved one or caregiver, including Bill Meehan, former chief operating officer at Frontier Airlines
New frontiers of treatment and how education and political willpower can change outcomes, including Dr. James Grotta, director of stroke research, Clinical Institute for Research and Innovation, Memorial Hermann-Texas Medical Center, and director of the Mobile Stroke Unit Consortium
The science of stroke and stroke treatment, including Dr. Judd Jensen of Blue Sky Neurosciences
Action points that may improve patients' ability to recognize stroke in themselves and others, to interact with EMS and emergency department personnel and to understand the various treatments available
Filming will take place in the United States, in cities such as San Francisco, Denver, New York City, Washington, D.C., Cincinnati, Cleveland, Boston, Los Angeles, Houston and New Orleans, and in Europe, in cities including Berlin and Helsinki.
The film is scheduled to release spring 2023. WFYI Indianapolis is the active production partner of the "Time Is Brain" project. Corporate sponsors of the project include Genentech, a member of the Roche Group, and Penumbra. Additional funding comes from Health Care America.