Films on Bloomington, social and political issues result from Punjabi project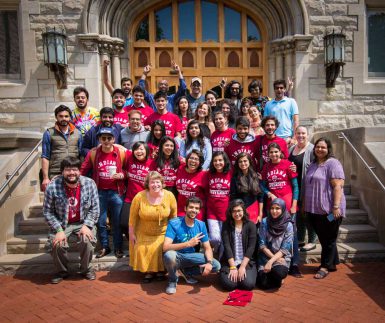 Three weeks of intense learning and collaboration in Franklin Hall among 30 young Punjabi filmmakers resulted in the production of 10 short films, ranging in subject matter from nightlife in Bloomington to a man's experience with paranoia.
Beyond these finished products, which were screened in the Franklin Hall commons, the project achieved a less tangible goal: It brought together people from vastly different social and professional backgrounds and helped them bond in a way that they and the program's organizers didn't anticipate.
"The connections that were made among people who attended and their friendship with us went well beyond our wildest expectations," said Media School associate dean Betsi Grabe, who led the project with Teshome Alemneh, IU associate vice president for international development. "One of the attendees mentioned in a Facebook post, 'I have never fallen in love with this many people this fast.'  One of our goals was to bust through borders, and I take comments like that as a marker for achieving just that."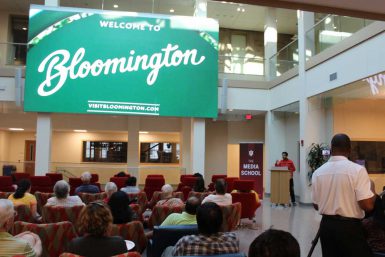 The Punjabis, ages 22 to 30, came from the region that straddles India and Pakistan, which has been an area of conflict for the two countries since the late 1940s. The area also is known as Panjab — that somewhat controversial spelling difference being the subject of one group's film.
IU's Gateway Office and the U.S. Embassy in New Delhi, as well as the U.S. consulate in Lahore, recruited 15 participants each from India and Pakistan. They included avid filmmakers as well as an engineer, a nurse, a mathematician, a software developer and an English literature major, among others.
The project was funded by the U.S. Department of State through the U.S. Embassy in New Delhi, India Public Diplomacy Grants Program.
Students lived in Eigenmann residence hall and walked each day to Franklin Hall, where they studied under Grabe, senior lecturer Susanne Schwibs, professor Greg Waller and graduate student Jennifer Jones.
Associate instructors Andrew Behringer, Andre Seewood and Javier Ramirez were integral to the project, providing hands-on assistance and taking the group on excursions outside of class. Staff in the Office of International Development conducted group exercises with the students to ensure they connected with each other beyond superficial niceties, Grabe said.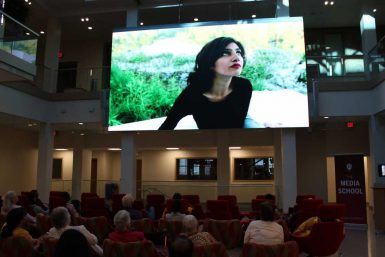 Among the 10 films the students created, several were about Bloomington.
"What startled me was how quickly the visitors figured out the unique dimensions of Bloomington," Grabe said. "For example, they understood in an instant the split between campus and town."
In one film, students looked at Bloomington nightlife through the eyes of a taxi driver. In another, they interviewed local residents to get their take on how Bloomington has changed since the 1979 release of the classic Bloomington movie Breaking Away.
Other films took on political or social themes, such as Panjab not Punjab, which explores the impact of colonialist Britain's changing of the state's name. Another film, Khabtt, or Paranoia, depicts a man's anxiety and paranoia, triggered by a memory of abuse.
Grabe said by the end of the three weeks, many of the students didn't want to leave. And she said the school's faculty and students learned as much from the visitors as they learned from them.
"They are unflappable," Grabe said. "They have kindness and grace combined with a never-quit, can-do kind of grit. They have unbelievable capacity to connect and build human relationships."
Seeing Bloomington through the Punjabi students' eyes gave Grabe a fresh perspective on her home turf.
"It makes one understand how privileged we are to live here, and work on this campus, our facilities at The Media School, and remarkable colleagues at the office for international development," she said.
Films produced by Punjabi students
Panjab Not Punjab
Haider Mehdi, Zahra Rukhe Naqvi, Jassi Sangha
Theme: How altering a letter made the name of a state meaningless.
Finding the Eye
Vivekjot Brar, Narmeen Ijaz, Nawaz Khurram Sheikh
Theme: A filmmaker's transformation from seeing with the naked eye to seeing through the camera lens.
No Man's Land
Jyoti Aneja, Rehman Ilyas, Krishman Singh
Theme: A story of two young women demonstrates that what unites us is stronger than what sets us apart.
Journey
Faseeh Adrak, Abdul Basit, Saar Sukhan Singh
Theme: A musical journey of Bloomington based on our experience.
Hello, Hello
Sahajmeet Misha, Eshah Shakeel, Vicky Zhuang Yi-Yin
Theme: A representation of a poem that invites dialogue between people who are seemingly different from each other in order to seek understanding.
The White Night
Satdeep Gill, Musa Hasan, Arjun Suri
Theme: An exploration, through the eyes of a taxi driver, of the underlying reality of nightlife in Bloomington and how power dynamics are reinforced.
Breaking Away Again
Prateek Bagi, Aysha Basharat, Karanveer Singh
Theme: Opinions of Bloomington residents about how the city has changed since the classic film Breaking Away was released in 1979.
Khabtt (English: Paranoia)
Ifrah Ahmed, Hyra Basit, Dulcie Suri
Theme: A triggered memory of abuse takes the audience through a man's journey of anxiety and paranoia.
Blooming Town
Arshdeep Arshi, Gaurav Kumar, Saleem Razia
Theme: Life in Bloomington captured through a technique called Hyperlapse, showing the city's diversity and multicultural acceptance.
2 Indian Boys
Vitthal Bhardwaj, Sameen Arooba Chaudry, Sumeet Singh
Theme: Two Indian boys seek to discover the American Dream in Bloomington on a sunny day.
More:
/news-events/news/item.html?n=grant-will-bring-aspiring-punjabi-filmmakers-to-media-school/
/news-events/news/item.html?n=punjab-workshop-participants-to-create-short-films-on-southern-indiana/#sthash.aQ29SfHq.dpuf