Entrepreneur Ali will tout nontraditional media opportunities in Monday's talk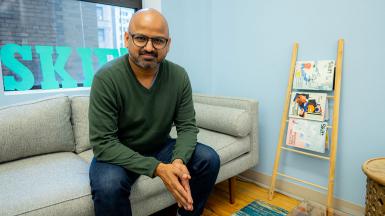 Rafat Ali wants to convey a sense of optimism to students and faculty when he visits The Media School next week.
Students may worry when they hear about layoffs at media organizations, but the media entrepreneur said he hopes students remain optimistic about their field.
"I'm here to tell you that the world is a lot bigger than what you might hear about," said Ali, the CEO and founder of the travel industry site Skift. "There are a lot of different pieces to media that exist if you look beyond just traditional roles."
Ali, MA'01, will bring this optimism to his talk at 6 p.m. Monday in the Franklin Hall commons. The lecture will kick off The Media School's spring semester Speaker Series.
Skift is a business intelligence and marketing platform in travel. It provides news, information, data and services to the travel industry.
Ali earned his master's degree in journalism from IU in just three semesters. As a graduate student, he was a Knight Foundation Fellow. He also helped design and code the original IU School of Journalism website, which was in use years after he graduated.
After graduating, he served as managing editor at the Silicon Alley Reporter before establishing paidContent, a site that covered digital content's effect on media industries.
In fall 2012, Ali and cofounder Jason Clampet started Skift — a company that now employs about 60 people in offices across the world. Skift started as a business media company but soon became a news source for traveling, dining and wellness.
Throughout his career, Ali used what he learned during his time at IU. He said his time in Indiana gave him breathing space to learn — something he said you often don't get on the job.
"I had enough time to learn about journalism and reporting, the U.S. media landscape, the cultural context which I didn't have at all coming from India," Ali said.
During his visit to campus, Ali said he'll talk to students about whatever they want to talk about and answer any questions they may have.
"I've been in New York, L.A., London," he said. "I know a lot about those media markets."
Ali said it's important for students to have a realistic expectation of what jobs in the media industry are like today.
"My advice would be to have a better understanding of the jobs, of the skills you need to have, how to pursue companies you want to be at," Ali said.
Pursuing certain companies is more than seeing a job and applying, he said. It's about building a relationship with people at the company and making sure you have enough clips that show you can work there.
He also encourages students to find a specialization while they're still in school and find out where those specialized skills might fit into the larger world.
"That's the amazing thing about being a student," Ali said. "Who would give you four years to learn anything on the job? It's a luxury only students really get."
Ali's talk is the first of three Speaker Series lectures. New York Times reporter Maggie Haberman will speak at 5:30 p.m. March 18 at the Buskirk-Chumley Theater, and photographer and documentary filmmaker James Balog will speak at 5:30 p.m. April 9 at the Buskirk-Chumley Theater.