Behrman receives Bicentennial Medal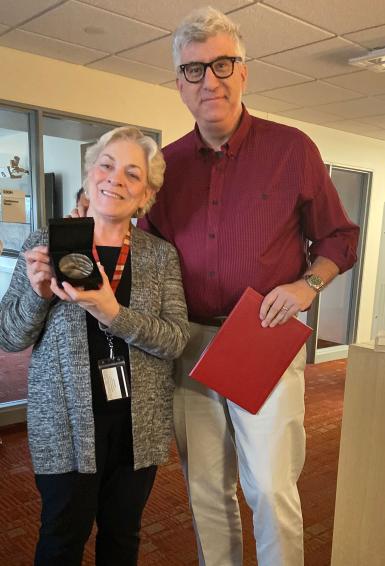 Media School dean James Shanahan awarded a Bicentennial Medal to Marilyn Behrman, The Media School's undergraduate administrative services coordinator.
The Bicentennial Medal honors distinguished and distinctive service to IU. The medal itself is made of material from old bells from the Student Building, so those honored can carry a piece of IU history with them.
Behrman was recognized for her outstanding commitment and support of IU and its students.
She is a dedicated Hoosier sports fan, attending nearly all home football, men's basketball, women's basketball and volleyball games. She regularly turns out for other sporting events, as well as musical and arts productions, operas, student recitals and movies at the IU Cinema.
Behrman is the fourth recipient of a Bicentennial Medal from The Media School. The others are: