Emmy-winning sportscaster Costas engages in Q&A with students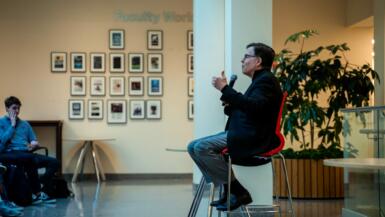 Legendary sportscaster Bob Costas spoke with Media School students yesterday about the highlights and achievements of his lengthy sportscasting career, including the many years he spent with NBC. This October will mark 50 years since his first professional sportscasting job.
Costas' professional career began at Syracuse University where he called for the minor league Syracuse Blazers of the Eastern Hockey League. During his time at Syracuse, Costas explored every possible outlet to get himself on the air. He was involved with news reporting and music shows along with covering sports.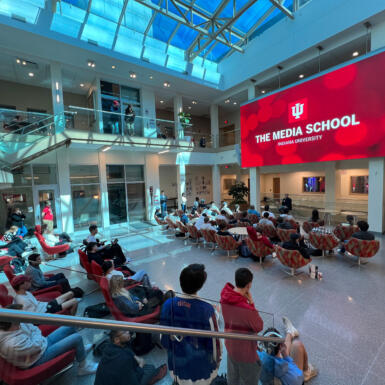 Costas emphasized the importance of being open to different types of opportunities when trying to break into the broadcasting industry. "You can't learn how to be a broadcaster in the classroom. Flood the market and don't confine yourself. Try not to take rejection personally," advised Costas.
Costas also shared his advice on the characteristics a sports broadcaster should strive towards. He stressed the importance of presence and connection with the athletes and other broadcasters. "Knowing the game is not the same thing as knowing how to present it," said Costas.
The importance of acknowledging history and covering sports authentically was a major focal point of the discussion. Costas spoke of his time covering the Olympic games from 1988 to 2016 both as a sporting and geopolitical event. He believes that there is time and space for sports and politics to intersect when covering events like the Olympics.
Throughout his career, Costas has never been afraid to talk about what goes on behind the scenes in professional athletics. He recalls being considered controversial by his colleagues for acknowledging steroid use within Major League Baseball. Costas felt it was important to acknowledge the discrepancies in the statistics fans were seeing due to alleged performance-enhancing drugs.
He also discussed the importance of building a trusting relationship and connecting with the audience. When talking about his experience covering Michael Jordan's last game with the Chicago Bulls in the 1998 NBA championship, Costas explained that he approached the game looking at what it meant to the audience. "This wasn't just a sports story, something more was at stake," he said.
Costas is currently working for Warner Bros. Discovery Sports where he does play-by-play and studio work for the MLB on TBS as well as commentary on CNN.