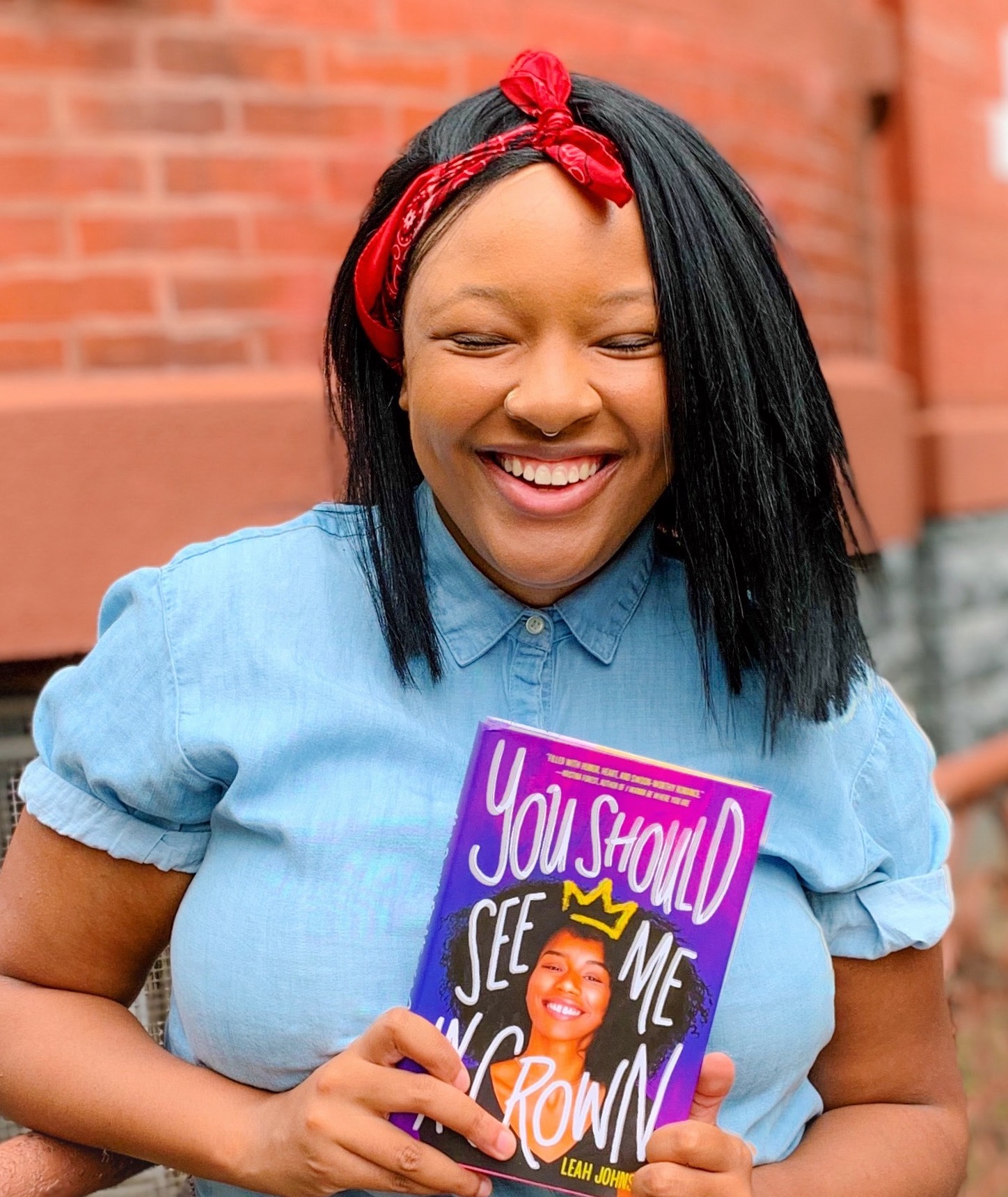 When Leah Johnson, BAJ'16, was at IU, she didn't really believe that all the different parts of her identity could co-exist peacefully or in a way that could make her happy, she said.

"I'm queer, I'm Black, I'm a woman, I'm from a low-income background, and I just hadn't seen anyone make a real run of it — a writing career — out of those circumstances," Johnson said.

Johnson, now a best-selling, award-winning fiction writer, focuses on creating stories where all kinds of young people see themselves represented.

She started writing when she was a kid, expanded her journalistic skill set while a student at IU, turned to creative writing while pursuing her MFA at Sarah Lawrence College and kickstarted her literary career with the award-winning debut novel  "You Should See Me in a Crown," published by Scholastic Press.
"You Should See Me in a Crown," the book deal for which Johnson signed just after her graduation from Sarah Lawrence, follows Liz Lighty, a queer, Midwestern high schooler competing for prom royalty in hopes of winning a scholarship for the elite college of her dreams.
The book was given a Stonewall Book honor, and TIME magazine named it one of the best 100 young adult books of all time — honors Johnson lists as two of her proudest.
"That was such a huge, huge deal for me," Johnson said. "When I wrote 'You Should See Me in a Crown,' I was not out. I did not think that there was a future in which I could be openly queer and happy — I did not think those things could exist together. I'm really, really thankful that I get to live a life that is honest and authentic and make a career out of telling stories about what it looks like to be queer and happy."

Johnson said she tries to write stories she wishes she had in her own adolescence.

"There is such a magic to being 12 or 16 — those are the ages that I usually write for," she said. "It is so terrifying and awful and wonderful and exciting and nauseating all at the same time. There's no other time of your life that feels like being that age. So it's really fun to be able to tap back into that and write stories that I wish that I had had back then to sort of give me a blueprint for a possible future."

When she started out, there wasn't a blueprint for a widely commercially successful young adult novel about a queer, Black girl growing up in Indiana, she said.

"We didn't have an example for what that would look like," Johnson said.
Her time at Sarah Lawrence exposed her to a wider variety of people and a world unlike the one she knew.

"I felt free to explore the kind of stories I wanted to tell and the kind of person I wanted to be, and that experience changed my entire life," she said.
She said she's grateful for how warmly her first book was received and that it continues to grow in the world the longer it's out. She published her second novel — "Rise to the Sun," also with Scholastic — in 2021. Her next book, "Ellie Engle Saves Herself," will be released in 2023 by Disney-Hyperion.
Children's literature made Johnson fall in love with the field, she said. One of her favorite parts of her job is conducting school visits where she speaks about storytelling with young people.

"That's the kind of stuff that keeps me going and makes me excited to return to the page," Johnson said. "Because the world is kind of hopeless … but young people, teenagers, middle schoolers — they're incredible."
Young people are honest, tenacious and curious, Johnson said, skills she believes are harder to maintain the older you get.

"But they still have it, so it's always a joy to be able to go into schools and be like, "It's possible for you to tell stories, and when you do, everything that makes you you right now? You need to hold onto it and channel it into the work," she said.
She advises student writers not to limit themselves.
"Figure out what your voice is," she said. "Practice writing in different styles. Everything you do doesn't have to be high art, capital H, capital A. Journalism can be fun. Writing can be fun. And it should be."
Johnson uses fiction-writing to explore what it means to be human.
Telling honest stories and getting to the heart of what it means to be vulnerable and a part of something bigger than yourself is what writing is all about, the author said.
Johnson, who studied journalism and African American and African Diaspora Studies at IU, said she learned how to be present, aware and pay attention when she was a journalist.

"I think those things translate really clearly to a life in fiction," Johnson said. "(Writing) is all about observation, taking real people and their movements and their motives and trying to communicate that on a page in a way that springs to life for the people who are reading it, and that's something I learned in journalism."
Johnson didn't have characters like Liz Lighty to relate to, so she built her own for future youth. But the practice of book-banning could undo that progress. She is passionate about keeping speech free.
"I'd be remiss if I didn't mention that the fight to keep literature alive and speech free is going to take all of us caring and advocating on behalf of queer books, Black books, books by neurodivergent authors, by disabled authors — we all have to advocate on behalf of all of these stories," Johnson said. "The control of what we are and are not allowed to say does not begin or end with queer books for kids getting banned. So if you're not paying attention, pay attention. Pay attention."