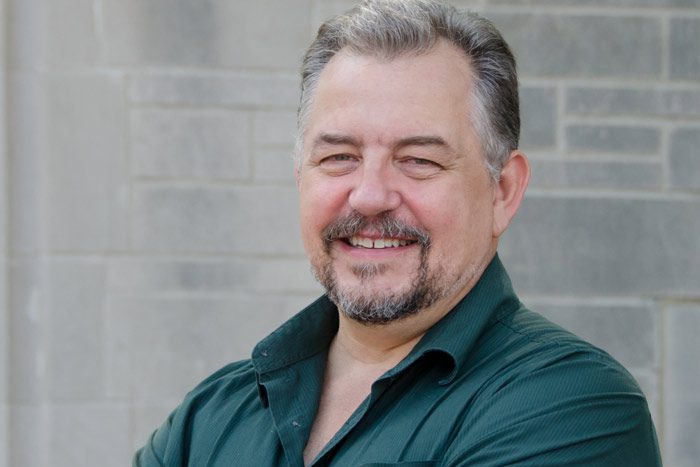 Mike Sellers
Professor of Practice
Contact Information
Research and Creative Interests
game design

systems thinking

artificial intelligence

cognitive computing

virtual worlds
Biography
I'm Mike Sellers. I'm a professor of practice and the director of the game design program at Indiana University. Being a professor of practice means that I've spent most of my career working in the games industry as a game designer and entrepreneur. I've had a wide-ranging career, including running three companies and designing several groundbreaking games. I came to Indiana University three years ago to continue working in these areas and to be able to work with students who share these interests.
People tend to think that designing and playing games is a lot of fun, and that's true. In a game, you can be the hero or you can be the dragon or anything else you can imagine, but designing games goes far beyond that, too.
It stretches you creatively and intellectually and taps into something essential about how we experience systems in the world. Within my areas of research and development, I focus a lot on games as systems. That includes things like combat systems or magic system, sure, but it also encompasses all sorts of other things you might not think of at first. Systems within an atomic nucleus, social systems that form in communities, the system created by two people in love, and even systems and everything from ecology to astronomy.
The amazing thing to me is that games and game design can help us understand each one of those better. This is a great time to be working in game design, and I'm very fortunate to be here at IU. I love having the opportunity to make games and to dig deeper to the future of game design and to be able to work with students who will be the next generation carrying this work forward.
Michael Sellers joined IU in 2014, where he teaches courses on advanced game design and the games industry among other courses. He became the Director of the Game Design program in 2017. His textbook "Advanced Game Design: A Systems Approach" came out in late 2017, published by Pearson Education. This book combines systems thinking and game design in ways that provide greater insights on both areas.
Sellers has been designing massively multiplayer online games (MMOGs), online social, and mobile games for over twenty years. He has started and run three successful game studios, and has also worked for notable game developers such as 3DO, Electronic Arts, Kabam, and Rumble Entertainment as a Lead Designer, Executive Producer, General Manager, and Creative Director.
His first commercial game was the award-winning Meridian 59, the first 3D MMO, released in 1996.  He was also the lead designer on The Sims 2, Ultima Online, Holiday Village, Blastron, and Realm of the Mad God.
In addition to his work in games, Sellers has conducted and published original research in artificial intelligence and taught classes in artificial intelligence for games through Uppsala University in Sweden. His AI research, partly funded by the US Defense Advanced Research Projects Agency (DARPA) focuses on "social artificial intelligence," creating agents that behave plausibly in social situations. As part of this, Sellers has published groundbreaking work on enabling artificially intelligent agents to learn, form social relationships, and have and express emotions based on a unifying psychological architecture.
Professional and teaching interests include MMOs, virtual worlds, community formation, transmedia game and story creation, multi-screen games, artificial emotions, and intelligent artificial agents. Primary game genres are RPGs, builders, and strategy games.
Sellers has a BS in Cognitive Science, and in addition to his work in games and AI has worked as a software engineer, user interface designer, RPG miniatures sculptor, and briefly as a circus roustabout and movie extra.
He has a Bacon Number of 2 and hopes someday to have an Erdos Number.