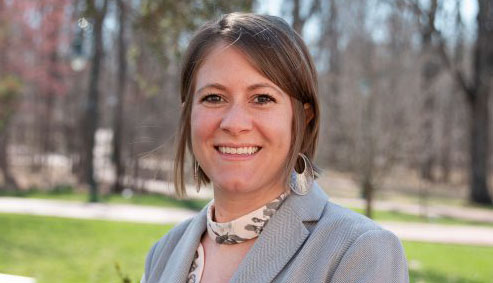 Melanie Sarge
Assistant Professor
Contact Information
Biography
Dr. Melanie Sarge started working in The Media School as an assistant professor in the fall of 2018. She earned her Doctorate in Communication from The Ohio State University in 2012 and worked as an assistant professor of advertising at Texas Tech University from 2012-2018. She also holds a Bachelor of Science degree in Communication from the University of Kentucky and a Master of Arts degree in Communication from The Ohio State University.
She has experience serving as an American Advertising Federation faculty advisor and regional board member. In 2017-2018, she was Head of the Mass Communication and Society Division of the Association for Education in Journalism and Mass Communication (AEJMC) and is currently on the editorial board member of Mass Communication & Society. In 2016, she was awarded a New Faculty Award from her previous institution for demonstrating exemplary research, teaching and service efforts and won an Article of the Year Award in 2014 from the Communicating Science, Health, Environment and Risk (ComSHER) Division of AEJMC.
Dr. Sarge's professional background is in strategic communication with specific emphasis on retail marketing, management communication, and public relations. She worked as a visual and operations manager for one of the leading women's clothing stores in the nation. There she implemented marketing tactics sent from regional management, directed sales initiatives, controlled the hiring and training of associates, monitored loss prevention and conducted store operation audits. She gained most of her PR experience working for a non-profit city promotions corporation which involved recruiting new corporate donors, coordinating community events and updating marketing communications. Her interest in researching persuasive communication stemmed from these professional experiences.
TEACHING EXPERIENCE
Dr. Sarge has been teaching undergraduate and graduate level courses for over 10 years and has volunteered her time to teach continued/lifelong learning community courses. Courses taught at institutes other than The Media School at Indiana University include: Advertising Campaigns, Advertising Theory, Advertising and Society, Principles of Advertising, Media Psychology, Research Methods, and Structural Equation Modeling.
Courses currently taught within The Media School include:
Integrated Marketing Communication Campaign Planning (Msch A441)
Brand Strategy & Media Management (Msch A442)
RESEARCH EXPERIENCE
Dr. Sarge has expertise in persuasive communication. Her research examines message factors and human biases that influence selection, processing, and comprehension of health and science information. Findings from this agenda inform message designers of strategies to increase the appeal and effectiveness of messages for a target audience. Previous and current research focuses primarily on mediated messages for health promotion and disease prevention among issues such as obesity, HPV, and breast cancer. Example work includes designing, developing and testing of messages to (1) increase time spent viewing weight loss/management-related articles and subsequent adoption of recommended behaviors, (2) promote female patient and parent initiated discussions with physicians about the HPV vaccine (3) heighten issue awareness and motivate greater willingness to partake in breast cancer screenings.