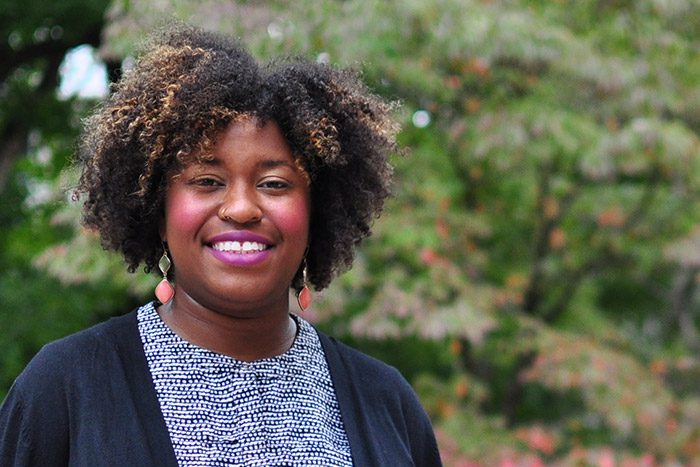 Katrina Overby
Doctoral Candidate (Journalism)
Contact Information
Research and Creative Interests
race and media

Gender and Media

Sports Media

African American cinema

social media

Black Twitter
Biography
Katrina Overby is an Indianapolis, Indiana native who received her Bachelor of Arts in Mass Communication and Broadcast Journalism from Rust College in Holly Springs, MS in 2009, and shortly after in 2011, received her Master of Science in Mass Communication specializing in News Media Management from The School of Media and Strategic Communications at Oklahoma State University. Katrina is a doctoral candidate at Indiana University in Bloomington, IN in The Media School specializing in Journalism. She has taught several courses at Indiana University, East Tennessee State University (online) and the University of Indianapolis. Some of the courses include: Reporting, Writing, and Editing, Race, Gender, and the Media, Public Speaking, Media and Society, and the Media Village. Additionally, she has served as an Assistant Instructor for Visual Communications, Design and Production, and Media and a Diverse Society. Katrina's broad research interests are in race, gender, sexuality and sports media. Currently her dissertation is focused on Black Twitter, racial formation, identity and culture. Katrina is also a part-time graduate assistant at the Center for Innovation Teaching and Learning (CITL) and the Black Film Center/Archive (BFC/A) at IU.
Katrina is the recipient of The Media School's 2018 Graduate Student Teaching Award. Additionally, she has been invited to speak to several organizations on campus about topics regarding race and gender in the media, graduate school opportunities, and has been the guest presenter at film screenings on IU's campus. She has spoken to members of Alpha Kappa Alpha Sorority, Inc., Alpha Phi Alpha Fraternity, Inc., the Women of Color Leadership Institute, the Black Student Union, the National Association of Black Journalists (IU Chapter), and the Black Film Center/Archive.
Publications:
Overby, K. & McGuire, J. (2016). Contrasting Male and Female Sports Announcers During Women's ncaaTournament Games. Journal of Sports Media 11(2), 87-109. University of Nebraska Press. Retrieved October 22, 2017, from Project MUSE database.
Awards/Honors:
Media School Graduate Teaching Award, The Media School, Indiana University, 2018
Alex M. Doty Memorial Fellowship, The Media School, Indiana University 2017
Finer Womanhood Award for Leadership of a Graduate Student, Upsilon Kappa Zeta Chapter of Zeta Phi Beta Sorority, Inc., Bloomington, 2015
President's Diversity – Doctoral Scholars Program (DSP), University Graduate School, Indiana University, Bloomington 2014 to present
Mass Communications Doctoral Fellowship & Teaching Assistantship, The Media School, Indiana University, 2012 to 2015
Rust College Trail Blazer Award, Department of Mass Communications, Rust College, 2011
Kendall Durfey Broadcast Journalism Scholarship, Media and Strategic Communications Department – Oklahoma State University, 2010-2011
McNair Graduate Fellowship, Graduate College – Oklahoma State University, Stillwater 2009-2011
Tom Joyner Foundation Scholarship, Rust College, 2008
Arthur Ashe Jr. Sports Scholar, Diverse Issues in Higher Education, Rust College, 2007