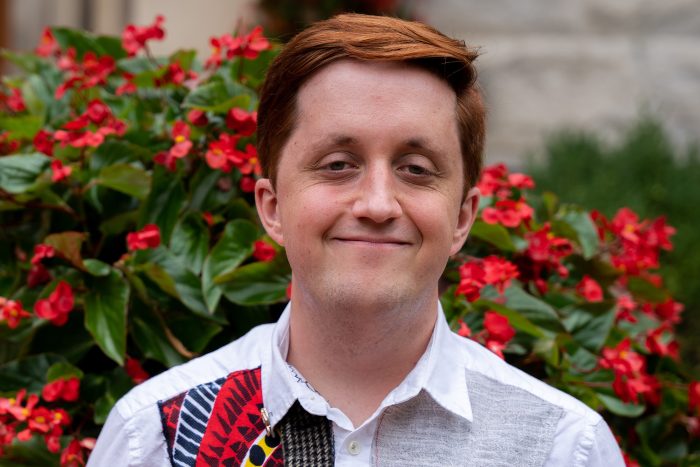 Justin Bonthuys
Associate Instructor
Pronouns:

He/His
Contact Information
Research and Creative Interests
Cinema and Emotions

Cult Cinema

classical Hollywood cinema

cinema & media theory and criticism

American Independent Cinema

African Cinema

queer theory

art and music films

Critical theory (Adorno, Benjamin, and Brecht)
Biography
BIOGRAPHY
I am a PhD student in the Media School beginning in the Fall of 2022. I hail from Johannesburg, South Africa, where I began my undergraduate studies at the University of the Witwatersrand before moving to the U.S in 2015. I hold BA and MA degrees in Critical/Cultural Media Studies from the University of North Texas and specialize specifically in Cinema and Television Studies.
I am particularly interested in Genre Studies, Star Studies, Film History, LGBTQ Media and Minority and Transnational cinemas. I believe that my background as a 'foreign' audience for Western media allows me to see intricacies and 'strangeness' where these might not otherwise be seen by intended audiences and, as a gay man, I also view texts critically through a queer sensibility. My time at the University of the Witwatersrand also gave me experience with drama and theatrical movements, opera, and the fine arts, as many of their core theory classes were more generally designed for students from across the School of Arts.
My master's thesis focused on how Melodrama and the melodramatic mode have been adapted within contemporary cinema as both a means of commenting on prior LGBTQI representation and of exposing mainstream audiences to the issues still faced by many within this spectrum. It can be viewed at https://digital.library.unt.edu/ark:/67531/metadc1833511/.
CONFERENCES
Conference Paper. Melodrama and the Megastar: The Simplification and Sanitization of the Queer Entertainment Biopic in Pursuit of the Mainstream Audience. Behind the Screen and Off the Stage: Film and Television Representations of American Entertainment. Media, Culture and Creative Technologies Research Group, London Metropolitan University. November, 2021.
TEACHING
Teaching Assistant, University of North Texas. Fall 2019-Spring 2021.
Associate Instructor, MSCH-C-101, Indiana University. Fall 2022