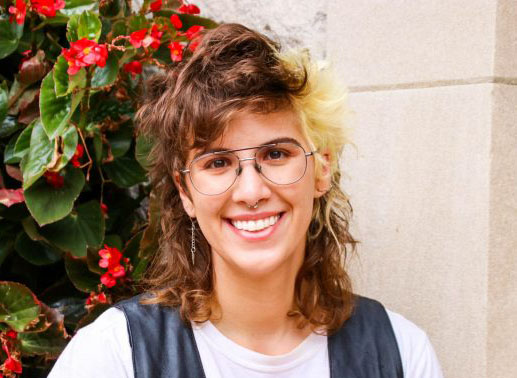 Jamie Theophilos
Doctoral student/ Associate Instructor
Pronouns:

they/them
Contact Information
Research and Creative Interests
Digital Media Cultures

Critical Technology Studies

Social Movements

Documentary Film and Video

media activism

Anarchism

new media

media history

film history

animation

Transformative Justice

Interpersonal Relationships

Conflict Resolution

Mental Health
Biography
My research interests revolve around the study of media, social movements, culture, and conflict. I am interested in the history of public shame, politically subversive subcultures, and how the progression of new media and technology produced the phenomena of "cancel culture." I research the way public shame is used as a political tactic and how public expressions of moral outrage impact the longevity and "success" of radical grassroots social movements. I am invested in analyzing how the contemporary landscape of social media affects how individuals build political and cultural affinities with one another, as well as exploring future possibilities for community-building practices and the resolution of interpersonal conflict and systemic violence.
In addition to my scholarly interests, I am also passionate about multi-media production, mainly non-fiction. I have worked on a myriad of documentaries on topics ranging from the leftist social movements of Greece to the politics of the COVID crisis in Brazil. I have also worked on many media productions for a variety of grassroots and non-profit organizations, supporting their efforts by making videos, graphic designs, animations, and web designs. On top of this work, I have taught a variety of video-making courses and workshops with the goal of utilizing media production to empower youth to build their voice.
I received my Bachelors of Arts at
Mount Holyoke College
in South Hadley, Massachusetts in Film Studies and Gender Studies, and my Masters of Fine Arts in the
Film, Video, New Media & Animation
department at
The School of the Art Institute of Chicago
. I have taught at schools such as the University of North Carolina Asheville, Winston Salem State University, and Rainbow Community school. I have spoken on panels,
presented workshops,
screened the films I worked on and participated in art exhibitions in various places across the globe including Montreal, Paris, Chicago, and New York City.