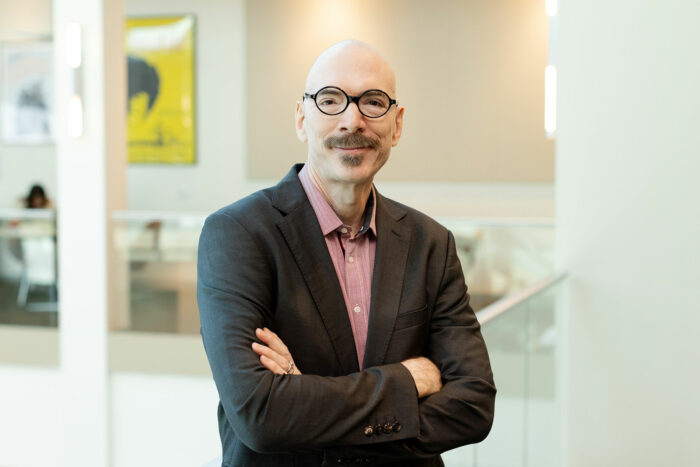 David Tolchinsky
Dean and Professor
Contact Information
Biography
David Tolchinsky is the dean of The Media School and brings extensive media and academic experience to the position, having a background in film scoring, media production, playwriting, screenwriting, sound design, and more.
Before Tolchinsky joined The Media School in September 2023, he co-founded Northwestern University's M.F.A. in Writing for Screen and Stage and served as the director of the Pritzker Pucker Studio Lab for the Promotion of Mental Health via Cinematic Arts. Tolchinsky also served as the Radio/TV/Film department chair at Northwestern from 2007 to 2018.
Tolchinsky earned his bachelor's degree in video/performance art from Yale University and a master's in film/video production from the University of Southern California School of Cinema-Television. In addition, he has certificates in digital audio processing and computer music composition from MIT's Media Lab.
Tolchinsky's work throughout his career has often focused on mental illness, memory, trauma, teenagers, and dystopia — with his projects ranging from comedies to darker stories — and he has earned many awards for said projects.
Some of Tolchinsky's film work includes the experimental narrative "Creature Companion" (producer), psychological thriller "Cassandra" (writer, director, composer, and sound designer), the documentary "Fast Talk" (producer), Sony's dark comedy "Girl" (associate producer and screenwriter), and Debra Tolchinsky's "Contaminated Memories" (co-producer and composer), which is a New York Times Op-Doc. He also served as co-director and co-producer on "Saint Catherine's Wedding Ring," which premiered at the Sundance Film Festival.
Tolchinsky also has extensive experience in theater, touting works such as "Sick by Seven" — which he co-curated and consists of seven different plays and films regarding mental health — and the New York production of his play "Where's the Rest of Me?" which earned him a Best Director award at the Riant Theatre's Strawberry One-Act Festival in addition to a nomination for Best Play.