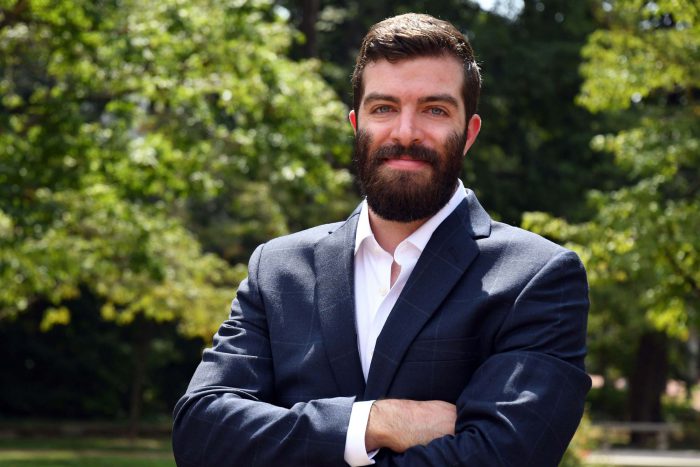 Caleb Allison
PhD Student / Instructor of Record
Contact Information
Research and Creative Interests
Film Archives and Restoration Practices

Film Exhibition Cultures and Histories

Media Paratexts

Media Production Studies

Film Distribution and Production Industries

Home-Video Collection

The Criterion Collection

Super 8mm Film

Home Movies
Biography
I'm a third year Ph.D. student with strong ties to Indiana: I'm from Lafayette (home of the much maligned Purdue University… at least here in Bloomington) and received my master's in Media Arts and Sciences from IU as well. I completed an enlistment in the U.S. Navy following graduation where I was stationed in Greece on the island of Crete. My current interests involve research on amateur filmmaking, prestige, media industry and production practices, taste politics, streaming applications, collecting cultures, and film restoration and preservation.
My master's thesis, "Collecting the Uncollectible: Residual Hardware, Streaming Aesthetics and the Criterion Collection," researched home-video collecting practices and aesthetics through the Criterion Collection from disc to streaming platforms and remains the impetus for my future research interests.
I love the look and feel of Super 8mm film and use a Canon Auto Zoom 518 SV whenever the occasion and my resources allow it.  I feel strongly about the continued use, preservation and importance of film not only for entertainment, but as a critical link to our collective cinematic history.  It also teaches one the valuable lessons of patience, planning and creative limitations. I've also written for IU Cinema's blog, "…A Place for Film," and you can read some of my reviews here.
My new film, StalkHer, won Best Fiction Film, Best Cinematography, and Best Score/Composition at the 2020 Montage Film Festival in Bloomington, IN. It's currently making the (virtual) festival rounds, but you can check out the trailer here. My last film, Starlite Gazing, winner for Best Non-Scripted Film at the 2019 Montage Film Festival was shot entirely on Super 8mm. It's an experimental and historical visual exploration of the Starlite Drive-in Theatre, located just south of Bloomington off Old State Road 37.
Conference Presentations
Allison, C. (2019, November). Homemade and jerry-rigged: The amateur cinema gadget during WWII. Paper presented at the Film & History Conference. Madison, WI.
Allison, C. (2019, March). Collecting the uncollectible: Residual hardware, streaming aesthetics and the Criterion Collection. Paper presented at the Society for Cinema and Media Studies Conference. Seattle, WA.
Allison, C. (2018, March). Our shining beast: The technological uncanny and postmodern in The Qatsi Trilogy. Paper presented at the IU Landscape, Space, and Place Conference. Bloomington, IN.
Allison, C. (2017, November). "I don't want to miss a thing…" not even Armageddon: Negotiating fan collecting practices and production strategies of The Criterion Collection. Paper presented at the Film & History Conference. Milwaukee, WI.