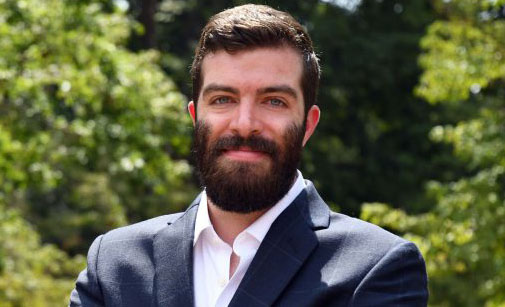 Caleb Allison
PhD Candidate | Instructor of Record | Cinema and Media Studies
Contact Information
Research and Creative Interests
Film Archives and Restoration Practices

Film Exhibition Cultures and Histories

Media Paratexts

Media Production Studies

Film Distribution and Production Industries

Home-Video Collection

16mm & super-8 film

Cinephilia

taste politics
Biography
Caleb Allison is an award winning independent filmmaker, specializing in small gauge formats, including super 8mm and 16mm. His professional interests are split between film production and film and media preservation. His scholarly research is focused on moving image archives and restoration practices, cinephilia, home video, taste politics, film exhibition and spectatorship, and film history.
He is the recipient of the inaugural 2021 Jorgensen-IU Libraries Moving Image Archive Fellowship, contributing to strengthening generative collaboration and communication between academia and moving image archives.
As a filmmaker he loves the look and feel of small gauge celluloid, and uses a Canon Auto Zoom 518 SV whenever the occasion and resources allow it. The continued use, preservation and education of celluloid is vital not only as a critical link to our collective cinematic history but for its aesthetic and political potential. It also teaches one the valuable lessons of patience, planning and creative limitations.
His newest film, StalkHer, won Best Fiction Film, Best Cinematography, and Best Score/Composition at the 2020 Montage Film Festival in Bloomington, IN and Best Musical Score at the 2020 Circle City Film Festival, and is available for streaming on Hoosier Films. Starlite Gazing, an experimental and historical visual exploration of the Starlite Drive-in Theatre shot entirely on super 8mm, won Best Non-Scripted Film at the 2019 Montage Film Festival.
He is the chair of the IU Cinema's City Lights Film Series, dedicated to programming key masterworks of the 20th century from the David S. Bradley Film Collection. He was a regular contributor to IU Cinema's blog, …A Place for Film, and has written about film for the Center for Documentary Practice and Research's (CDRP) DocTalk.
He's also founded a nonprofit-stye shop, Moving Image Designs, that features products inspired by the art and history of amateur cinema designs. All proceeds through 2022 go towards supporting the The Ryder Magazine and Film Series, located and published right here in Bloomington, IN.
Conference Presentations
Allison, C. (2021, March). Rediscovered, Restored, and Released: Milestone Film & Video's Restorative Politics. Paper presented at the Society for Cinema and Media Studies Conference. Hosted virtually.
Allison, C. (2019, November). Homemade and Jerry-Rigged: The Amateur Cinema Gadget During WWII. Paper presented at the Film & History Conference. Madison, WI.
Allison, C. (2019, March). Collecting the Uncollectible: Residual Hardware, Streaming Aesthetics and the Criterion Collection. Paper presented at the Society for Cinema and Media Studies Conference. Seattle, WA.
Allison, C. (2018, March). Our Shining Beast: The Technological Uncanny and Postmodern In The Qatsi Trilogy. Paper presented at the IU Landscape, Space, and Place Conference. Bloomington, IN.
Allison, C. (2017, November). "I Don't Want to Miss a Thing…" Not Even Armageddon: Negotiating Fan Collecting Practices and Production Strategies of The Criterion Collection. Paper presented at the Film & History Conference. Milwaukee, WI.