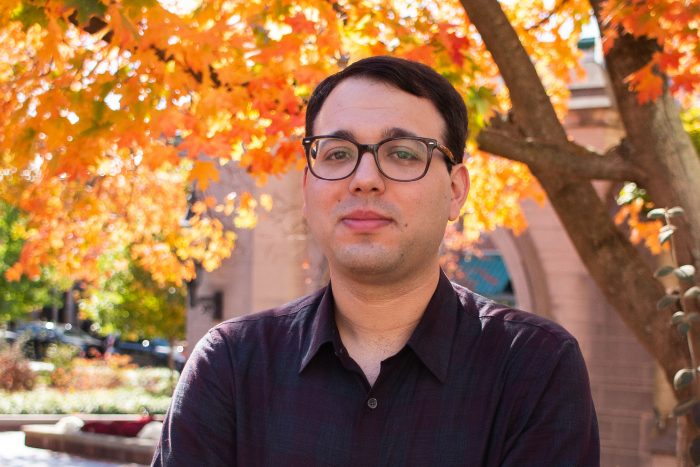 Anthony Silvestri
Ph.D. Candidate
Contact Information
Research and Creative Interests
the avant-garde

film history

Kenneth Anger

archives

LGBTQ Studies

queer archiving

pornography and sexuality

Gender Studies

classical Hollywood cinema
Biography
Anthony Silvestri is a Ph.D. Candidate in the Media School at Indiana University. His dissertation focuses on the archival practice of post-war American avant-garde filmmaker Kenneth Anger. Specifically, he focuses on the Kenneth Anger Mixed Media Collections, amassed by the filmmaker over a period of seven decades in collaboration with the Kinsey Institute for Research in Sex, Gender and Reproduction in Bloomington. Additionally, he has done some examination of the Kenneth Anger clippings at the Museum of Death in Los Angeles. Broadly, these collections touch upon issues surrounding the history of and historicization of sexuality, queer media, archival institutions, autobiographical archiving,  archival excess, legacy, experimental media and pornography.
Anthony currently serves as the Managing Editor of Film History: An International Journal. He is a recipient of the Kinsey Institute's 2019 John Money Fellowship for Scholars of Sexology. He holds a position as the graduate student representative for the Experimental Film and Media Scholarly Interest Group at the Society for Cinema and Media Studies (SCMS). He has presented his work at the Society for Cinema and Media Studies' Annual Conference and Visible Evidence. He is currently a co-programmer of the Underground Film Series at I.U. Cinema.
Anthony received his M.A. in the Humanities from the University of Chicago in 2015, and his B.A. in Film Studies from the University of Pittsburgh in 2014.
Publications (Peer-Reviewed)
Anthony L. Silvestri, "Kenneth Anger and the Filmed Archive Reenactment," Journal of Film and Video (forthcoming, accepted)
Anthony L. Silvestri, "A Conflict Between the Token Guardians of Society and a Man's Private Life: Kenneth Anger, Palo Alto Kodak, the Kinsey Institute, and the Circulation of Marvin Samuel's Amateur S/M Pornography," Porn Studies (January 13, 2021): https://www.tandfonline.com/doi/full/10.1080/23268743.2020.1844590.
Chapters in Edited Collections
Anthony L. Silvestri,  "Kenneth Anger's Sixties: Invocation of My Demon Brother, the Kinsey Archives, and the Farce of the 'Hippie-Flower' Child Phenomena" in Wounded Galaxies 1968: Film, eds. Joan Hawkins and Chris Dumas (forthcoming)
Courses Taught as Instructor of Record
MSCH-A 315: Advertising and Consumer Culture
MSCH-F 375: Race, Gender and Representation in Media- American Cinema
MSCH-F 392: Media Genres – Horror
MSCH-P 331: Script Writing
Awards 
The John Money Fellowship for Scholars of Sexology, the Kinsey Institute for Research in Sex, Gender and Reproduction, 2019
Graduate Student Achievement Award for Best Research Paper: "Kenneth Anger and the Filmed Archive Reenactment," Indiana University, 2019
Selected Service
Graduate Student Representative, Society for Cinema and Media Studies Experimental Film and Media Scholarly Interest Group, 2019-Present
Selection and Awards Committee, Montage: A Celebration of Moving Pictures, 2019 and 2020
Jury Member, InLight Human Rights Film Festival, 2019
Guest Lecturer, The Digital Cinema Academy at the Media School, 2018 and 2019
Film Programming
Co-Coordinator, The Underground Film Series at Indiana University Cinema and the IULMIA Screening Room
Ken Jacobs on 16mm (Short Film Program), April 24th, 2020
Media Distortions: The Avant-Garde and Mass Culture, January 22nd, 2020
The Spiritual Avant-Garde (Short Film Program), October 4th, 2019
Andy Warhol's The Chelsea Girls, January 22nd, 2019
Guest Programmer, Social Guidance Sundays (I.U. Libraries Moving Image Archive)
Santa's Sack of 16mm Film and Fun, December 8th, 2019