Zaslow talks about love, loss, storytelling
By Jessica Birthisel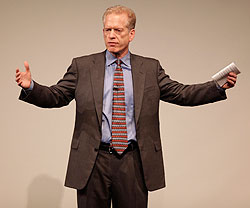 Peppered with humor, love, loss and grief, Jeffrey Zaslow's talk on Monday evening evoked many of the human emotions about which he's made a living writing.
Zaslow, a best-selling author and "Moving On" columnist for The Wall Street Journal, presented to a packed Buskirk-Chumley theater, marking the kickoff of the fall 2009 School of Journalism Speaker Series.
Throughout the course of the evening, Zaslow shared with the audience a slice of his life as a storyteller by doing exactly that: sharing the stories of the people he's written about throughout his career.
Some of Zaslow's accounts were humorous. When Zaslow asked Robert Redford how he deals with age's effects on his looks, Redford assured him he had nothing to worry about, as attested by the woman who, upon spotting Redford in a New Mexico snack shop, inadvertently shoved her ice cream cone, and not her change, into her purse.
Some accounts were touching, such as his column about the power of female friendships that resulted in his latest best-selling book, The Girls from Ames: A Story of Women and a Forty-Year Friendship.
And one story, perhaps the biggest of Zaslow's career, was a mix of sweet and funny and heartbreaking. That was the story of Randy Pausch's last lecture at Carnegie Mellon University during his final stages of pancreatic cancer. The 2007 lecture, dedicated to Pausch's young children, was titled "Really Achieving Your Childhood Dreams" and focused on overcoming obstacles, empowering others and living life to its fullest. Now the lecture and the resulting book, The Last Lecture, co-authored by Pausch and Zaslow, are international sensations.
But perhaps the most unexpected revelation during Zaslow's speech was the fact that for at least a fleeting moment, the story might not have happened. In the fall of 2007, he received a call from the computer science department at Carnegie Mellon explaining that a professor in their department, Pausch, was participating in a Last Lecture series wherein professors consider what they would say to their students if they knew it was their last chance. What made Pausch's lecture unique was that the exercise wasn't hypotethical.
"In Randy's case, it really was his last chance. He was dying," said Zaslow.
Given the timing, Zaslow's flight to the university was going to cost hundreds of dollars, so his editor suggested that he just call the professor afterwards to get the follow-up story. Something about the story called out to Zaslow, however, so he hopped in the car and made the long trip to Carnegie Mellon, his alma mater.
"It was the best 300 miles I ever drove," he said.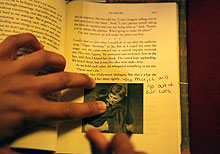 As Zaslow described it, following his column on the lecture (which was accompanied by video coverage, some of which Zaslow shared with the crowd on Monday), the event caught on like a firestorm. Zaslow and Pausch were flooded with e-mails from viewers and readers. A follow-up Good Morning America appearance led to a million more online views of the lecture. An appearance on Oprah catapulted the story again.
Talk of a book project quickly followed, said Zaslow, but he said Pausch was cautious at first, not immediately sure if he wanted to devote such a large piece of his remaining life working on a book with someone he hardly knew. Zaslow said Pausch made him promise that the experience would be fun and special. They agreed upon the working conditions and for several months they spent one hour a day crafting the story.
Zaslow recalled that Pausch's goal for the book was for it to bottle up his message so that one day, when they needed it the most, it could float up to his three children.
"That was my task, to put him in a bottle," said Zaslow. "And that's what I did."
In tandem with the April 2008 release of the book, ABC aired an emotional one-hour special on Pausch's story, said Zaslow. The day after the broadcast, the book was sold out all over the country. To date, the book has been translated into 46 languages and risen to the top of bestseller lists in several countries. Zaslow attributes the book's success to the authenticity of Pausch's inspirational message.
In the months between the lecture and Pausch's death in July 2008, Zaslow said Pausch continued to live out his message and pursue the dreams of his childhood as long as he was physically able. Zaslow sprinkled footage of Pausch and his family throughout the speech, leading to many tears throughout the crowded theater.
Upon Pausch's death, Zaslow said he was once again flooded with calls and e-mails and letters from the people whose lives were touched by the professor's words.
"So many people said the same thing, that they cried over a stranger," said Zaslow, concluding that Pausch's ultimate message was about love, something he describes as his favorite of all topics to discuss. He says that he even after the professor's death, he often thinks of Pausch's advice, especially when appreciating his own wife and children.
In his final words Monday evening, Zaslow encouraged the crowd to go home and hug a loved one. And he left the journalism students with a piece of advice.
"If you're a journalist-to-be, go drive that 300 miles because it might be a story worth telling," said Zaslow.
Following a question and answer period, many attendees waited in line for a book signing with Zaslow. Maureen Parmar of Evansville, who was attending the event with her daughter, Nancy, a freshman at IU, said she found Zaslow's talk inspiring.
"It makes you want to go out and live," said Parmar. She said she and her daughter follow Zaslow's advice when it comes to expression of love, but that reminders are helpful. "We do that, we say 'I love you' when we talk, and I'm glad for that. But he reiterated the importance of that."
Journalism sophomores Kelsey Finn and Meghan Freier said Zaslow's talk was important from a professional standpoint.
"It gives me a little more motivation to go out there and get stories," said Finn.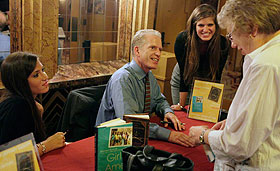 Freier said her focus is public relations, but she was inspired after hearing about all of the stories Zaslow covered in his career.
"It definitely increased my interest in the human interest stuff," said Freier. "It's kind of crazy to think that this story might not have been told had he not gotten in his car and driven the 300 miles to do the assignment."
School of Journalism Director of Communications Beth Moellers said Zaslow's visit, including his daytime meetings with smaller groups of journalism students, was a great experience for the school. His message of going the extra mile and not being afraid to tell personal stories was important for students to hear.
"It was really a touching speech," said Moellers. "I don't recall another speaker where so many people in the audience were drying their eyes."
The School of Journalism Speaker Series continues Oct. 19 with a talk from National Public Radio CEO Vivian Schiller and wraps up Nov. 10 with a lecture by Fox Sports' Joe Buck.