Younger respondents more likely to believe false election narratives than older participants in OSoMe study
For immediate release:
Nov. 13, 2020
BLOOMINGTON, Indiana — Contradicting some previous research, younger participants were more likely than those in an older age group to believe false stories related to the 2020 presidential election, according to the latest in a series of studies from IU's Observatory on Social Media.
The new study shared five false stories about the election with more than 550 participants. The researchers divided the respondents into two age groups – 18-43 and 43-85. They found that the younger group was more aware of and more likely to believe all five fake narratives than the older group by about 14 percentage points. The finding runs counter to previous studies that linked age to increased vulnerability to misinformation, although more research is needed to confirm whether the results align with existing studies identifying the 60- to 80-year-old age group as particularly vulnerable to misinformation. Research data for the fifth study can be found here.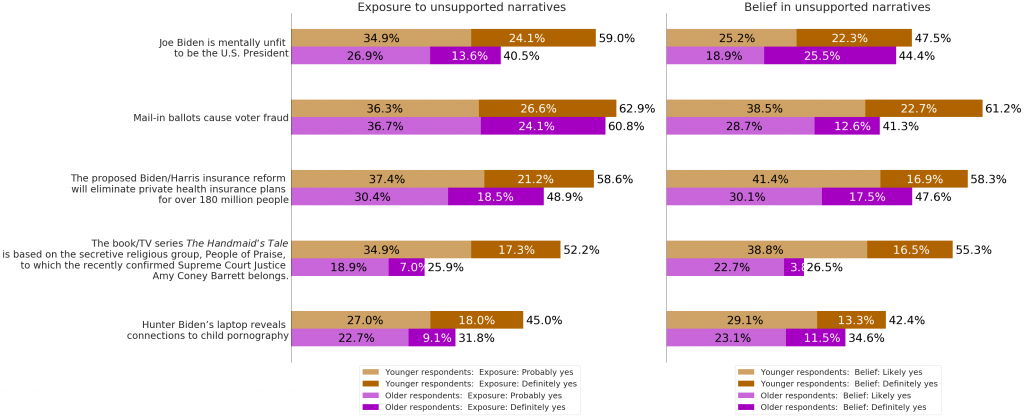 The latest wave of data collection, from Oct. 27-Nov. 2, contained two stories tracked in the previous four studies. These were about Joe Biden's mental fitness and about mail-in ballots resulting in election fraud. It added three additional narratives: "Hunter Biden's laptop reveals connections to child pornography," "The book/TV series 'The Handmaid's Tale' is based on the secretive religious group People of Praise, to which the recently confirmed Supreme Court Justice Amy Coney Barrett belonged," and "The proposed Biden/Harris insurance reform will eliminate private health insurance plans for over 180 million people."
For the three new narratives, 38% to 54% of participants said they were aware of them. About 53% believed the Biden/Harris insurance reform narrative; 41% thought "The Handmaid's Tale" is based on People of Praise, and 39% believed that Hunter Biden's laptop reveals connections to child pornography. Results about other narratives included in Waves 1 through 4 are available in other reports.
While false stories appear to originate more often from the right than the left, the narrative about "The Handmaid's Tale" was likely generated by left-of-center sources. Among survey respondents, a group consisting of non-voters, third-party voters and undecided voters were most likely to believe the story. Participants who voted for Biden or Donald Trump were equally likely to believe the narrative, with about 40% in each group believing it could be true.
OSoMe is a joint project of the IU Network Science Institute (IUNI), the Center for Complex Networks and Systems Research (CNetS) at IU's Luddy School of Informatics, Computing, and Engineering and The Media School at Indiana University, with support from the Office of the Vice Provost for Research at IU Bloomington. It is funded in part by support from the John S. and James L. Knight Foundation, a nonprofit focused on fostering informed and engaged communities.
About IU Research
IU's world-class researchers have driven innovation and creative initiatives that matter for 200 years. From curing testicular cancer to collaborating with NASA to search for life on Mars, IU has earned its reputation as a world-class research institution. Supported by $854 million last year from our partners, IU researchers are building collaborations and uncovering new solutions that improve lives in Indiana and around the globe.