World-renowned director Mira Nair: I want to open borders, bridge gaps through my films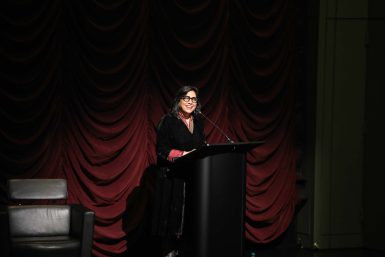 World-renowned director Mira Nair visited Indiana University's Cinema last Thursday as a part of this semester's India Remixed initiative, sharing insight from decades of experience in filmmaking. After a brief screening of a compilation of her films, Nair addressed the packed audience and then sat for a Q&A session with IU Cinema founder, Jon Vickers.
"I am very relieved to be a woman and to be from India, where I grew up paradoxically seeing women on either side of Mahatma Gandhi, fighting for freedom from the British in our country," started Nair, who was born and raised in India and then moved to America to attend Harvard. "The country was, for years, lead by a woman prime minister, the thought of which, unfortunately, still gives the United States indigestion."
After finishing her education at Harvard, Nair started working as a documentary filmmaker, an experience, she said, informs her attitudes and methods in directing narrative films to this day.
"It teaches me, particularly, a real sense of humility. People aren't going to let you into their world unless they trust you, unless they want you to be there," Nair said. "Basically, it teaches you to surrender to people and to the struggle of life. That really informs so much later."
She also said her time working as an actor also made her the successful director she is today.
"It made me love actors, it made me love their ways and the strange alchemy it is to perform," Nair said. This, combined with her experiences as a documentarian, made her love pairing professional actors with people who had never acted before in their lives, a method she has used in several of her movies. "I think it's that amalgam of how you get the best out of a person who is cast for something. How do you put those together and achieve a kind of great lack of artifice and truth. I think it was being an actor that made me know how to do that without really even realizing that I knew that."
Nair used this technique in her first narrative film, Salaam Bombay! (1988), a movie that broke barriers in Indian cinema through its casting of street children and its use of the cities as opposed to manicured studios.
"Salaam was the first to shoot on the streets, to maximize the kind of Day-Glo phosphorescence of how ordinary Indians use color," said Nair. "The pea greens, the hot fuchsias, the vibrant high-kitsch flowers, the spices and colors with which we have ornamented our bodies for decades, the henna on our nails, the Prussian blue paint on the walls in our slums. All this became the tools of the visual palette of Salaam Bombay!."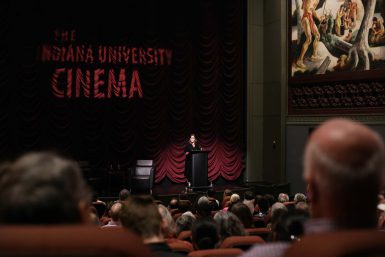 The film was an international success, winning several awards including the National Film Award for Best Feature Film in Hindi and two Cannes Film Festival Awards. It also was nominated for an Academy Award and a Golden Globe. When asked by an audience member if she thought Danny Boyle's Slumdog Millionaire (2008), a film about a group of Indian children who grew up on the streets that earned eight Academy Awards, was a rip-off of Salaam Bombay!, Nair said no. However, she said she didn't think the success of Slumdog would have been possible without Salaam. Boyle even asked for Nair's advice and used some of her cast and crew. Nair also thought the film felt like it was from an outsider's perspective.
"The first 20 minutes, I was completely absorbed in the vision of it all. Then, when the kids grew up and they started speaking the Queen's English, I just didn't believe him anymore," said Nair of Boyle, who is British. "Like, the title itself is not something we would ever say. We'd never call each other a dog. I know how he intends it, but it immediately tells you that this is somebody from the outside."
When Salaam became such a success, Nair said she promised herself that she wouldn't simply leave the children that she cast behind, so she formed the Salaam Baalak Trust to help homeless children. Now, decades later, 17 centers support nearly 5,000 children every year. Not only have these centers influenced government policy, but they've also helped children find their families, have access to health care, and even appreciate art.
The success of Salaam brought Nair to Denzel Washington, who had just earned his first Oscar for Glory (1989). He was interested in starring in her second film, Mississippi Masala (1991), a drama about an Indian woman who falls in love with an African American man when her family is ousted by the government in her native Uganda and moves to Mississippi.
"I wanted to make my second film about the hierarchy of color. Of being brown in the midst of black and white," Nair said, noting her time as a minority at Harvard as one inspiration. "It was interesting to be a part of a brown community that was invisible and yet accessible to both black and white. And this was what I wanted to speak about in my second film."
Nair was also inspired by her own life – at the time, she was falling in love with her current husband, who is from Uganda.
"My premise was, what if an African American young man would fall for an Asian-African young woman and challenge the borders that separate us," explained Nair. To do this, she said she had to coax Washington to show a level of passion not yet seen from him as an actor, which was not an easy task. However, she Nair said, "it was this that led lines around the block for interracial couples. That made Mississippi Masala a kind of anthem to hybridity and made the film really work across the world."
As an Indian woman who is married to an Ugandan and makes movies in America, Nair said she inhabits all three worlds. (She splits her time between India, her adopted home of America and her husband's home of Uganda.) This, she said, has had a tremendous influence on not only how she works, but what she chooses to work on.  
"One of the great advantages of living in three continents as I do is that one automatically begins to have an expansive worldview; what is important in one place is absolutely meaningless in the other. The aspirations of being a filmmaker in New York City — the studio deals, the Oscar campaigns — are quickly put in place when I go home to Kampala, which did not even have movie theaters until only a few years ago," said Nair. "This shifting of gears from one reality to another makes me hone my own intuition, to trust the ideas that live in me."
So, after years of making large budget films like Salaam Bombay! and Mississippi Masala, Nair wanted to get back to basics and make a small budget film celebrating her native Dehli. This became Monsoon Wedding (2002).
"For me it was about love," Nair said. "It worked because it was so honest about how we are. That was because it was actually so inexpensive, I didn't have to answer to anyone. It's the low budget that gives one freedom."
In fact, Monsoon Wedding was so low budget that Nair borrowed props and furniture from her parents and even put her relatives and crew members in front of the camera if actors didn't show up. What's more, she limited her filming to just 30 days. In the end, it was the eighth highest grossing foreign film in America when it came out and its success has followed Nair for the rest of her career. She attributes the film's success to the universality of its characters.
"People from Delhi to Iceland to Hungary, to Brazil, to America, believed they were seeing themselves and their families on screen," Nair said.
Nair's choice in film has been inspired by more than her life experiences, though. Her 2004 adaptation of Vanity Fair, starring Reese Witherspoon, was inspired by her favorite novel growing up. It was the death of her mother-in-law, coupled with Jhumpa Lahiri's novel, that inspired Nair to direct The Namesake (2006), which she said is her most personal film to date. The story is about an Indian-American man who learns about the struggles his parents had while moving from India to America.
"Though I share this particularly personal journey with the Ganguli family, my aim was not to make a film about being Bengali or about being Indian in America," said Nair. "This was a film that represented the state of many of us who live between worlds and the constant comings and goings of an immigrant."
Since The Namesake, Nair has directed a number of films, including Amelia (2008) starring Hilary Swank and Queen of Katwe (2016) starring Lupita Nyong'o. Going forward, Nair said she wants to make an effort to learn even more about the culture she grew up in. She also wants to help people all over the world appreciate not only her culture, but all cultures, by opening borders through her films.
"I feel that, in the creative realm, borders and bridges alike need to be fluid and porous," Nair said. "I try to tell stories in which people can see themselves. Not just some people, but all people, and not just in some places, but everywhere."