'Wild Horse Running: The Courageous Journey of Tom Fox' curated by Cookman on exhibit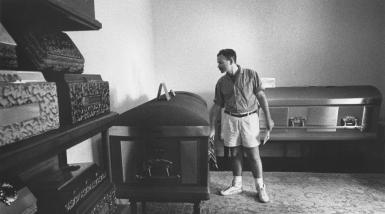 IU will feature 60 iconic photographs of IU alumnus Tom Fox, who died of AIDS in the late 1980s, as part of an exhibition lead curated by Media School professor emeritus Claude Cookman.
"Wild Horse Running: The Courageous Journey of Tom Fox" will be presented by IU's Kinsey Institute in conjunction with the IU Cook Center for Public Arts and Humanities. The exhibition, located in the Grand Hall of Maxwell Hall, opens Friday and closes Sept. 23. The Media School is a co-sponsor.
Photojournalist Michael A. Schwarz and medical reporter Steve Sternberg will speak at a reception at 5 p.m. Sept. 23 about their experiences covering Fox's final months.
In 2020, Cookman curated a virtual exhibition documenting Fox's life with AIDS and his eventual death in 1989.
Fox worked in advertising for the Atlanta Journal-Constitution. When he got the diagnosis — a death sentence in that era — he invited Schwarz and Sternberg, then employed at the AJC, to document his final months as a way to teach others about the disease. The project appeared in a special, 18-page section, designed by Sue Morrow, BA'88.