Weymouth addresses technology, innovation, Post's legacy
Stephanie Doctrow | Feb. 29, 2012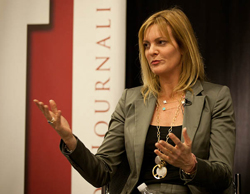 To demonstrate the legacy and reach of The Washington Post, publisher Katharine Weymouth recounted a story told to her by a reporter, who was in a remote village in Libya, looking for an interview. When the reporter told a man she worked for The Washington Post, he recognized the name because of what may be the newspaper's most famous work.
"He said, 'Washington Post… Woodward,'" Weymouth told her audience packed into Ernie Pyle Hall auditorium Tuesday evening.
The legacy of reporters Woodward, Bernstein and the Watergate scandal their reporting revealed continues today, she said, even as the company strives to be a 24/7 news source for anyone, anywhere, and to tell the local stories from the nation's capital.
Weymouth's talk was the second of the school's Speaker Series events. She sat on a stage with political science professor Yvette Alex-Assensoh, dean of the IU Office of Women's Affairs, and journalism adjunct professor Perry Metz, the executive director of IU Radio and Television Services, for a conversation about the shifting landscape of news at one of the nation's top newspapers.
Weymouth said it's an exciting time to be in journalism, and new technologies offer reporters the chance to shoot videos, record interviews and tweet as news breaks.
"The Post has always been based in Washington, and what's crazy about today is that people around the world can read the Post online, on multiple devices," she said.
Weymouth said last year, the Post saw a 20 percent increase in readers and 200 percent increase in "engagement," or some kind of reaction to news on any of the organization's several platforms.
"We're constantly trying new things, to figure out how people want to consume news," she said.
For example, the day before her visit, the Post launched a politics app for iPad, which gives consumers access to in-depth information on the presidential candidates and archived polling information from election cycles past. The Post has had success with the Washington Post Social Reader, which allows their audience to share what they're reading on Facebook, she added.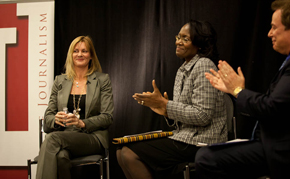 All news organizations are trying to determine how to use pay walls to charge for their content. For now, Washingtonpost.com is a free website, as it pays for itself with advertisements, she said. But the publisher has not closed the door to the idea of charging for content, but a by-product often is losing a lot of traffic, which also could result in lost ad revenue.
Weymouth said some positive changes aren't obvious to readers or advertisers. As publisher the last four years, Weymouth has transitioned the Post from separate online and print divisions in different buildings to a combined newsroom.
"Now, the foreign and news teams can sit together and discuss packaging content," she said. Before, the traditional newsroom staff and the "new media" staff didn't collaborate or even know one another. "Now, it's not just 'them,' it's 'us.'"
The difference between stories in the print and online editions of the stories, Weymouth said, is often catchy headlines that will cause casual Internet surfers to stop and read. She recalled a story about Afghan soldiers being paid in Viagra, which was titled "Little Blue Pill" and became a viral hit that day.
"We know it's good content," she said. "We just have to drive readers to it."
Though sharing content online and creating viral stories is important, Weymouth said the Post also makes investigative journalism, in the tradition of Woodward and Bernstein, a priority.
"It's not a hard decision, because that's our core, it's what we became famous for," she said, adding that even small papers cannot afford to eliminate investigative journalism, often the most expensive to support. "It's the reporting that has the greatest amount of impact."
An audience member asked Weymouth what qualities make a good publisher.
"If you're in the family, that helps," she joked. Weymouth is the great-granddaughter of Eugene Meyer, who bought the Post in 1933, and granddaughter of Katharine Graham, who led the company for 30 years and oversaw the Post reporters' uncovering of the Watergate scandal.
Weymouth also has worked in other positions at the company. An attorney, she joined the Post in 1996 as assistant counsel and moved to an online publishing subsidiary of The Washington Post Company as associate counsel. She was director of advertising sales, then vice president of advertising. Since 2008, Weymouth has been chief executive officer of Washington Post Media and publisher of The Washington Post.
She said her job often involves common sense and good judgment. She said her job depends on the quality of people she can attract for her staff, people who will do incredible work because they're proud of what they do.
"I try not to micromanage or interfere in the newsroom," she said.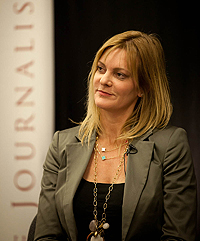 Office of Women's Affairs dean Alex-Assensoh asked Weymouth about the challenges of being a woman in such a high-powered position, especially as a single mother with three children. Weymouth said she feels she is a better mom when she's working and hopes she's setting an example for her children. It helps her handle the stress to know she has an amazing team, and she said her sense of humor and good friends are crucial.
Sophomore journalism major Lauryn Quick said she learned a lot from what Weymouth had to say, especially about how the Internet is affecting the reach of stories.
"It was very functional," Quick said. "Recently a lot of speakers I've seen talking about the future of journalism have been more theoretical, and she had so much expertise from the position of a publisher that was great for new journalists to hear."
Senior Danielle Rindler will be an intern for The Washington Post this summer, and she said Weymouth's comments made her even more excited to move to D.C.
"She's an amazingly strong woman," Rindler said. "It makes me excited to work at a place that is still committed to journalism, and to making the business model work and trying new things and upholding the traditions of long-form journalism. She has some great ideas about how to save this industry."
Also on hand Tuesday evening was a crew from C-SPAN recording the event to air later this year.
The School of Journalism Speaker Series brings top media professionals to campus several times a year for free lectures open to the public. The next guests are writer and radio commentator Andrew Lam March 29 and PBS' Jim Lehrer at a date to be determined later.