Warner recounts lessons learned from 25 years of foreign affairs reporting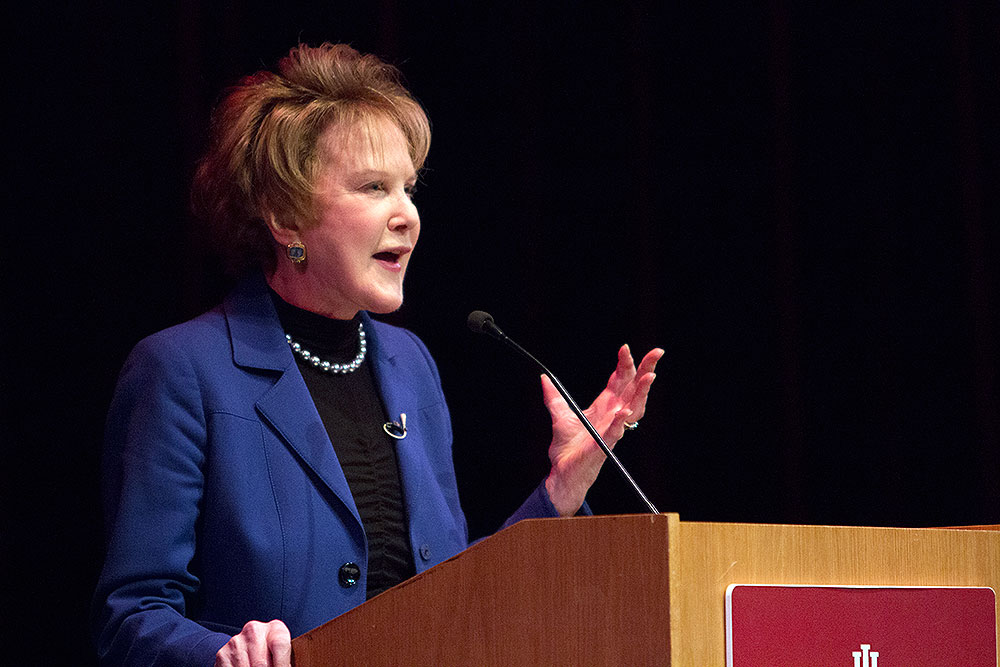 PBS NewsHour foreign correspondent Margaret Warner reflected on 25 years of reporting from all over the world and shared her view of changing U.S. diplomacy during a talk Monday at the Buskirk-Chumley Theater.
Warner was on campus as the first spring semester guest of the school's Speaker Series, and her talk was co-sponsored by the IU Center on Congress and the Institute for Advanced Study.
Center on Congress director Lee Hamilton, who spent 34 years in the U.S. House of Representatives and chaired the 9/11 Commission, introduced Warner as "a journalist who can come at you from anywhere." This includes Warner's recent reports from the Middle East, Russia, Europe, Kenya and China, where she covered topics from terrorism to foreign diplomacy.
"She interviews and reports the men and women who shape today's world," said Hamilton, who himself has been the subject of Warner's interviews over the years. "Her access to these world leaders is really quite remarkable. Her reporting is objective, accurate, provocative and informative. She is among the very best in a very challenging profession."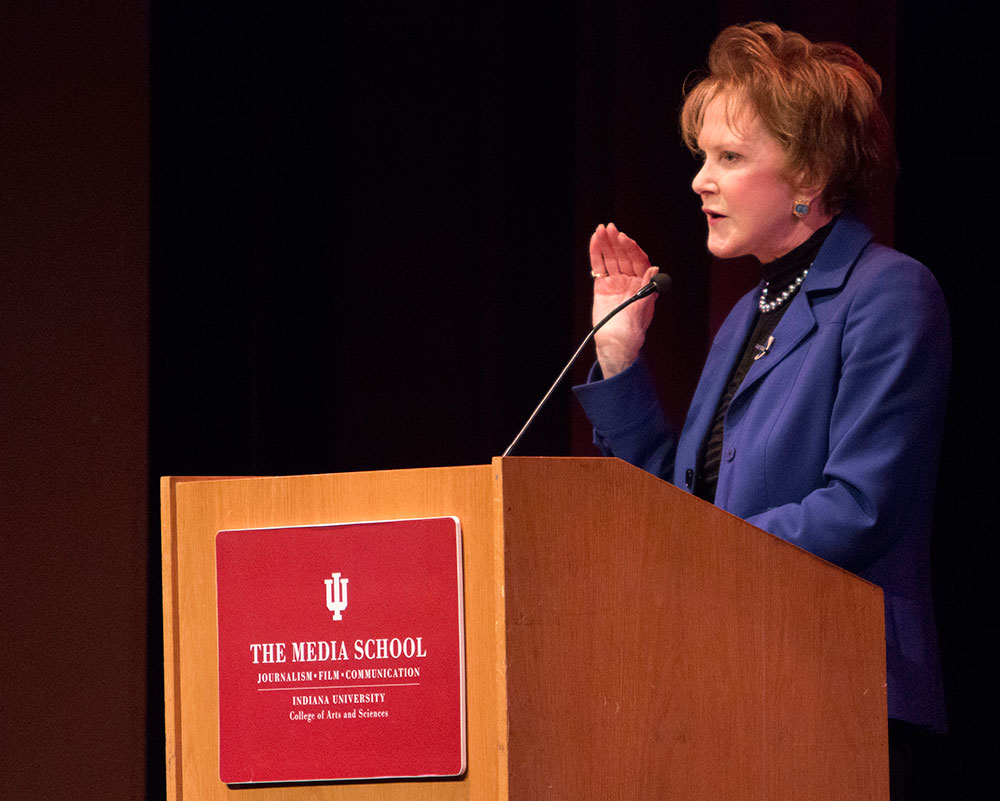 Warner summarized some of those challenges and the lessons she learned, drawing on what she called a "kaleidoscope of images" of world-changing events, from the fall of the Berlin Wall to small moments spent with people directly affected by global events around them.
"It is not just about the world leaders, who I get to interview often. It's the ordinary people who are caught in the struggles," she said of the way she gathers information to present a whole picture to her audience.
For example, Warner described the unfulfilled hope of Egyptian revolutionaries, an Israeli family wearing gas masks and crowding in a bomb shelter, and women and children walking 150 miles in 120-degree heat in Darfur to find refuge.
"Yet the kids were laughing and playing like kids do," Warner said. "I thought, where do they get this fortitude, this perseverance? I guess it's the human spirit."
Over her career, she has learned to look past the lofty titles of her sources — "Vice President Biden, Joe as everyone calls him…" — and dig to the heart of the issues.
"What I try do when I do a story or do a deep dive is to decide, what are the forces to help America understand what is going on there?" she said.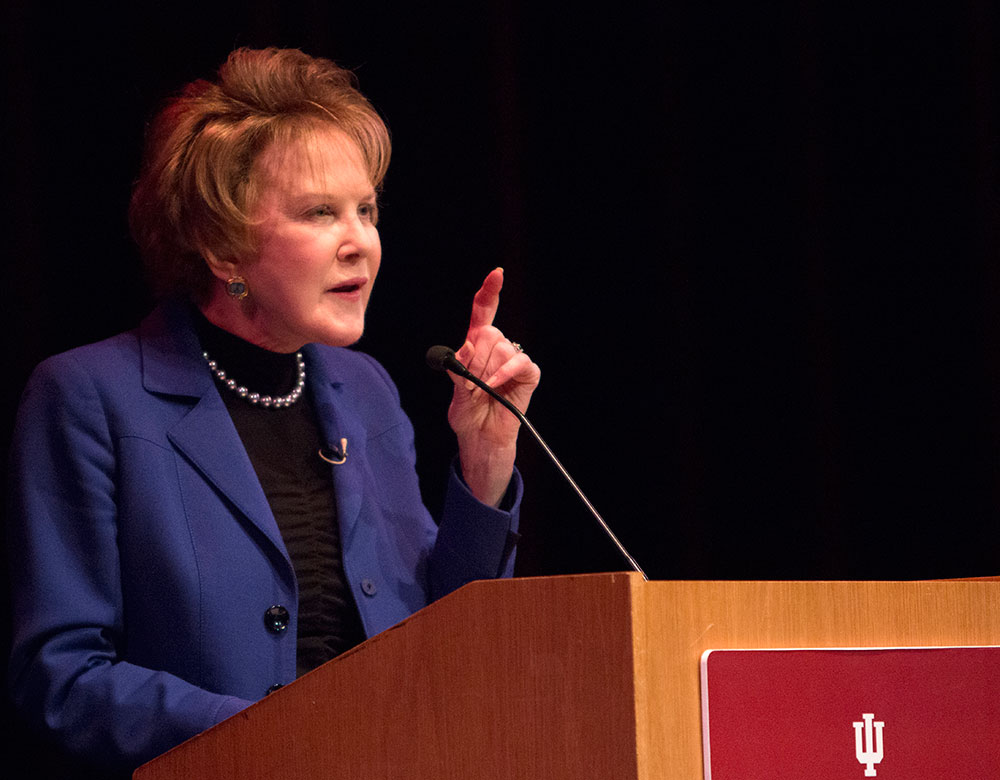 One lesson she learned is that global events cannot be foreseen. Events such as the National Security Agency surveillance scandal, bloody fighting in Ukraine and the growth of ISIS were not predictable, she told the audience.
And the U.S. cannot shape the world the way it used to, she said. When she began covering foreign affairs for Newsweek at the end of the Cold War, leaders negotiated behind closed doors.
"You didn't have people tweeting, you didn't have the Internet commenting," she said.
Warner, who moved from a print career covering foreign affairs to PBS' flagship news show in 1993, said she has watched international diplomacy change in nature.  This brings about a new question, she said: "If we can't go in with all our muscle and win, what should the role of America in the world be?"
Even the definition of "winning" has changed, she said, because the style from World War II — conquering despots and bringing in democracy — does not work in today's climate.
From her standpoint as an observer for a quarter century, Warner said she has learned key points about what the United States shouldn't do, such as putting a time stamp on its role in a conflict or making threats it cannot or will not carry out.
Another complication of recent years is that global power is fragmented, she said.  She used the example of Edward Snowden leaking classified information to news outlets.
"This one young man exposed the scope of U.S. surveillance and renewed the debate here about privacy," she said, adding that the leaked report strained relations with leaders of U.S. allies Germany and Brazil, who learned the NSA had monitored their cellphones.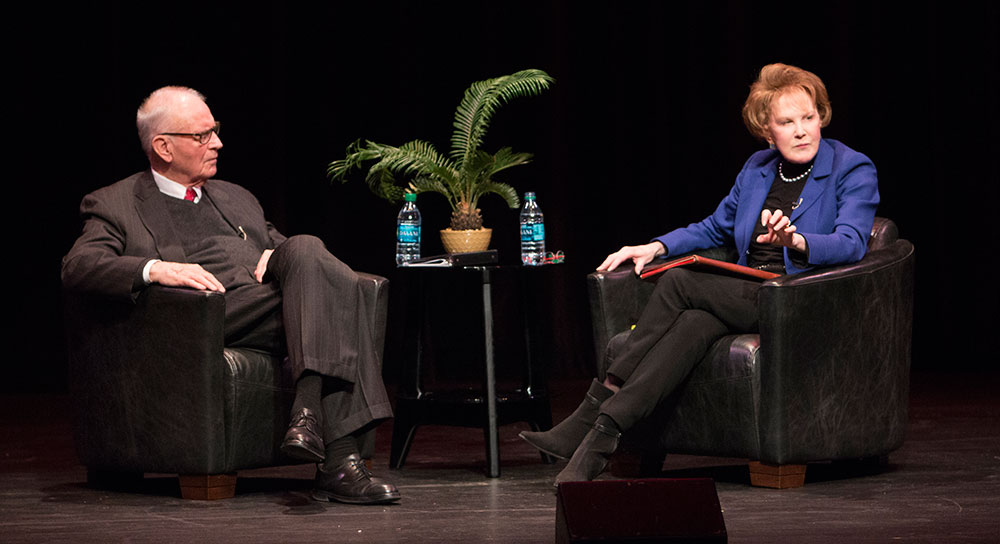 Hamilton moderated a Q&A with Warner and audience members after the talk, where she fielded questions about the way news is presented here and abroad. One audience member asked about U.S. coverage of the Russian-Ukrainian conflict and why it seemed so centered on Russian president Vladimir Putin.
"Putin has created this system where absolutely everyone has to be loyal to him," Warner responded, adding that he makes decisions with a shrinking group of people. This means less access to others in the administration and more focus on Putin.
Journalism doctoral student Diana Sokolova is from Russia, and she said her thoughts during this part of the Q&A were about what she views as a lack of coverage on Ukrainian actions.
Sokolova said she watches both Russian and American news and notices differences in the coverage.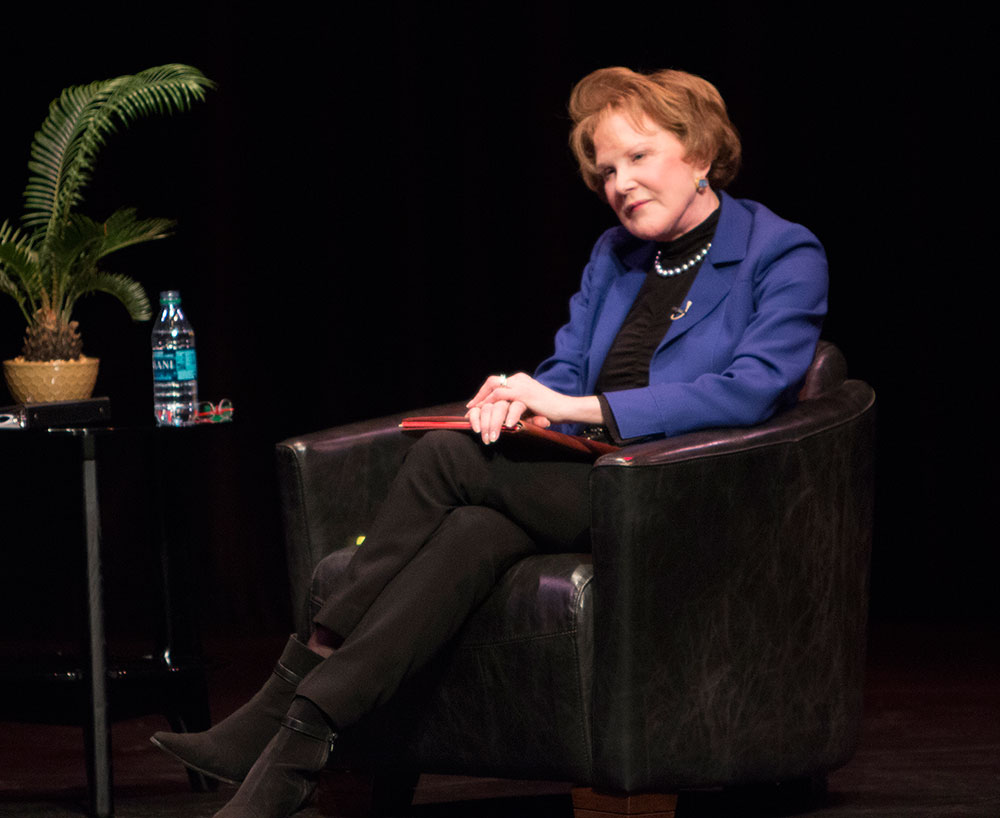 She said she found Warner's perspective as an American journalist reporting around the world interesting.
"I really admire Margaret Warner as a journalist, " she said. "I think it takes a lot of courage for a woman to travel to the hot spots of the world."
Warner also accepted the 2015 Lee H. Hamilton Public Service Fellowship, an honor that reflects Hamilton's regard for journalism.
"The journalist must cover the news, but also uncover information that powerful people want to keep hidden," Hamilton said, praising Warner's ability to do just that. "They must consistently scrutinize the events and people of the day and bring a healthy skepticism for them. There is no substitute for dogged reporting and the traditional journalism values of accuracy, truthfulness and fairness."
Earlier in the day, Warner met with IU President Michael McRobbie and with students at the Hutton Honors College.
The Media School's Speaker Series brings several media professionals to campus each semester for talks that are free and open to the public. On the schedule for spring are The New York Times investigative journalist Walt Bogdanich and NPR television critic Eric Deggans.
More: