Warhol-inspired portrait project documents, displays people of IU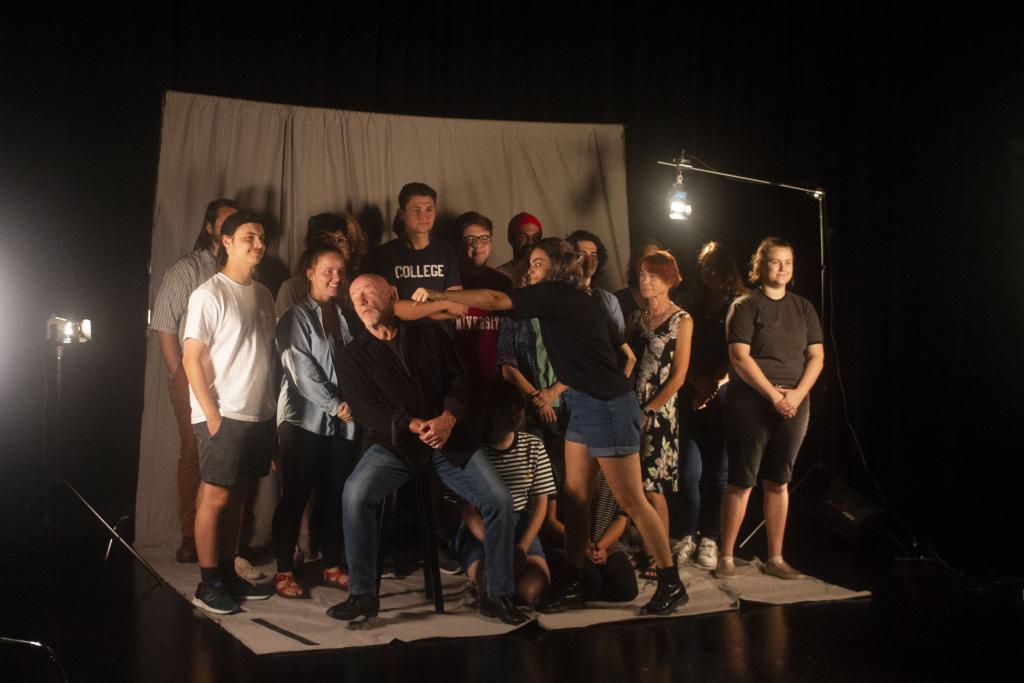 A 16mm film camera rolls in the Radio-Television Building's Studio 6. In front of it, senior lecturer Susanne Schwibs and 14 students pose with actor Jonathan Banks, LHD'16, best known for his role as bad boy Mike Ehrmantraut in "Breaking Bad" and "Better Call Saul."
Junior Alyssa Woolard turns to face Banks, and punches him clean across the face. The actor winces and recoils.
It's all staged, of course, as part of a portrait for The People of IU: Moving Image Portraits and the Public Screen, an IU Bicentennial grant-funded project. Banks, an IU alumnus, agreed to pose for a portrait with the class during a weeklong visit to IU as a Bicentennial visiting lecturer.
Woolard said she was thrilled at the admittedly nerve-wracking opportunity to feign knocking the cheeky smile straight off of Banks' face.
"We only have one take," she explained. "But it was a little thrilling because I got to punch a famous person in the face."
Schwibs' and associate professor Stephanie DeBoer's joint Production as Criticism class is creating a sweeping portrait of the IU community in celebration of IU's Bicentennial: 200 moving image portraits in honor of 200 years of Indiana University. The project has documented key members of the IU community, from staff at the First Nations Center to notable alumni and professors to the chief of police. Their portrait of Banks, an IU alumnus, was just one small part of that.
"The whole purpose of it is to create a film archive of people at IU," Schwibs said. "We want it to be sort of a cross-section."
This semester's class of students completed 50 of the 200 portraits for the project, which is ongoing.
In Schwibs' section of the class, students explored the history and methodology of portraiture as they prepared to create black and white film portraits of important figures at IU. In DeBoer's, they learned about curation and public screens, and created proposals for the moving image portraits to be displayed around IU.
"The idea is for those portraits not just to be made, but to be shown," Schwibs said.
Schwibs originally planned to complete the project on her own. But that seemed too big an undertaking for a personal project and better suited for integration into a course.
DeBoer, whose research explores public screen environments, particularly in Hong Kong and Shanghai's commercial districts, was the perfect partner. She's interested in exploring the many screen spaces on IU's campus, and even used IU's "screen ecology" as the basis of coursework in her spring 2019 Screen Cultures class.
Music plays in the background. A man sits in a chair staring at the camera. He crosses his arms. He moves his hand to his chin. He smiles and looks away from the camera.
Screen tests
Andy Warhol created his "screen tests," four- to five-minute portraits shot on single rolls of black and white films, between 1964 and 1966. His subjects included Salvador Dalí, Bob Dylan, Yoko Ono and Susan Sontag.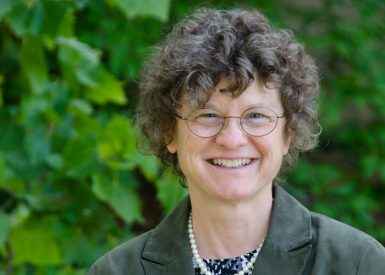 The students' portraits include Rachael Stoeltje, director of IU's Moving Image Archive; Jon Vickers, founding director of the IU Cinema; John Lemon, a supervisor and gardener at Jordan Greenhouse; and rabbi Sue Silberberg of Hillel.
The screen tests were inspiration for the project. Schwibs says they're more than just expressive artistic endeavors — they're documents of the time.
Students in Schwibs' section studied Warhol's screen tests, as well as other important artists and portrait photographers. They also created practice portraits of one another to be preserved alongside the rest of the project.
"We'll look at different portrait photographers and how they are self-expressive, but also honor the person," Schwibs said.
She wanted the students' portraits to be shot on black and white film both to echo the style of Warhol's screen tests and because of its inherent artistic and archival properties. Like Warhol's portraits before them, the students' work is more artistically expressive than purely journalistic or documentary, but it will also serve as a record of the university's community at its 200th birthday.
"It focuses more on the essential features and expressive demeanor and gesture of the person," Schwibs said. "You don't get distracted by a lot of color information."
Film, Schwibs says, is also a future-proof medium. Because it's analog, it can be transferred to any conceivable new technology, while the future of digital media is less certain.
Andy Uhrich, a film archivist at IU's Moving Image Archive, said film is such a long-lasting archival medium because manufacturers like Kodak have worked for decades to ensure its longevity.
"Additionally, there is the rigorous and dedicated commitment of IU to conserve its archival collections," he said. "For film, this specifically means that IU is finishing the building of a film vault as part of the new expansion at the Auxiliary Library Facility that will store film at 38 degrees Fahrenheit and 30 percent relative humidity."
In addition to being screened around campus, the People of IU portraits will be preserved in the Moving Image Archive. According to Uhrich, citing research from the Image Permanence Institute, the rolls of film will last more than 1,600 years.
The archive, which houses more than 120,000 film, video and audio recordings, focuses on nontheatrical and educational media. At the core of the archive is a commitment to preserving IU and Bloomington history, Uhrich said. That includes new media, as well as moving images created by IU faculty, staff and students.
"This project exactly matches up with the mission of the Moving Image Archive, and the IU Libraries of which we are a part," Uhrich said. "We are so pleased to be partnering with professors Schwibs and DeBoer and their students. I can't wait to see what they film."
Music plays in the background. A woman winds film from a camera while standing. She sits down and continues working with the film. She works. She stops and looks up at the camera. She smiles.
Screen ecology
As Schwibs' students documented the community, DeBoer's made plans for exhibiting the portraits. That included learning about modes of documentary storytelling and imagemaking, as well as exploring the idea of IU as a campus and as a screen space.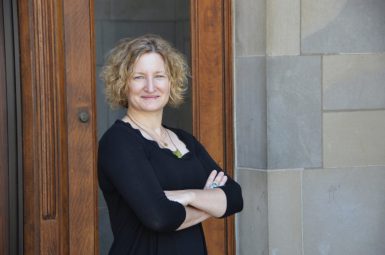 "If you're going to curate moving images or still images, you're also dealing with the study of the criticism of something," DeBoer said.
Throughout the semester, students explored screen spaces on campus, such as The Media School commons, the Sidney and Lois Eskenazi Museum of Art, audiovisual labs, the School of Global and International Studies atrium and even Assembly Hall. In surveying IU's wealth of screen spaces, students analyzed the curatorial potential of each one and questioned how it might fit the work they'd been given to place on screens across campus.
Then they began developing proposals, the first of which was a plan for screening the portraits at the IU Cinema.
Vickers, its director, said fitting the portraits into the Cinema's spring programming will reinforce the value of students' creative work.
"These brief, living portraits will give students and all viewers quick introductions to key figures in IU's history," he said. "Having them viewed on public screens also helps IU students connect to the Bicentennial in a more tangible way."
The second proposal was for the project's display on incidental screens around campus. The third let students create their own installation, as a sort of capstone project for the semester to showcase both the curatorial work of DeBoer's students and the filmmaking of Schwibs'.
"They're thinking about curating these screens and creating new spaces for passersby or people to encounter this content," DeBoer said.
Select portraits will be screened noon-5 p.m. Monday through Thursday next week in the Franklin Hall commons. A final exhibition installation, which is open to the public, is from 3-7 p.m. Dec. 17 in Room 105 of the Innovation Center, 2719 E. 10th St. The installation is supported by IU's Advanced Visualization Lab.
DeBoer said it's important to think of the curation process as equally important to the filmmaking process. Schwibs agreed that the display of the portraits on public screens is vital to the project.
"The idea is as you're walking around campus, you suddenly see this person," Schwibs said.
A scannable QR code or link will provide passersby with a means to learn more about the people behind the portraits.
"It's just a way of honoring not just the institution, but the people that make up the institution," Schwibs said.
A heart beats in the background. A girl is laying down facing up at the camera. She stares at the camera trying not to laugh. She laughs.