Volochine: Journalists must fight back against propaganda
Propaganda can lead to war, and journalists must fight against false information from the state, across the world, international journalist and documentary filmmaker Elena Volochine said Tuesday night.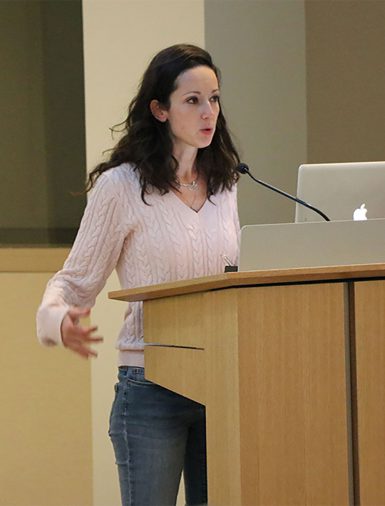 Information wins wars, she said, and journalists must be prepared to struggle against people who might not always believe them or who might want a different, false version of the story to be told instead.
"You will be in the situation where politicians will want to use you as the weapons which will sometimes allow them to win war," Volochine said.
Volochine shared these thoughts as well as numerous examples during the 2018 fall semester's final Media School Speaker Series talk, which focused on propaganda and the war on media.
As an international journalist and documentary filmmaker, Volochine has produced reports and feature stories for several francophone TV and radio stations. She co-directed Oleg's Choice, a 2016 film about two Russian volunteers during the Ukrainian conflict. She currently works as the Moscow bureau chief for France 24, a Paris-based news organization that broadcasts to 250 million households around the world.
Throughout her presentation, Volochine used examples from Russia and its state-run news channels to explain how propaganda works and why it's dangerous.
She showed examples from the conflict between Russia and the Ukraine and explained how Russian news outlets often lie or take facts out of context in order to convey a message that benefits the government. Often, this means painting the opposite side in negative light, portraying opponents as having similar beliefs to Nazis or threatening to go against Russians' patriotism and values.
The Russian media knows how to target its audience: Russian citizens, Volochine said. It knows how to talk about issues in a way that makes them scared or worried.
This can also lead to the use of a self-fulfilling prophecy, she said. Russian news outlets will often give information that is not entirely true but will indirectly make it true. If a media outlet claims people are protesting and causing harm, for example, many viewers will become so afraid that they themselves will protest.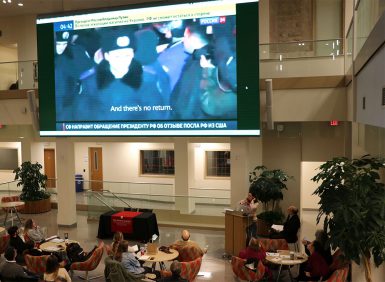 "Propaganda can lead to a war," Volochine said.
As a foreign journalist in Russia, Volochine's job is to broadcast the truth while recognizing the propaganda happening around the country.
But because officials don't tell the truth and residents watch state-run media, no one really knows what's true. This can make it very difficult to report, she said.
Russian media often attacks western news outlets as well, Volochine said. This makes it difficult for foreign journalists in Russia to do their job. State officials and even citizens are often unwilling to talk.
In recent years, President Vladimir Putin has tightened his grip on media in Russia. Although Volochine said she does not see parallels in what's happening to media in the United States, she acknowledged parallels between how Putin and President Donald Trump treat the media.
Trump wishes he could control journalists the way Putin can, Volochine said. But that's only a dream, and he'll never be able to because of the U.S. democracy.
Still, it's important for journalists to know how to fight against propaganda and fake news, she said.
Her first piece of advice is to continue interviewing people even if you know they are not completely telling the truth.
"You have to explain the context," Volochine said. "You must speak of propaganda all the time and explain that it is very heavy and not simply facts."
She also suggested looking for alternative points of view that aren't simply state officials. When you do talk to state officials, however, you must always show the context in which you are interviewing them and ask them tough questions, even if you know they will react strongly against them.
At the end of the day, journalists have to tell the truth.
"You are storytelling," Volochine said. "You must stick to the facts that you have been seeing since the very beginning of the situation, the facts that you are absolutely sure of."
More: