Visible Evidence brings documentarians, scholars to campus
International documentary film and media conference Visible Evidence is coming to Bloomington from Aug. 8-11 for its 25th annual symposium.
The program is hosted by The Media School's Center for Documentary Research and Practice, along with The Media School, its Cinema and Media Studies unit and its Black Film Center/Archive, and the IU Cinema, IU Bicentennial, the College of Arts and Sciences, the Kinsey Institute and the IU Libraries Moving Image Archive.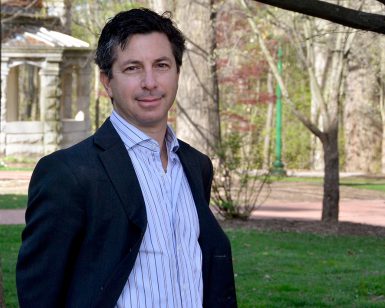 The conference brings scholars and practitioners from around the world to the university for screenings, workshops, panels, special events and plenary sessions. Some events are open to the public, with a selection of panels and screenings hosted by the IU Cinema and the IU Libraries Moving Image Archive.
"It's a community of nonfiction scholars," CDRP director and Media School associate professor Joshua Malitsky said. "Filmmakers are involved as well. It's primarily scholars or filmmakers who are interested in thinking about their work at a critical level."
The conference has traveled to countries all around the globe, including Argentina, Canada, India, Australia, Sweden and France.
"It started in the U.S., but increasingly it's become more global," Malitsky said. "I've been all over the world with this conference."
Visible Evidence features extensive work with nonfiction media, but it focuses more on scholarly research than film exhibition, Malitsky said.
IU Cinema director Jon Vickers said the collection of filmmakers and film screenings will offer the community a wealth of fascinating art.
"There are some real coups this year as far as what the conference has attracted," he said.
Those include a range of prominent filmmakers, and even the debut of a new, locally themed work.
An Aug. 11 IU Cinema screening will showcase director Bill Morrison's 2016 documentary, Dawson City: Frozen Time, as well as present the world premiere of his 2018 short film, Buried and Breaking Away. The former explores the peculiar case of a collection of some 533 nitrate film prints unearthed in the Yukon territory in 1978. The latter, which will be accompanied by live music, is a nine-minute short with connections to local favorite Breaking Away, Vickers said. Morrison will be present at the screening, which will be free but ticketed.
"He's very accomplished, and he's recognized for his accomplishments," Vickers said of Morrison. Morrison, an experimental filmmaker and documentarian, was recently the subject of a mid-career retrospective at the Museum of Modern Art.
Vickers said Ukranian director Sergei Loznitsa is perhaps the conference's most prominent filmmaker. His recent film Donbass won him a directing award at the Festival de Cannes. The IU Cinema will screen Loznitsa's 2016 film Austerlitz, about Holocaust memorials and the people who pay them visits, Aug. 7, and his 2015 film The Event, about an attempted coup in St. Petersburg, Aug. 10. Both screenings are free, but ticketed, and Loznitsa will be present at the The Event screening.
I think we're in a real height, a real burgeoning moment for documentary. I think it's going to continue that way. I think it's going to be really interesting as we as a society grapple more and more with questions of factuality.  —Associate professor Joshua Malitsky, director of the Center for Documentary Research and Practice
"Loznitsa is making about one film a year, if not more, and they're all garnering a lot of attraction from critics and festivals," Vickers said.
Other IU Cinema screenings for the festival include a look at pre-WWII explicit media, a double feature comprised of a short about the Foley process and a series of vignettes about Midwestern life, and a presentation by five filmmakers from Chicago-based production company Kartemquin films.
"It's an opportunity for the Bloomington community, or whomever might want to travel regionally, to see some of these filmmakers and see some of these works and sit in on sessions," Vickers said. "I think it's a great opportunity to get exposed to some of the major folks working in nonfiction film."
And even though documentary and nonfiction film are typically not thought of as storytelling modes cinematic or splendorous enough to warrant a trip to the theater, Vickers said seeing these films on the big screen is the way to go.
He said he believes in films as starting points for conversation and as experiences to be shared.
"I'm a firm believer in those kinds of communal experiences, but also the commitment of coming to the cinema and being fully drawn into the filmmaker's work," Vickers said.
Malitsky shared those sentiments. He said the sense of community in watching films with an audience is worth seeing them on the big screen, especially for nonfiction media meant to provoke conversation.
In fact, there's perhaps never been a more fascinating time to observe the art of nonfiction storytelling than now, he said.
"I think we're in a real height, a real burgeoning moment for documentary," Malitsky said. "I think it's going to continue that way. I think it's going to be really interesting as we as a society grapple more and more with questions of factuality. Making arguments about the world through images and sound, which is the way documentaries speak, is increasingly one of the ways we speak in contemporary media culture."
More: