Velez article provides case study on use of visual communication in health care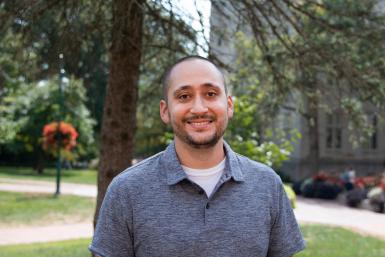 Visual communication can be instrumental in properly conveying health care information, according to an article co-authored by assistant professor John Velez.
"Rethinking patient-provider care through visual communication," by Stacy Elko, Velez, Melinda Corwin and Justin Keene, appears in Visual Communication. The article presents a case study — an app called the Visual Interactive Narrative Intervention — for designing visual content to effectively share information with patients who have the communication disorder known as aphasia.
The article examines the creative process, visual design principles and collaborative effort needed to improve visual communication to people experiencing aphasia. Visual communication is underused, the article says, as an effective method of dialogue with patients about their strokes, symptoms, rehabilitation options and quality-of-life issues.