Vargas blends global issue with own story as undocumented immigrant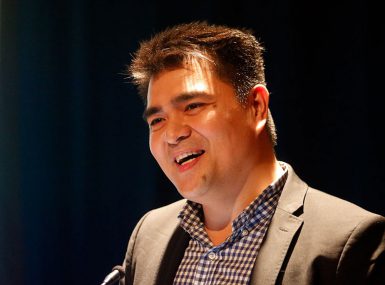 Pulitzer Prize-winning journalist and documentary filmmaker Jose Antonio Vargas strives to be more than "the immigration guy."
As a reporter, he never worked on stories about immigration until 2011, when he shared a personal essay in The New York Times magazine about his own undocumented status.
The school's first Speaker Series guest of the semester spoke to a crowd at the Whittenberger Auditorium in the Indiana Memorial Union about what it means to be an undocumented immigrant.
"I realize that immigration is the most controversial but least understood issue in America," Vargas said. "This is where journalism is so important. I think the American public should know what the facts are on the issue before deciding what the policy should be."
For Vargas, questioning his American identity began with a driver's license. When a then-16-year-old Jose tried to apply at the license bureau, he learned his green card was fake. He confronted his grandparents, who told him the truth: He was in the country illegally, sent by his mother from the Philippines when he was 12.
"I grappled for years with the traumatic experience of the journey with a coyote and being uprooted as 12-year-old kid," Vergas said.
Learning he was undocumented made him more obsessed with documents.
"The only reason I became a journalist a year after I learned I was undocumented was so my name could be on a piece of paper," he said of getting his first byline in his high school newspaper. "So I could be documented."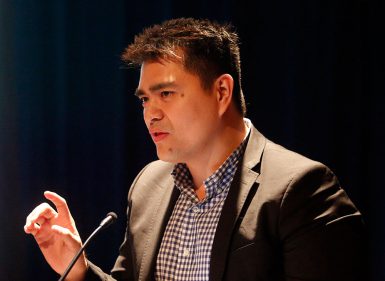 After writing in high school, he attended San Francisco State University. He earned several internships, including an offer from The Washington Post. The catch: He would have to provide a valid driver's license.
He drove from California to Oregon to obtain the piece of plastic. It would expire in eight years on his 30th birthday.
"I thought within those eight years, if I could win some sort of prize, if I could write for The Wall Street Journal, The Washington Post or The New York Times, maybe by then, I would have earned it," he said of his quest for citizenship.
In April 2008, he was part of a Post team that won a Pulitzer Prize for coverage of the Virginia Tech shootings. When he moved to the Huffington Post in 2009, his series on HIV AIDS was turned into a documentary film called The Other City. Even while he worked toward success, he constantly worried about his undocumented status.
By his 29th birthday, he had achieved all of the goals he'd set as a college student. All but one.
"I was still undocumented," he said. And there was no way for him to obtain documents, no path to citizenship.
Vargas decided to let go of his secret, to "come out" to the world as an undocumented immigrant in a first-person essay in The New York Times Magazine.
"In this 4,000 word confession, I admitted to using a fake green card, lying on government forms and lying to get a driver's license I wasn't supposed to get," Vergas said.
After publication, he packed his bags and waited to be deported.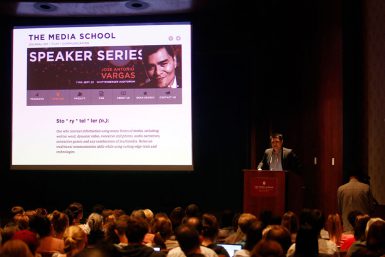 Nothing happened.
"I expected to be treated the same as other undocumented immigrants," he said. "Instead, there was utter silence."
For the first time as a journalist, Vargas began to explore immigration issues, this time through documentary work. His film, Documented, began as an idea for showing how undocumented immigrants use social media, but it quickly became an issue explored through Vargas' own experience.
Documented was screened before Vargas' talk. He wrote and directed the story that intertwines his personal journey with the political atmosphere of immigration reform. He used news clips, including some of himself talking to broadcast journalists and talk show hosts, to show the varied opinions about immigration and about his situation.
In the film, people often ask Vargas why he doesn't "do the right thing" and get his papers. He calmly tries to explain that there is no method or procedure for him to gain citizenship, no process in place.
Vargas also shows his grandmother, who was worried that writing about his status would result in deportation, and he confronts his mixed emotions about his mother, to whom he had not spoken in 18 years. Near the end of the film, the audience saw Vargas finally agree to Skype with his mother.
"I thought it was pretty amazing that he could juxtapose the political side of the issue with vulnerable material like his first Skype with his mom," said freshman Crystal Chen after the screening.
During the filming process, Vargas also contacted Time magazine and asked to write about why he hadn't been deported. The resulting cover story featured Vargas and two dozen other undocumented immigrants under the headline, "We are Americans (*Just not legally)."
The film shows him in reporter mode, working the Time story and talking on the phone to Immigration and Customs Enforcement.
"'She goes 'What are you doing?,'" Vargas recalled the ICE representative saying. "I said 'What are you doing? I'm a journalist, I'm on deadline, I'm writing a cover story for Time and it's due Monday.' She goes, 'Mr. Vargas, we have no comment.'"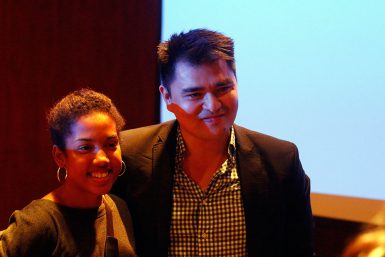 Vargas talked about how the film thrust him into a position of justifying his work as an "objective" journalist, and he was amazed when people began to call him a "former journalist."
"As far as I'm concerned, I'm a journalist and a filmmaker, and I'm telling the biggest story of my life, " Vargas said. "It just happens to be about me."
This summer, when he was supposed to be taking a break after working non-stop, he traveled to the Texas border. He was motivated by a CBS News headline referring to the influx of undocumented children arriving from Latin America: "Is the surge of illegal child immigrants a national security threat?"
"When you're 9,10 11, you should worry about summer camp and your PlayStation," he said. "You don't understand how your life is being played political football with."
While trying to leave Texas, Vargas was detained for eight hours by border security.
"I was put in the same detention center with the same kids I went out there to document," Vargas said. "I don't think you needed language to look at their faces and see how lost and confused they were."
He was released, because he was deemed low priority and not a security threat. But the detention did result in Vargas receiving his first document from the U.S.: "a warrant of arrest for being an alien," he said.
Vargas founded Define American, a media and culture campaign to shift the conversation about immigration beyond politics. Its aim is to tell the individual stories of undocumented immigrants, which are lost amid the immigration reform discussion, he said.
"So the question is, how do you define America? And what do you want to do to us?" He asked. "We can't all mow your lawns and babysit your kids and serve you drinks."
Vargas followed his talk with a question and answer session.
Cora Henry, a journalism graduate student, asked how he decides how much emotion to put into a story and whether that differs depending on if he is the subject or not.
"The hardest stories we tell are the ones about ourselves," Vargas said, adding that he worried his documentary would come across as self-centered. "But writing and filming are two very different things."
For example, writing about his mixed emotions about his mother would be very different from watching the scenes in Documented where he breaks down when Skyping with her.
Lucas Corley, a sophomore studying sport communication at the School of Public Health, asked how Vargas thinks the future flow of immigrants should be regulated.
"Has humanity ever built a border that could withstand human will?" Vargas responded. "Every country has right to define and determine what its borders are. We should have an efficient legal process so people can come here legally."
Vargas has another documentary in the works that will explore "What is White?"
"I am what I've always been, a storyteller," Vargas said. "I'm just trying to be as creatively disruptive as I can."
The Speaker Series brings top media professionals to campus for lectures that are free and open to the public and for small group events with Media School students.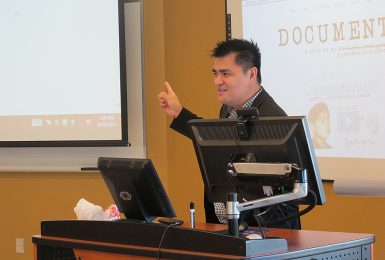 Earlier in the day, Vargas had breakfast with students at the Hutton Honors College, then visited a telecommunications class in the afternoon. He also was a guest on the WFIU radio interview show, Profiles, which will air later this fall.
The Media School Speaker Series continues:
7 p.m. Oct. 23: New Yorker investigative journalist and author Katherine Boo, Alumni Hall in the Indiana Memorial Union.
7 p.m. Nov. 18: Filmmaker Carolyn Jones of The American Nurse Project, Buskirk-Chumley Theater, 114 E. Kirkwood Ave. The American Nurse will be shown at 5:15 p.m.