Uslan reflects on realized vision of a darker, more dignified Batman
In today's world of superhero movies, the economic opportunity for tie-in merchandise such as toys and games often drives a film as much as its story.
But the post-9/11 Batman isn't cute. He's dignified, with a darkness inside him.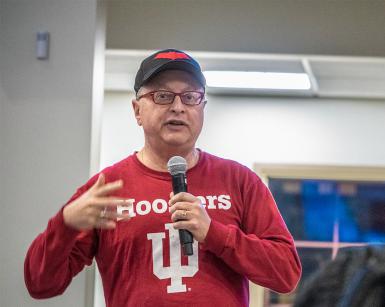 Professor of practice Michael Uslan, executive producer of the modern Batman movies, screened "The Dark Knight Rises" on Monday to an audience of Batman enthusiasts in the Franklin Hall commons, followed by a Q&A. He discussed his lifelong intention behind making the trilogy, its lasting effects on all other superhero films and how a dedication to Batman he thought would just be his career, has become his life.
"I still get the chills every time," Uslan, BA'73, MS'75, JD'76, said after watching the film one more time.
Uslan had been working on restoring a darker, more dignified Batman to the screen for 10 years before finally beginning work on the first modern Batman film — which premiered in 1989 — with director Tim Burton. The film was the first dark and serious comic book movie, he said — an innovation that has influenced every film in the genre since then in direction, design and scoring.
More than a decade later, Uslan's team was searching for a director of what would become the "Dark Knight" trilogy. Christopher Nolan — then just a young filmmaker with a few titles under his belt — had a vision Uslan believed in.
When Uslan saw the first cut of "Batman Begins," the trilogy's first film, he cried.
"Christopher Nolan just made my dreams come true," Uslan recounted saying to his to wife, Nancy.
Nolan's darker, restored Batman brought to life the shift Uslan envisioned. The retro Batman was campy and comedic. Nolan's films pulled at deeper themes in the modern world, with villains and heroes with a darkness inside them.
"If you look hard at the thematic heft that Christopher Nolan brings to these pictures, you can see the allusion, the impact and the emotions of 9/11 and its aftermath," Uslan said.
Nolan's Gotham City, filmed in Chicago, was a world of gray, Uslan explained. The Joker took on the role of a modern-day terrorist with no respect for human life. Nolan now had to make adult audiences, who weren't reading comic books, believe in Bruce Wayne, Gotham City and the villains.
Uslan himself, though, grew up immersed in Batman comics. But his love and belief in Batman wasn't uncontested. He collected every superhero's comic books, but Batman was always the favorite. He described four reasons for his superiority: his primal origin story, his only superpower being his humanity, his villains with no comparison and his car.
Batman will only become more relevant, Uslan predicted, as the story now reaches across generations.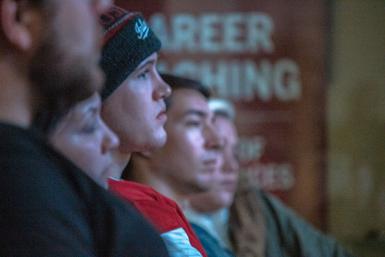 "I can't tell you — as I speak across the country — how many people come up to me about how impactful this was in their life because they shared it with someone who isn't here anymore," he said.
In fact, superhero stories have centuries-old roots, he said. As an undergraduate history major at IU, Uslan developed and taught the first college-accredited comic book course. His course proposal was based on the premise that comic books are contemporary folklore.
"They are still the tales of great warriors, fighting the demons and dragons of the day, giving people hope," Uslan said. "Maybe they've moved now from wearing skins to armor to spandex and capes, or whether you call him Batman and Superman, or you call them Beowulf and Ulysses or King Arthur and the knights at the Round Table. It's myth, and there will always be a need for myth and great stories and great tales that give people hope and preach tales of redemption."
Uslan returns to campus each winter to teach an intensive Media School course. He's teaching MSCH-M453: The Business of Producing Motion Pictures for three consecutive weekends.