Uslan: 'Joker' makes viewers uncomfortable — and that's why it's a masterpiece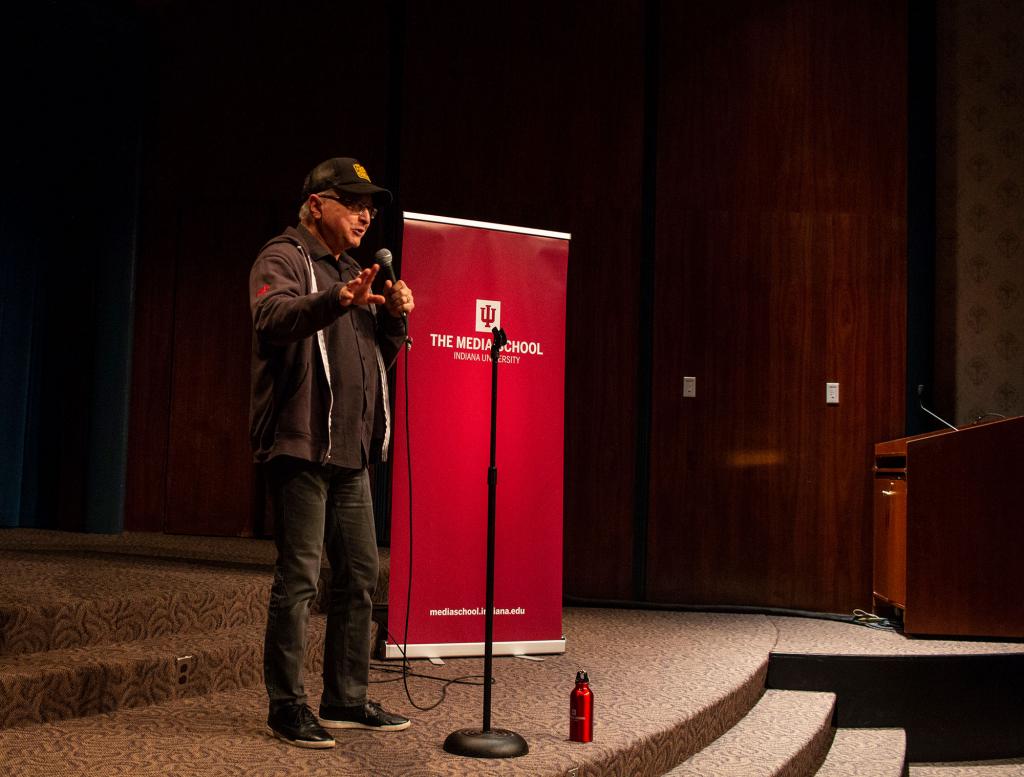 "How'd you like to take a shot at writing Batman?"
Those words still ring in Michael Uslan's ears more than 40 years later. They were spoken by longtime DC Comics editor Julie Schwartz, who Uslan describes as "the most important editor in the history of comics." With those words, a dream Uslan had had since he was 8 years old came to fruition.
Uslan, BA'73, MS'75, JD'76, spoke Saturday about this pivotal point in his life and the events that preceded it. He's executive director of the Batman movie franchise, including its latest, "Joker." His lecture, which opened The Media School's spring Speaker Series, took place in the Whittenberger Auditorium before a Union Board screening of the film.
"Joker" has been nominated for 11 Oscars — the most of any film this year.
"It is my contention that 'Joker' is the most important movie (created) dealing with mental health issues in our country since 'One Flew Over the Cuckoo's Nest,'" Uslan said.
The film, directed by Todd Phillips, examines mental health and the way society helps and hinders those who suffer from various conditions, Uslan said. It's a film that makes viewers uncomfortable — which in turn makes great cinema.
"This is showing our society where we are today. And guess what? Guess why everyone is uncomfortable? Because there is a lack of civility and there is a lack of social discourse," Uslan said. "People are talking at each other. They're not talking with each other."
Uslan's past films include the "Dark Knight" trilogy, "Justice League," "The Lego Movie" and more.
His love of superheroes and comic books began at an early age and skyrocketed when he attended IU. As an undergraduate history major, he taught the first accredited university course on comic book folklore in the world.
"(Comic books) are a legitimate American art form as indigenous to this country as jazz," Uslan said. "The ancient gods of Greece, Rome and Egypt all still exist, except today they wear spandex and capes as they fight the great demons and dragons of their day."
News organizations from all over North America and even Europe came to Uslan's class and wrote articles about him. After the nonstop coverage, "my telephone started to ring, and it never stopped," Uslan said.
One of those calls came from Stan Lee, American comic book writer, editor, publisher and producer, as well as Marvel Comics' primary creative leader for two decades. Lee wanted to fly Uslan out to New York to discuss collaboration possibilities.
"This was my burning bush moment," Uslan said. "I was talking to my god."
After being hired at DC Comics ("a geek dream come true"), Uslan wrote his first comic book, "Shadow."
Later, he began a six-month negotiation and raised money privately to buy the rights to Batman.
"I wanted to make dark and serious Batman movies and show the world that the true Batman is not some funny, potbelly guy that's a comedy that the world can make a joke about," Uslan said. "I wanted to show Batman as a creature of the night who fights these terribly disturbed villains in the shadows, and then try to figure out a way to erase from the collective consciousness of the world … those three words: 'pow!' 'zap!' and 'wham!'"
With Batman in his back pocket, Uslan thought the hard part was over. But after traveling to Hollywood and "being turned down by every single studio in Hollywood," Uslan quickly realized the challenge was just beginning.
Ten years later, in 1989, "Batman," directed by Tim Burton, premiered. Not only was it a box office hit (grossing over $400 million), but the film altered the vision for superhero and comic book movies in general.
"The film changed the world's perception of what comic books are, all because Tim Burton had one huge, big, new idea," Uslan said. "(Burton) thought, 'If we're going to make the first dark and serious comic book superhero movie, it cannot be about Batman. It must be about Bruce Wayne.'"
About 15 years later, Uslan met Christopher Nolan, and the duo produced and directed the "Dark Knight" trilogy — films that explored superhero characters as citizens of Gotham City.
"It's in no one's best interest, not yours and not mine, to keep turning out cookie-cutter type comic book movies," Uslan said. "Somebody has to be bold and daring. Somebody has to be willing to push boundaries."
Uslan said "Joker" is a film that pushes boundaries and features "a performance of a lifetime" by Joaquin Phoenix, who plays the film's main character, Arthur Fleck, aka "Joker."
Uslan won't attend the Academy Awards on Sunday to represent "Joker" as it vies for 11 awards. The event conflicts with his annual trip to Indiana to teach two three-week, intensive Media School classes on the business of Hollywood. So "the blue-collared kid from New Jersey who ended up in Hollywood" will watch the Oscars on the big screen TV in the Franklin Hall commons with his students.
"We'll be rooting together for the 'Joker' team from here," Uslan said. "Because being back here at IU and having the chance to say 'thank you IU' for empowering me on my journey, for me — that's a whole hell of a lot more important than being anywhere else."
The Speaker Series continues March 6 with a lecture by "60 Minutes" correspondent Bill Whitaker.