Upon retirement, new work begins for Media School professors
Though he's retired from full-time academic work, Media School professor emeritus Ronald Osgood is far from idle. He fills his days teaching IU classes and making films.
He's not the only one of his kind. While the expectation for retirees is, as Osgood jokes, to kick back, relax and play golf, many professors emeriti use retirement as an opportunity to branch out, continuing to pursue former academic interests and even taking up entirely new ones.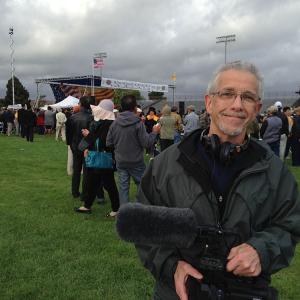 The former has certainly been the case for Osgood.
"Keeping busy is part of what you do when you retire, I think," he said.
Osgood stays active on campus by teaching courses at the Hutton Honors College. He said he tries to teach at least one per academic year, covering subjects such as the history of documentary filmmaking. This fall, he said, he'll be teaching a new honors course called Archival Storytelling.
But most of his post-retirement work is, and has been, in documentary filmmaking. He's currently developing a sprawling transmedia project titled The Vietnam War/The American War: Stories from All Sides, which comprises a website, numerous hours of interviews with veterans and updates to his previously released documentary, Just Like Me: The Vietnam War – Stories from All Sides.
Osgood hopes to move the project to a national level soon.
"The end result of this will be to go to someone like the National Endowment for the Humanities and get a national grant that allows this work to continue on beyond the scope of what I can do at this point," he said.
He said retirement has been great so far, and he's appreciating the opportunity to spend more time with family and work on personal projects.
"I had all these ideas of things that I could never really finish when I was still working," he said.
Finally, they're coming to fruition.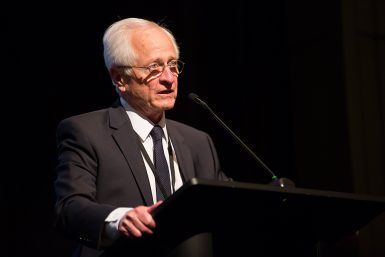 Another professor emeritus, James Naremore, keeps himself occupied by writing. Naremore spent more than 30 years teaching film courses at IU and other institutions. He also co-founded the university's film studies program, and in retirement he's continued to focus his work on film.
Since retiring, Naremore has published five books: Charles Burnett: A Cinema of Symbolic Knowledge, An Invention Without a Future: Essays on Cinema, Sweet Smell of Success, On Kubrick and the centennial edition of The Magic World of Orson Welles.
In 2013, Naremore received an Academy Film Scholars grant from the Academy of Motion Picture Sciences for his writings on Burnett. He gave a lecture on the book at the Motion Picture Academy in Los Angeles in 2017.
Additionally, Naremore has recorded seven commentaries for DVD and Blu-ray re-releases of classic films, including Fear and Desire, Touch of Evil and Chimes at Midnight. He's also been a guest professor at the University of Chicago, the Art Institute of Chicago and UCLA, and he's lectured at institutions around the world.
Naremore said he's motivated to stay academically active in his retirement by "the pleasures of writing and research, plus additional income."
Looking to the future, Naremore said he's working on another book, tentatively titled Film Noir: A Very Short Introduction, and planning to start a website.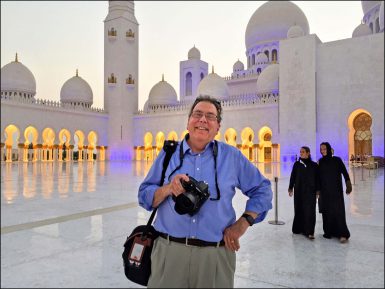 For professor emeritus Steve Raymer, who taught courses in visual journalism, reporting and media ethics, retirement has been a chance to produce, reflect and share knowledge.
Raymer, also a former photographer and editor for National Geographic magazine, completed a sprawling visual memoir comprising 150 pictures and 65,000 words over 280 pages. He titled the memoir, Somewhere West of Lonely: My Life in Pictures.
"Lonely is both a place in Alaska where I had a brush with death and a metaphor for life on the road as a magazine photojournalist and author," Raymer said.
He said working on the project was a chance to reflect on his 50-year career and the lessons it taught him.
Raymer has also taught courses in news reporting and media ethics at university campuses in Dubai and Abu Dhabi in retirement.
"Teaching a new generation of Arab young women at Zayed University's School of Communication and Media Sciences in the United Arab Emirates was a rare privilege," he said.
Raymer noted that in teaching the courses he was able to use the same textbooks as when he taught them at IU, despite the fact that their ideas clash with those of the United Arab Emirates' monarchal government. On the third page of one of the books, he recalls, the authors observe that the value of journalism is to "make citizens free and self-governing."
He said the opportunity to present such an idea to his students was a valuable "point of departure" for them.
"These young women will be agents of change, I am convinced," he said.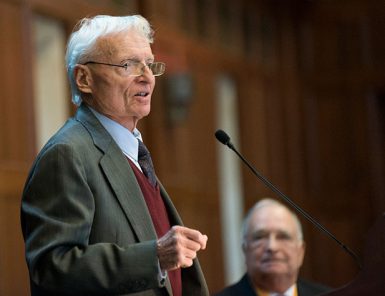 Professors emeriti David Weaver and Cleve Wilhoit have been working together to publish research, continuing an endeavor they began well before retiring.
In November 2017 they, along with former IU professor Lars Willnat, published a book titled The American Journalist in the Digital Age: A Half-Century Perspective. The book was the fourth in a series begun by Wilhoit and Weaver in the 1980s, which includes the pair's other works, The American Journalist (1987), The American Journalist in the 1990s (1997) and The American Journalist in the 21st Century (2007). The ongoing series has surveyed journalists about their work practices and presented data identifying trends and shifts in the profession throughout the decades.
This month, Wilhoit and Weaver received the Sigma Delta Chi national award for Research About Journalism from the Society for Professional Journalists. This was the duo's fourth time receiving the award, which they previously earned for the prior three installments of their series.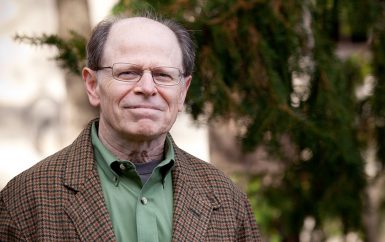 Wilhoit said he and Weaver first met in the '60s, when he was one of Weaver's professors. At the time, Weaver was working on his master's degree, and Wilhoit said the two worked on occasional research together.
Wilhoit said they began collaborating again in the 70s, after Weaver had completed his doctorate. The pair published numerous journal articles together, and eventually began working on their "American Journalist" research.
Wilhoit taught at IU for almost 37 years.
"When you've taught for that long and had so many really successful students, and then one of your first students you have worked with for four decades, and feel so strongly about the importance of journalism, it just seems like the natural thing to do to want to carry on work that explains what journalists are like, and their values, ethics and responsibilities," he said.
Wilhoit said he hopes to work with Weaver and Willnat on another "American Journalist" study in a few years.
"That's my dream," he said.
Retirement isn't always a continuation of previous academic work; some retired professors elect to blaze new trails for themselves after concluding their careers as professors.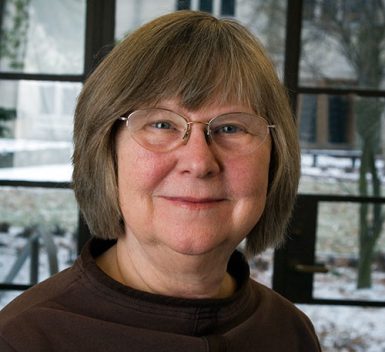 For professor emerita Carol Polsgrove, it was a chance to explore new academic pathways.
"By and large," she said, "my retirement activities have not been a continuation of my academic work at Indiana University."
She retired in 2008 and published a book – her third – in 2009. The book, Ending British Rule in Africa: Writers in a Common Cause — which Polsgrove said she researched and wrote while still teaching at IU — chronicles anti-colonialist efforts by African and West Indian writers in London before World War II.
Polsgrove published another book in 2015, a memoir titled When We Were Young in Africa: 1948-1960. She also continued her studies of Spanish, which she said began during her tenure at IU. This included classes in Costa Rica and Mexico.
The climax of this was the launch of a mostly bilingual website, Latin American Writers, in collaboration with her co-translator, Paloma Fernández Sánchez. The website publishes translations of Spanish language journalism, news and reviews, the purpose of which, Polsgrove said, is "bringing attention to Latin American writers whose work has not typically appeared in English."
In addition to her academic work, Polsgrove said the most important part of her life since retirement has been giving back to her community. For the past six years, she's been reading with young elementary children in her neighborhood's after-school program.
"While continuing one's academic work in retirement can be fulfilling and useful, retirement also offers an opportunity to turn to other creative and intellectual interests, as well as to contribute to our communities in other ways — as in my volunteer reading with elementary children," she said.
For Christine Ogan, an IU professor emerita of journalism, retirement has been an opportunity to travel and see the globe. She's taught and researched internationally, including several stints of teaching in Hong Kong; Lugano, Switzerland; Milan; and Belgium.
Ogan said she's also used international research and teaching positions as bases to see more and more of the world.
Much of Ogan's recent toils have been dedicated to research and humanitarian work in Europe.
The two might sound like disparate topics, but Ogan's primary interests spanning both are in refugee issues in Turkey. Her goal, she says, is to "maybe make the tiniest little bit of difference."
From a research perspective, her work has focused predominantly on how social media has been, and still is, used to bring about social change for Turkish migrants and Syrian refugees. One specific project followed second and third generation Turkish migrants in Belgium, Germany and the Netherlands and their participation in activism related to Turkey's political climate.
In her humanitarian projects, Ogan said she's been working with a group in Istanbul to help Syrian refugees. She said she tried to participate in similar refugee resettlement projects in Bloomington before legislation from the president "shut it down."
Though she has no concrete plans for the future, Ogan said she wants to continue writing, researching and participating in activism. That includes a book she wants to write about women's' rights in Turkey.
Ogan retired before The Media School was born, and she said it's been interesting to watch its growth as a former professor.
"Those of us who've been active in media-related research and teaching feel like we have something still to contribute to the school now and again," she said. "We would like to be a part of the school in that way."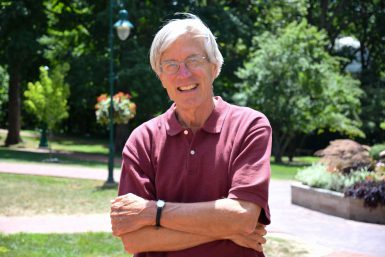 Journalism professor emeritus David Nord, who retired in 2011, said he eased into retirement, and that it began in much the same way his pre-retirement career had been going: with work on academic projects and work with graduate students.
"The move into retirement was kind of gradual," he said. "I think that's often the case."
But eventually, Nord ended up pursuing other interests, away from the university.
"I've enjoyed being away from the routines of teaching and committee work and service work and so forth," he said.
Much of Nord's post-retirement work has been dedicated to local history research. Several years ago, Nord's son was an antique woodworker at Spring Mill State Park, which prompted him to dig further into the history of the Lawrence County area, where the park is located.
Nord said that interest grew gradually from a focus on the transportation history of Southern Indiana. He wanted to put the park, and its namesake mill, into a historical, economic and geographic context.
The summation of his work is what he calls an annotated bibliography of documents – digital maps and images, mostly – that conveys the area's history of road, river and rail travel. He's also given presentations on the subject, and he's working on developing a website along with an Indianapolis historian.
He hasn't completely distanced himself from academic work, though. In 2015, Nord taught a National Endowment of the Humanities summer program for middle and high school teachers.
Nord said he loves the freedom of retirement.
"I think being retired is just terrific," he said. "I've really enjoyed it. It allows me to do things without much concern beyond whether I think it's interesting to do, and that it would be useful for somebody. It doesn't matter, really, whether I'm publishing in the best journals. What's important is that I'm doing something that might be useful."
More: