University Elementary School 4th grader headed to national spelling bee
Yena Park's reaction to the bell that signaled she'd won Saturday's regional spelling bee embodied the winning word: enthusiasm.
The University Elementary School fourth grader gasped into the microphone, and the crowd cheered.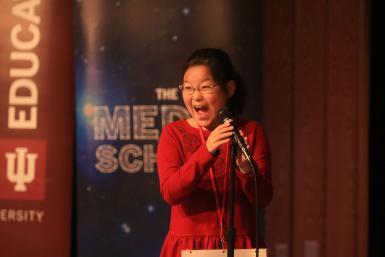 "I feel really excited," Yena said after her victory. "I have never won anything like this before."
Twenty-eight school spelling bee winners — ranging from third to seventh graders — from five South Central Indiana counties competed for a chance to advance to nationals. Park will compete at the Scripps National Spelling Bee in Washington D.C., May 26 to June 1.
The regional bee — also called the IU Bee — was sponsored by The Media School and the School of Education.
Students and families gathered in Monroe County Public Library auditorium and waited anxiously as participants were called up to their rows and asked to introduced themselves. Each child wore a red laminated sign displaying a number.
Veteran spelling bee pronouncer Allan Murphy, Bloomington Township and Herald-Times retiree, introduced the rules.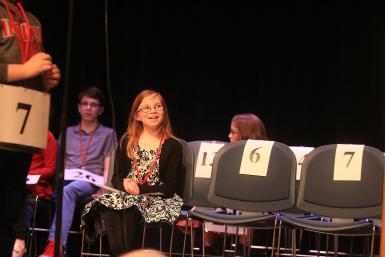 Judges Gena Asher, BA'79, MIS'03, MLS'03, freelance journalist; Anne Kibbler, MA'88, Media School director of communications; and Ray Smith, School of Education clinical associate professor, rang the bell whenever a participant spelled a word correctly.
This year's words included: sable, mongoose, foyer, jovial, hustings, pundit and semantic. The words varied in levels of difficulty.
Yena said she practiced for hours the night before the competition. It was her first time competing in the regional bee.
"Usually I look confident, but most of the time I'm really nervous," Yena said.
As the winner, Yena will receive an all-inclusive trip with one parent or guardian to attend the national bee, as well as a 2019 United States Mint Proof set, a one-year online Britannica premium subscription and a one-year subscription to Merriam-Webster Unabridged online dictionary.
Jackson Creek Middle School seventh grader Etienne Leykin was the runner-up.
Update (May 30, 2019)
Yena competed in the Scripps National Spelling Bee May 26-31 and advanced through the second round of spelling, accomplishing her goal of making it to the semi-finals.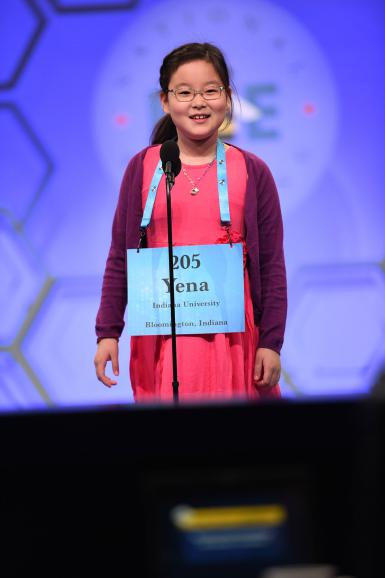 "When I came here I was really excited because this is my first national spelling bee," Yena said. "The most exciting part was actually getting to spell, because I was so worried that I would get a hard word that I didn't know."
Yena advanced from round two with the word "cataphract." Her word for the third round was "protrusile," which she spelled as "protrucile," said her mother Hyun Kwon.
"I was really nervous," Kwon shared with a laugh. "She was in round two and she was almost the last contender in the round and I was just shaking my head the whole time."
Kwon said the bee helped Yena make friends with similar interests.
"All of the kids are really sweet and they're cheering for each other," she said. "I think that Yena will keep trying to come back it it's possible."
When asked how she'll prepare for future competitions, Yena said, "I'm probably just going to read books and then read more books, because that's kind of how I got good at spelling. I read books and memorized the words in the books."
Yena and her family plan to continue exploring Washington D.C. until they return to Bloomington this weekend.