Theophilos presents on forthcoming feature-length documentary at Postman Conference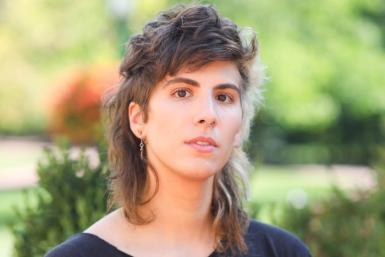 Doctoral student Jamie Theophilos presented part of an upcoming film they are co-producing at the Neil Postman Graduate Conference.
"The Social Empire" is a feature-length documentary about the implications of large social media platforms on all grassroots social movements fighting for a world worth living in. This film, which focuses explicitly on the effects of the company Meta and its affiliated platforms, is a collaboration with anarchist filmmakers from four countries, who all share similar concerns on the state of technology today.
They spoke about the forthcoming film at the Postman Conference, facilitated by New York University's Department of Media, Culture, and Communications on Oct. 27.
Through interviews, narration, archival footage and motion graphics, the documentary includes the voices of activists, artists, scholars and software engineers, who discuss key concepts and historical occurrences surrounding the practical manifestations of surveillance capitalism and its impact on marginalized communities. These voices include notable figures such as author Cory Doctorow, Tor Browser co-founder Allison Macrena and groundbreaking digital rights organizations including Lucy Parsons Lab, Netizen and the Civil Liberties Defense Center.
While the documentary was designed with a broad audience in mind, Theophilos said the creators would be particularly excited for the opportunity to use the issues raised in the film as a catalyst for a deeper theoretical discussion with other critical media technology study thinkers. The goal for this documentary and presentation is to show the need for grassroots movements to incorporate critical analysis and interrogation of their reliance on mainstream social media platforms into their daily praxis, they said. By tracing the role played by Facebook and its affiliated platforms in the Tigrayan Genocide and the repression of participants in Standing Rock protests and the George Floyd uprising, the creators question what kind of world Facebook has created and what might be required to stop it.