The Media School sponsors the annual Scripps Regional Spelling Bee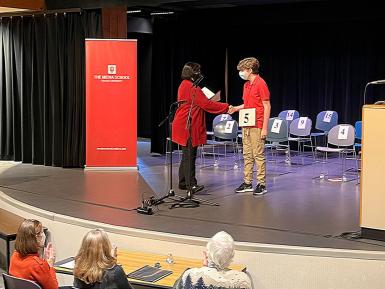 Students who attend South Central schools in Indiana will participate in the Scripps Regional Spelling Bee, which the Media School will sponsor, on Feb. 25. The event will begin at 11 a.m. in Presidents Hall in The Media School at Indiana University.
The event involves a written vocabulary test along with a spelling bee to help prepare the students for the National Spelling Bee in the Washington, D.C., area.
The student who becomes the regional champion will receive the Samuel Louis Sugarman award, a U.S. Mint Proof Set, and a one-year subscription to Merriam Webster Unabridged Online. 
Teresa White, director of the High School Journalism Institute and manager of the regional contest states, said, "Each year I am impressed by the school champions who compete in the IU Bee. Their dedication and love of language are evident. The life skills they gain by participating in spelling bees — work ethic, study skills, perseverance, and confidence — will serve them well as they continue to grow and learn." 
The Scripps National Spelling Bee will take place the week of Memorial Day at the Gaylord National Resort and Convention Center. LeVar Burton will oversee the semifinal and final rounds.