The Indiana Daily Student places third nationally in ACP Pacemaker 100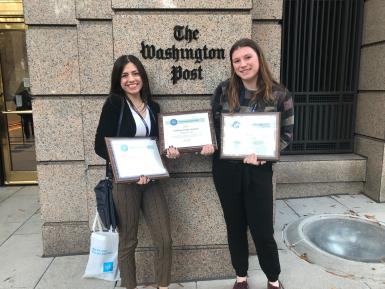 The Indiana Daily Student was awarded third-place publication in the nation by the Associated Collegiate Press in their ACP Pacemaker 100 celebration, honoring their all-time most awarded publications. The Pacemaker awards are recognized as one of the highest nationwide honors given to college-level publications.
Several IDS staff members traveled over the weekend to the Mediafest22 convention in Washington, D.C. The event, hosted by the College Media Awards, Society for Professional Journalists and the ACP, featured several keynote speakers including Bob Woodward, Carl Bernstein, Bill Whitaker and Juana Summers.
The IDS, both its print and online versions, and the Arbutus yearbook were honored at a reception in the Washington Post newsroom on Saturday as recipients of the Pacemaker 100. In addition to the Pacemaker 100, the IDS website and Arbutus yearbook won CMA Best in Show.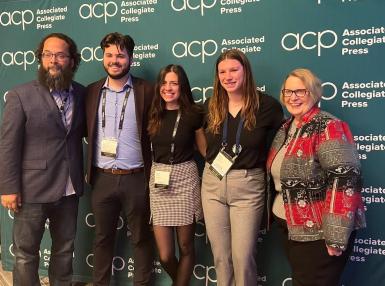 Among individual awards, Editor-in-Chief Cate Charron received the 2022 Reveille Seven College Press Freedom Award for her work to protect press freedom as an investigations reporter on the story "Dissonance in Due Process." Reporter Evan Gerike won two first place awards from the ACP and CMA for his investigation into IU Volleyball Head Coach Steve Aird. Arbutus editor Izzy Myszak received a first place award in yearbook design for her yearbook spread of the IU ballet department.
"I am tremendously proud of the IDS newsroom for its consistently game-changing level of local coverage. Awards aren't the end goal for us, but it shows we are doing something right," Charron said.
Here is a list of other awards from the MediaFest22 convention:
Associated Collegiate Press Pacemakers
Arbutus
Indiana Daily Student, Newspaper
Indiana Daily Student, Online
Indiana Daily Student, Multiplatform
Advertisement of the Year
Staff, fifth place, Newspaper Special Section/Advertising
Erika Armstrong, honorable mention, Print Advertisement
Hayley Skrezyna, honorable mention, Digital Advertisement
Dominique Hance, Bethany Everson, honorable mention, Social Media Campaign
Staff, honorable mention, Media Kit
Cartoon of the Year
Design of the Year
Multimedia Story of the Year
Phyllis Cha, Hannah Dailey, Izzy Myszak, Ethan Levy, honorable mention, Feature Story
Story of the Year
College Media Association Best in Show
Indiana Daily Student, second place, Advertising Special Newspaper Section
Indiana Daily Student, sixth place, Newspaper/Newsmagazine
College Media Association Pinnacle Awards
Organizational Awards:
Individual Awards: