Telling stories through service
Like many college students across the nation, Ethan Gill's 2017 spring break began in an SUV headed toward Florida.
But the vehicle Gill rode in was packed with three other Media School students, one staff member, cameras, tripods and computers. The then-senior was a member of a team of videographers, journalists, photographers and editors volunteering their time with the National Park Service as part of The Media School's non-credit alternative spring break trip to Gulf Islands National Seashore.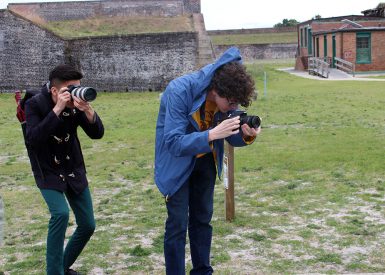 Gill didn't get much relaxation out of his spring break, but he got real-life experience, portfolio pieces and a connection to a nonprofit cause.
"I loved getting to make videos for the National Park Service at Gulf Islands because I got a hands-on experience making a product, doing research on a historical landmark, going out to the location and hearing how important that park is to nature and America's beauty," said Gill, BA'18, who now works full-time as a multimedia specialist for IU's Office of the Provost. "You don't get a chance to interact with unique and passionate individuals in a for-credit production."
Like Gill, many Media School students seek opportunities to gain media experience and support causes that matter to them at the same time, whether it's through alternative break trips, service learning courses, internships with nonprofit organizations or volunteer positions.
It's important for Media School students to be able to put their skills and knowledge to use outside the classroom, said Katie Beck, associate director of student services, experiential education.
"Through various forms of experiential learning, whether internships, work experience, volunteering or service learning, students have the chance to understand firsthand how the context of their work environment or their clients' needs may influence how they approach a problem," Beck said.
Service through coursework
The mission of lecturer Dave Groobert's MSCH-R429 Public Relations Campaigns class project this semester is to save lives.
The students are developing a year-long, multifaceted public relations campaign for the Indiana Donor Network to encourage more Indiana residents to become organ donors. Each semester's class works with a different nonprofit client.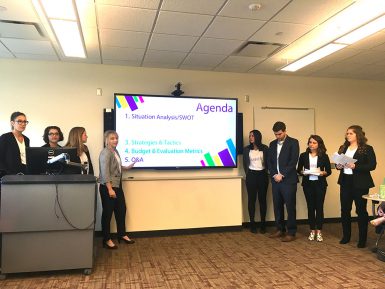 Public Relations Campaigns is one of several service learning courses available to Media School students. Students produce videos and public service announcements for nonprofit clients in MSCH-P351 Video Field and Post Production, MSCH-P354 Program Graphics and Animation and MSCH-P356 TV Studio Production. Two other public relations classes, MSCH-R428 Public Relations Research and Planning and MSCH-R431 Public Relations for Nonprofits, also work with nonprofit clients.
Groobert said his service learning course provides students with valuable real-life experience.
"For students, the value is in learning how to work with a professional organization and how to use learnings from throughout the students' college career to build a campaign that can be executed in the public domain," he said. "Students also end the course with a portfolio piece they can show on interviews to impress potential employers."
In turn, the students provide the community organization clients with resources they might not have otherwise been able to afford.
Groobert said service learning courses are a good way for students to round out their Media School experience.
"Service learning creates an opportunity that is different from, and complementary to, other types of instruction," he said. "It's part of a student's comprehensive education at The Media School, just like many other types of classes."
Co-curricular partnerships
The Gulf Islands trip, part of a growing relationship between the National Park Service and The Media School, is just one of many out-of-classroom service learning opportunities The Media School provides, both locally and through travel.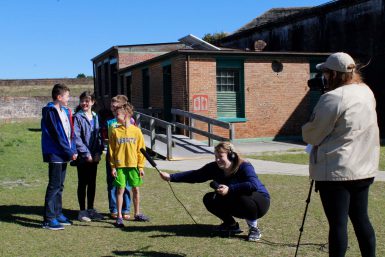 Students use the skills they're learning in the classroom to benefit a nonprofit partner. The programs thrive on the mutually beneficial relationship between students looking for work experience and community organizations in need of media production resources.
"It's a really nice relationship to be able to offer something that's useful and will help further the missions of those organizations that we collaborate with, and also giving our students another opportunity to add to their portfolio, to develop experience working in teams and with clients," Beck said.
This year, alternative break trips will take students to Lincoln City, Indiana, to create a living history program at the Lincoln Boyhood National Memorial during fall break, and to Ocean Springs, Mississippi, to create promotional videos for NPS's Gulf Islands National Seashore during spring break. This will be the third annual Gulf Islands trip, which has taken students to the seashore in Florida the previous two years.
Senior Abigail Billing traveled to Gulf Islands earlier this year. She said she appreciated the smaller and more focused time commitment of her service learning project, as opposed to the long-term dedication of an internship. She also valued the travel opportunity.
"I learned how to work with new people," she said. "And I also learned how to work on tight deadlines and how to work with real-world clients and changing plans."
She said the trip confirmed for her that she wants to make a career for herself in working with nonprofit organizations.
Another non-credit program, Stories of Peace, pairs teams of Media School students with local nonprofits to tell stories based on the ideals of Martin Luther King Jr.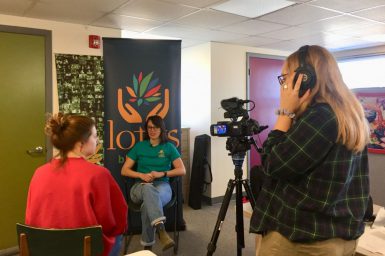 Emma Hamilton, a Media School senior, created a short video tribute to Lotus Foundation volunteers. She said she valued the experience because it was strictly about the process of producing content and helping an organization, without any pressures like grades to fret over.
"For-credit opportunities cause something to be at stake, making it harder to just appreciate the experience and instead causing anxiety in some people," she said. "Service learning forces people to think of others, taking the focus off the self. It forces people to stop talking and to listen."
Hamilton, an arts, entertainment and media management student, said it was a revelatory experience in learning how to produce content that's purely for someone else, rather than based on her own vision.
"I definitely learned how to close my mouth and open my ears," she said.
Niche volunteer work
Michaela Owens, a Media School student pursuing a master's in media arts and sciences, was "a devoted patron" of IU Cinema for two years before she decided to give back.
"It really makes no sense why I wasn't a volunteer sooner," said Owens, who now volunteers as an usher.
Owens said the volunteer job allows her to surround herself with people who love being at the Cinema.
"You get to see amazing films for free in one of the best cinemas around, while also engaging with other people who enjoy movies as much as you do," she said. "The other ushers, the audience members, the house managers – everyone wants to be there and loves being there."
Volunteer and internship positions at nonprofit organizations provide Media School students with yet another way to use their media interests and skills to support a community organization.
Senior Gwynneth Hurley came across the My Sister's Closet, a nonprofit thrift store that provides free workforce attire and job training to low-income and at-risk women, when she was looking for a client to work with for a public relations course. Her semester of volunteer work making website updates, writing press releases, drafting announcements and writing brochures evolved into an internship she's completing this fall.
"I think it was nice for them to just have an extra set of hands to write material for them," she said. "They usually have a lot going on, and that means they don't always have time to sit down and spend a lot of time working on press releases or appeal letters. But getting their message out there is so important, since they are a nonprofit and run mostly on donations."
As an intern at local children's science museum WonderLab, Media School senior Anna Quigley, who studies public relations, worked on a marketing campaign to boost ticket sales for a seasonal event at the museum and helped "renovate" the museum's YouTube channel.
"I think the work I did for the WonderLab was important, because the marketing campaign increased community awareness of not only the event, but the museum itself," Quigley said. "My data analysis report provided recommendations for marketing growth that my supervisor could use long after my internship was complete."
In addition to helping out a local nonprofit, Quigley said the internship was a valuable learning experience.
"I enjoyed the fact I was learning something new in my internship every day," she said. "My favorite part was working with a team of energetic people. Their enthusiasm for their jobs made it fun to go to work and continuously learn."
Hurley said she thinks it's important for students to bring their media expertise to nonprofits.
"I think the outside perspective offered by volunteers and interns can be really helpful when it comes to new ideas and maybe trying new things in the business or nonprofit," she said.