Team of students, faculty members creates 8-minute animated short
First she wiggles her eyebrows, then she lowers her arms and pushes open her toy box, the only space she's ever called hers. After a few tumbles, the animated Thanjavur doll, a traditional Indian terracotta bobble-head figurine, begins to dance the Bharatanatyam, a classical Indian dance.
To bring this dance to life, doctoral student Nandhini Giri donned the motion capture suit in the Beckley Studio.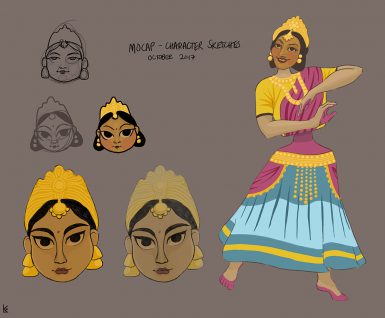 When she wasn't dancing, Giri led 35 students and five faculty collaborators as the creative director for the independent animated short film, Laya. The eight-minute film follows the Thanjavur doll as she comes to life and discovers her new world. The self-organized group of students and faculty created the film, its second, over the course of the 2017-18 academic year.
The team produced its first short film in 2016-17: a Final Fantasy 9-based cut scene that also utilized motion capture. This fall, the filmmakers enter pre-production for their third animated short.
The independent projects earned contributors a piece of a fully produced animated short film in place of academic credit or compensation.
Lecturer Rush Swope, the technical director of Laya and the 2016-17 cut scene, guided all 35 student contributors, most of whom were Media School students, in the software and skills needed to pull it off.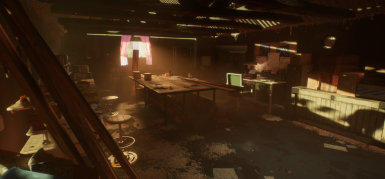 Both projects were produced with the game engine Unreal — a cutting-edge use of the software. The students used Unreal instead of a pre-renderer, the preferred medium for animated shorts, because a pre-renderer takes too much time for feedback — sometimes up to six weeks to get back a single frame, Swope said. In a game engine, filmmakers can watch in real time what the final product will be.
One minute of animated film usually requires 10 people and one year, Swope said. Laya clocked in at a little under eight minutes, produced in less than a year with only 40 contributors. The game engine software and the tireless year-long effort made that level of production possible.
Swope and his team decided to get ambitious with Giri as their creative director. After more than five years at Dreamworks India, Giri wanted to continue making media as she entered IU's media arts and sciences doctoral program. She studies embodied cognitive theory and character animation, and she wants to investigate different frameworks and movements that can inspire maximum enjoyment.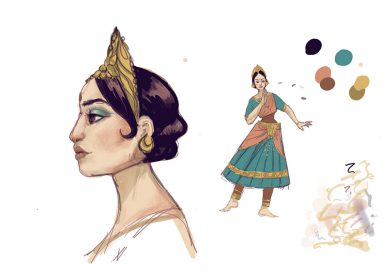 "You do the research, but also you bring it into practice," she said. "So that's where you kind of see how much of the theories actually influence the industry, so it's not like I'm just theorizing on my own."
To really give students a chance to focus on character animation, Giri wanted to present a singular character in one location, letting the film extend in length due to the simplified parameters. That's where she got the idea to breathe life in to a Thanjavur doll.
Pre-production began in August 2017 with building the narrative. In the film, the doll is brought to life in her maker's shop by Laya (translated as "tempo/rhythm"). As she discovers her own range of motion, she begins to dance in a style inspired by Bharatanatyam and Hindustani music. She then has to make a choice: to stay where she has always been or venture into the outside world.
"There's an outer world calling," Giri said. "There's a better space for her."
The doll finds her freedom in the Bharatanatyam, a classical Indian dance that requires nuance and skill. Instead of seeking out someone outside the film, Giri learned the dance herself and entered the Beckley Studio for motion capture.
After the team captured Giri's motions in the Bharatanatyam, they had to "parent" her motions onto the doll, complete with a flowy skirt to add fluid motion. After the extensive refining of the doll's motion, the team began filming via digital cameras within the game engine.
Lecturer Craig Erpelding assisted students in planning and executing the cinematography for the piece. Senior lecturer Norbert Herber coordinated the effort to compose and orchestrate an original score with Jacobs School of Music students.
"It's supposed to kind of feel like it's an animation film production," Swope said. "It's supposed to get students ready for working on big teams, working on long projects, prepping these things and going through the entire production process and post-production process."
When Laya premiered at the game design graduation ceremony this past spring, Giri said the crowd was "mind-blown" at the finished product. She and Swope said many students had only seen the segmented part they worked on, so seeing it all together was special.
"It's great for the students to kind of show off their work," Swope said. "I mean, working on something over the course of a year, sometimes longer than a year, it's special for them to see that happen all at once."
The group has begun pre-production for its third film: a reimaging of the 2003 game Ara Fell. This project will be led by School of Art, Architecture and Design graduate student Morgan Anderson as the creative director, with Swope serving as the technical director on that project as well. They will focus on motion caption and more complex visuals with more characters.
The team plans to premiere this third short film at the spring 2019 game design graduation ceremony.
Credits roll while music plays
Editor: Ryan Reske
Technical director: Rush Swope
Lead environment artist: Donghyun Kang
Cinematographer: Craig Erpelding
Principal artist: Morgan Anderson
Lead sound designer: Macey White
Composer: Cole Swany
Flute: Omkar Bhide
"Laya"
Created and directed by Nandhini Giri
A lamp turns on above a desk and in a room. There is no one in the room. A lighted orb floats in and descends on a table by a packaged traditional Indian doll, and the doll comes to life. The doll tries to walk but falls. The doll watches a pendulum. The doll dances. The doll picks up a match, lights it, and dances more. The fire extinguishes itself and the doll stills. Sunlight fills the room, and the doll reaches and walks toward it.
More credits
Creative director: Nandhini Giri
Technical director: Rush Swope
Audio Director: Norbert Herber
Lead environment artist: Donghyun Kang
Principal artist: Morgan Anderson
Cinematography: Craig Erpelding, Ryan Reske
Pre-production: Autumn Almeida, Morgan Anderson, Justin Hatfield, Laura White, Ryan Reske, Beth Lula, Jon Roehr, Julian Povinelli
Concept art: Morgan Anderson, Laura White, Autumn Almeida, Julian Povinelli, Rush Swope
Lead environment artist: Donghyun Kang
Environment art team: Rush Swope, Sondra Valaie
Character art: Morgan Anderson, Laura White
Storyboard: Morgan Anderson, Brian Lee, Ryan Reske
Animation: Rush Swope, Beth Lula, Emmett Ross, Blake Anderson, Kira Yelinek, Morgan Anderson
Documentary: Noah Maxwell, Julian Povinelli
Music: Cole Swany, Omkar Bhide
Sound design: Macey White
Editing: Ryan Reske, Craig Erpelding
Acting: Nandhini Giri, Brianna Milan, Leraldo Anzaldua
VFX: IUPUI, IU Bloomington 3D Lab, Thomas Harle
Presented by The Media School, Indiana University
"Laya"
The End
More: