Tash announces retirement at Tampa Bay Times
Media School alumnus Paul Tash has been a student across the world, from Bloomington, Indiana, to Edinburgh, Scotland. He has judged Pulitzer Prize winners, received awards and told stories for more than half of his life.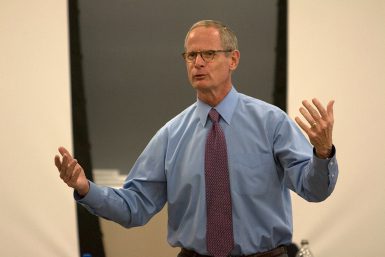 After more than four decades serving the Tampa Bay Times, Tash will retire July 1.
"Leading the Times is the honor of my life's work," Tash said in his retirement letter Jan. 13.
He began working for the newspaper in 1975 as a summer intern and became chairman and CEO in 2004 after working as a reporter, city editor, metro editor, Washington bureau chief and executive editor.
"The Times has held me in its embrace longer than my mother, my wife Karyn or my daughters," Tash wrote.
Tash, BA'76, will remain chairman of the trustees at the Poynter Institute for Media Studies. He also serves as a member of the Dean's Advisory Board at The Media School and was named a Distinguished Alumni in 2011.
He credits much of his success to his start at IU.
"I wouldn't have gotten here without Indiana University," Tash said.
He grew up in South Bend, Indiana, chose IU for its journalism program and was selected as a Poynter Scholarship recipient, which included a summer internship at the then-St. Petersburg Times.
After two internships with the Times, Tash was named a Marshall Scholar and studied overseas.
The newspaper had a job offer waiting for him when Tash returned from abroad.
"I arrived in September 1978, and I thought I would be here [for] three or four years. One thing led to another, and I will be retiring from the company in the middle of this year," Tash said. "But none of it would have happened — none of it would have happened — without the introduction by Indiana University."
For a man who saw seven of the paper's 13 Pulitzer Prizes awarded during his tenure as chairman, Tash is remarkably humble.
He is most proud of two things that happened and one thing that didn't happen, he said.
"We made good on a generational ambition to transform the St. Petersburg Times into the Tampa Bay Times and become the leading news organization for the entire region," Tash said.
That involved changing the name of the newspaper and purchasing a chief competitor.
"The second thing is we managed to do some work of very high journalistic quality," Tash said. "That's a highlight I get to be a part of."
The third aspect of his Tampa Bay Times career he is proud of is that the Times remains locally rooted, he said.
"That independence and local connection continues to be a singular characteristic of the Times, and preserving that, again at a time of great turmoil, has been one of the highlights of my tenure here," Tash said.
Tash has served on the boards of the Pulitzer Prize, the Associated Press and the Newspaper Association of America. His work took him to six continents. He gave the commencement address in Memorial Stadium — an honor he recalls by exclaiming "What a thrill! What a thrill."
His entire story, Tash said, depends on what he received at IU.
"I still think back on my time at IU and the professors I had and the difference they made," Tash said. "I could basically run through and tell you every journalism professor that I had at Indiana University and I could give you a paragraph or two about their influence on me."
Tash took more than his formal education, practical experience and lifelong connections from IU. He also gained part of his post-retirement plan.
"The first thing I'm going to do in retirement is figure out what I want to do in retirement," Tash said. "But I know one thing I'm going to look forward to is swimming in the daylight rather than in the dark."
When Tash was a senior at IU, some of his "so-called friends," he said, convinced him to enroll in an aquatic conditioning course. They told him it would be an easy physical education course.
"I damn near drowned on the first day of class," Tash said.
He persevered. Sticking with the class rather than giving his friends the satisfaction of seeing him drop the course, swimming became his personal fitness regimen for most of the last 40 years.
From swimming (or "drowning avoidance," as he calls it) to journalism, IU has given Tash a lot, he said.
"I'm very fond of the place," Tash said. "Very fond of the place."