Talese reflects on decades of 'listening' for great stories
Jessica Haney | Sept. 16, 2010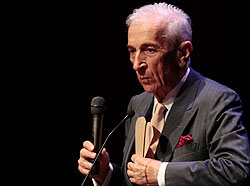 Growing up with two parents in the clothing business not only taught author Gay Talese to dress well, it taught him to listen.
"And in the process of listening, to find out what other people think and what they value in life," said Talese of his boyhood training as an "eavesdropper," taking note of affluent summer customers' conversations in his mother's seamstress shop.
This perspective carries over to Talese's work as a reporter and writer, he told his audience Wednesday night at the Buskirk-Chumley Theater. The first of the School of Journalism's fall Speaker Series, Talese has had a 60-year career, ranging from reporting at The New York Times and magazines to writing best-sellers such as Honor Thy Father and Thy Neighbor's Wife.
But Talese started small. When he was the editor of his high school newspaper near Ocean City, N.J., he chose to report on the janitor and the people who cut grass on the football field rather than popular students or events.
"I wanted to write about people you wouldn't normally pay attention to," said Talese.
Though Talese has since written about sports icons and other famous people, this principle guided his early storytelling career. After college, he followed up on a classmate's suggestion that he drop by The New York Times' offices in Manhattan, which Talese did, showing up at the newsroom unannounced. Well-dressed, thanks to his tailor father's influence, and well-spoken, Talese talked his way into a meeting with the editor and a tour of the newsroom.
"It was a beehive of activity and energy," said Talese. "It was wonderful to contemplate working at such a place."
Talese started as a copy boy, performing various office tasks, but spent his lunch breaks with the man who put up the lighted headlines on the former New York Times building—a 25-year veteran of the job and the subject of Talese's first published story at the newspaper.
Talese said he likes to tell the stories of "people who, when they die, don't get an obituary because they don't achieve enough. I wanted to be a lamplight for people who were in obscurity."
Talese stayed at The New York Times for almost a decade, leaving to write more in-depth pieces. He wrote for Esquire in the 1960s, and it was for that magazine that he wrote his iconic piece, "Frank Sinatra Has a Cold," about his spending time with the singer, who was reluctant to sit for an interview. Still, Talese wrote about what Sinatra did say and do, creating a long form narrative filled with observation and description of the singer's daily life.
The story, which fellow writer Tom Wolfe tagged "The New Journalism," was groundbreaking and set forth a new way of reporting and storytelling still popular today.
After recounting his early journey, Talese fielded questions from the audience in the full house. Responding to a question about the Web, Talese said he's not so optimistic about journalism's digital future.
"Even the definition of what a journalist is, is up for question," he said. "There is a lack of standards on what is and what is not publishable."
Talese also talked other elements lacking in today's journalism: lack of respect for sources, lack of fairness, lack of skepticism, lack of investigation. Yet some students who attended the lecture were more interested in Talese's New Journalism than some of the bad journalism of today.
"I definitely believe in just about everything he said," said senior Mickey Woods. "There's an ethic of care left out by journalists, but that's something I want to continue to do in my work."
At the book signing event after the talk, freshman Charlie Scudder asked Talese to sign three of his books. He said he was inspired by Talese's accomplishments.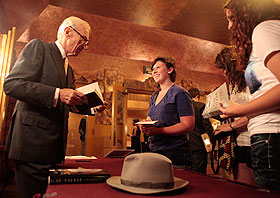 "Long term, I'd like to do this sort of thing. Everyone has a story," he said. "I think Gay Talese really embodies the ability to tell those stories."
Talese is "a giant among 20th century nonfiction writers," said Amy Wimmer-Schwarb, the executive editor of Indianapolis Monthly who introduced Talese at the beginning of the program.
While in Bloomington, Talese also had lunch with School of Journalism students at Ernie Pyle Hall and later strolled from campus through the city with two students to absorb some local flavor.
Whether talking to students or addressing a large audience, the author insisted what he does is not new or revolutionary. His method of listening, observing and storytelling is rooted in the basics.
"What I do is old-fashioned journalism. It's being there," said Talese, who still uses a typewriter. "And where I am now at 78 is where I was at 23 or 24. I don't use tape recorders. I don't interview over the phone. I want to see people."